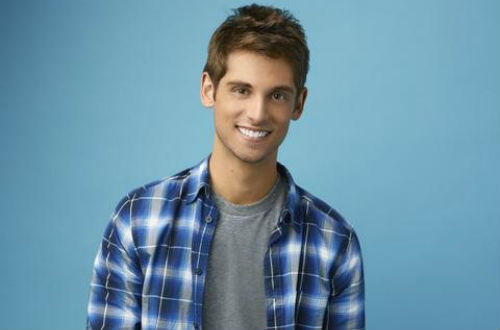 You might recognize Jean-Luc Bilodeau for his role as Josh Trager on 'Kyle XY,' but now the Canadian actor is popular for playing Ben Wheeler on ABC Family's comedy 'Baby Daddy.'
Currently in its third season, the comedy focuses on Ben's single dad journey, all while trying to cope with his life as a young, attractive guy in New York City. In addition to raising daughter Emma, Ben also deals with the relationships with his mom, Bonnie (Melissa Peterman), his brother, Danny (Derek Theler), his best friend/roommate Tucker (Tahj Mowry), and his childhood friend/love interest/ex-girlfriend, Riley (Chelsea Kane).
Earlier today, I chatted with Bilodeau about his character, what fans can expect from upcoming episodes and this week's episode, which just happens to feature another ABC Family star, 'Pretty Little Liars' actress Lucy Hale.
TVRage: To start, what can you tell me about the upcoming episode with Lucy Hale? What does it entail?

Jean-Luc Bilodeau: So, Lucy is this pastor's daughter [Piper] that's this really nice, Christian, wholesome girl, who Riley's assigned to babysit for this court case she's helping out with. Lucy's character is getting followed by the paparazzi, much like her real self, but she gets followed by the paparazzi, and she's the hot topic for the newspapers. So, she's [Riley] trying to keep her away from all that, [and] trying to make sure she doesn't do anything wrong.
Turns out Lucy's character isn't as wholesome, and a good girl, like we thought she was. As soon as Chelsea's character leaves, Lucy [her character] is letting her hair down, she rips off her sweater, she's got this sexy blouse on, [and] she's ready to party. They do strip poker, she's just hanging out with boys, and, of course, the guys love it -- me, Danny and Tucker. She plays this little, good girl. It's not like that at all. It's a fun, crazy episode, with lots of antics and fun stuff. It's a good episode. It's really cool to see Lucy in that environment too.
TVRage: Will there be any 'Pretty Little Liars' references during the episode?

Bilodeau: In fact, I think there's one in the commercial for the episode. But, yeah, I do call out her for being "a little liar." Like, "Oh, you little liar." Then, Bonnie, my mom, right after she says, "Oh, you're pretty, though." There you go. We've got one, solid 'Pretty Little Liars' reference there.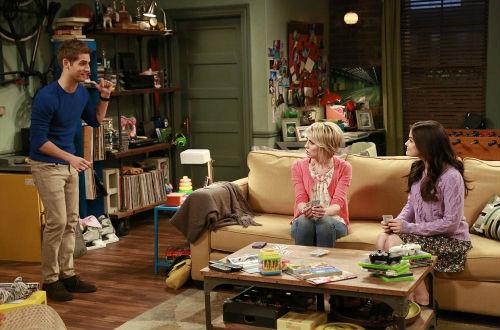 TVRage: Like Lucy, would you be willing to head on over to Rosewood and star in a 'Pretty Little Liars' episode?

Bilodeau: I would love to. I started off in single-cam, in drama shows. I would love to. That's kind of where I grew up in this acting world. It'd be nice to go back there and shoot an episode, or something. It's a much more grueling schedule than multi-cam, but it's a lot of fun. It's different in a lot of ways. So, yeah, I would definitely love to switch over there and do an episode.
TVRage: Back to 'Baby Daddy,' what can fans expect in future episodes? Without, of course, giving too much away.

Bilodeau: Our show is so much about our relationships now and us becoming adults, from young adults. I feel like it's not much about the baby anymore. … The first season was all about raising Emma and doing everything for Emma. Now, we've let our priorities open up a little bit, especially Ben. Every episode there's new relationships, Ben and Riley and Danny still have their love triangle that's very predominant still, but we are dating other people. … We're finding each other, we're finding ourselves in relationships and in experiences.
I don't want to give too much away, but we've got a lot of really great guest stars that come in and make the episodes so rich. We meet Tucker's dad [played by Philip Morris], you meet a bunch of characters you've wanted to meet for so long, and they're all really, really great. We've got a lot of good stuff this season. It's definitely my favorite season we've shot, so far. Not just because it's the longest, it's really rich with a lot of fun stuff.
TVRage: Do you ever get irritated with Ben? Because some fans find him really frustrating when it comes to Riley, especially this season. What's your take on him this season?

Bilodeau: You know what, yes. Sometimes I'm like, "Why'd you do that?! That's so stupid!" That's just how we're different, I guess. But, then again, I don't have a child, so I don't know what I'd be like if I had a kid, and I was trying to date and work and stuff. He doesn't make that much money. He's a bartender. He has a lot of stress, I feel like. I don't know. I gotta give the guy some credit. I feel like he's doing a pretty, darn good job of raising Emma. He makes some mistakes along the way, and I think he's okay. I hope one day he realizes Riley's perfect for him, but, until then, I'm always going to be on Ben's side, for sure, and not just because I play his character. He's a genuine guy, and he's smart. He's just a little preoccupied with stuff.
TVRage: Lastly, have we seen the last of Angela (Mimi Gianopulos), or will she be back to stir up more trouble?

Bilodeau: I feel like she'll be back, eventually. She's Emma's mom, so she'll always be there. Her character moves to Los Angeles, so she's far away from us, but I feel like her involvement isn't quite over. She'll come back -- maybe not this season, but I'm thinking next season Angela will make her way back into the picture, just to stir some stuff up again. But, Ben knows now. Ben definitely knows she's not right for him, or right for Emma. I'm interested to see what the writers have in store for her character, but she'll always be there as one of our most important guest stars.
'Baby Daddy' airs Wednesdays at 8:30/7:30c on ABC Family.