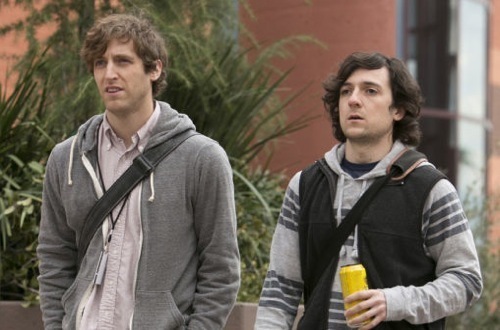 If you like entrepreneurial geeks getting bitch slapped by street children, this show is for you.
HBO has released a trailer for the upcoming Mike Judge series 'Silicon Valley,' which follows the misadventures of a nerdy bro-pack trying to strike it rich in the digital Klondike, "where the people most qualified to succeed are the least capable of handling success."
Partly inspired by his own experiences as a software engineer during the 1980s, the new series from Judge fits well thematically with his body of work among 'Office Space,' 'Idiocracy,' and 'King of the Hill,' which were about men trying to assert their identity in a modern world. Fans will notice one key difference is that Judge appears to be taking full advantage of HBO's lack of limitations on content, as f-bombs and fellatio references abound, which makes it exciting to see his brand of comedy unleashed.
The series also reunites Judge with 'King of the Hill' collaborators John Altschuler and Dave Krinsky, who will serve as executive producers. The ensemble features some familiar comedy faces with Martin Starr ('Party Down') Zach Wood ('The Office'), and T.J. Miller ('Our Idiot Brother'), as well as rising star Thomas Middleditch. The cast also includes Christopher Even Welch, a veteran film and television actor, who sadly passed away due to lung cancer in December.
The first season, consisting of eight episodes, premieres on April 6. Personally, I can't wait to be led by the pied piper into watching. Check out the trailer below.