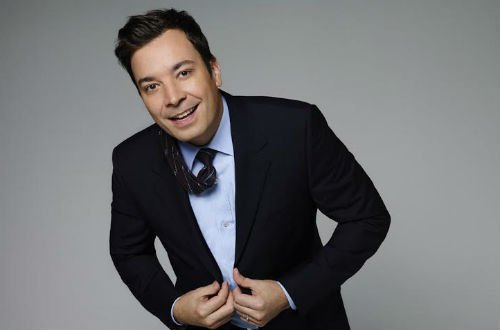 It's official, Jay Leno has wished his viewers a heartwarming goodbye after 22 years of hosting NBC's 'The Tonight Show,' and Jimmy Fallon is slated to take over as the new host. Fallon's first week will start on Monday, Feb. 17, and the full lineup of guests and musical performers has been revealed.
If one thing is for sure, Fallon has a big circle of hysterical and talented co-workers and friends. So, if you are a late-night TV rager, and want to catch up with the most recent actors, actresses, and musicians, Fallon will deliver.
Not only will the first lady stop by, but favorite guest Justin Timberlake will make an appearance, and the one and only Lady Gaga will perform; Fallon will also interview some of his past 'SNL' co-stars, and favorite sitcom actors. 
Here is the full list:
Monday, Feb. 17 - Guest Will Smith, and musical guest U2
Tuesday, Feb. 18 - Guests Jerry Seinfeld, Kristen Wiig and musical guest Lady Gaga
Wednesday, Feb. 19 - Guest Bradley Cooper and musical guest Tim McGraw
Thursday, Feb. 20 - Guests Michelle Obama, Will Ferrell and musical guest Arcade Fire
Friday, Feb. 21 - Guest Justin Timberlake
'The Tonight Show Starring Jimmy Fallon' launches right after the Olympics at midnight Feb. 17-20. The Feb. 21 telecast will air in its regular 11:35 p.m. time slot.