Hello Ragers, and welcome to the second edition of Final Season Failures. The concept really isn't that complex, so I'll keep the introduction short. The goal of this feature is to take a once popular show that experienced a massive drop in quality during its final season, and examine the various mistakes that led to its downfall. Our second subject is a surprisingly long-lived cult hit comedy that survived a network hop, but couldn't survive its disastrous ninth season.
Case File 002: 'Scrubs' - Season 9
The Show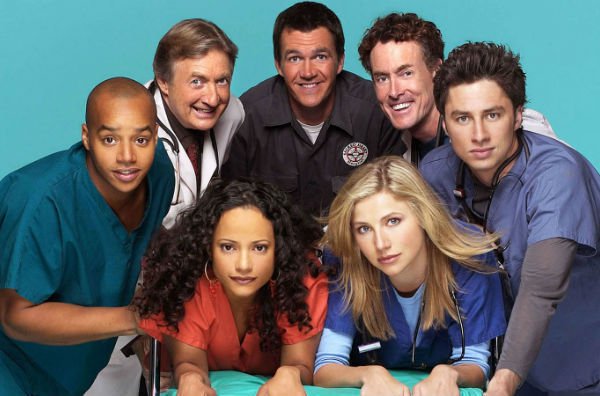 Debuting on NBC in October 2001, 'Scrubs' was a show unlike anything else on broadcast television at the time. The brainchild of 'Spin City' creator Bill Lawrence, 'Scrubs' explored the sparsely used genre of sitcom known as the medical comedy. While it certainly wasn't the first hilarious program to ever be set in a hospital, an argument could be made that no show before or since has blended laughs with heart-wrenching medical drama as deftly as 'Scrubs.' The only real contender to that throne I can think of is 'M*A*S*H,' although that show is as much about the horrors of war as it is about medicine.
Over the course of the series, 'Scrubs' brought viewers along on the journey of a core group of four colleagues, friends, and (ultimately) lovers as they traveled the long road from lowly hospital intern to experienced and valued physician.
Zach Braff played lead character Dr. John 'J.D.' Dorian, a fun loving guy prone to wild flights of fancy. Donald Faison played surgeon Chris Turk, J.D.'s best friend since college, and someone who fancied himself a smooth operator. Sarah Chalke (who you may remember from Case 001) played Dr. Elliot Reid, a tightly wound neurotic type who lives in constant fear of failure, and eventual love interest to J.D. Rounding out the group is Judy Reyes' Carla Espinosa, an experienced nurse who takes the other three under her wing, and eventually falls in love with Turk. Backing up the core cast were John C. McGinley's acerbic, but wise, Dr. Cox, Neil Flynn's borderline insane Janitor, and Ken Jenkins' put upon hospital administrator Bob Kelso.
'Scrubs' was never a huge ratings hit, and always got renewed by the skin of its teeth. Every year TV pundits would predict its demise, only to end up eating crow. That is until the 2008 Writers' Strike, which caused 'Scrubs' seventh season to get chopped down to eleven installments. Finally deciding to cut its losses, NBC canceled the series, only to have ABC step in and resurrect it. Season 8 was initially promoted as the final season, and ended with an absolutely terrific finale. Unfortunately, neither ABC or creator Bill Lawrence was willing to let the franchise die.
What Went Wrong?
Honestly, it would be much easier to list what little Season 9 did right, then what it did wrong. Ready? Bringing back the wickedly blunt character of Denise "Jo" Mahoney (played by 'Happy Endings' star Eliza Coupe) from Season 8's crop of interns was a smart move. That covers what producers got right. So what did they get wrong? Absolutely everything else.
First off, Season 9 immediately informs fans that their beloved Sacred Heart Hospital, primary location for every prior season of the show, was abruptly torn down due to previously unmentioned structural problems. This crushing news is delivered in about two sentences. The "new" Sacred Heart is now part of Winston University, and serves as both a fully functioning hospital and a medical school. As if that wasn't jarring enough for one season, viewers are quickly shown that this pseudo-Sacred Heart is staffed by almost entirely different people.
See that cast photo above? Notice how almost everyone is new? That's because 'Scrubs' cast was only contracted with ABC for a single season, and most of the actors chose not to come back and help zombify a show they had just put to bed. Zach Braff did eventually agree to appear in six episodes, but functioned as a supporting player, despite ABC's misleading use of his face on the posters. Chalke also popped in a few times, as did Jenkins. Neil Flynn made a quick cameo, then left for good. Judy Reyes didn't come back at all. The only original cast members to retain series regular status were Turk and Dr. Cox. This was definitely not the 'Scrubs' that fans had come to know.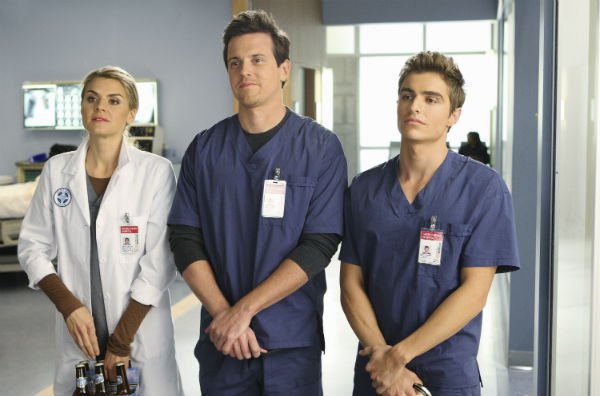 The disappointment of a new cast could have been mitigated a bit if they were actually a likable group. Sadly, the only one that makes any real impression is the aforementioned Denise. New focal character Lucy Bennett is basically a female J.D., only without any of the traits that made him relatable, and all of his bad qualities. Drew Suffin was obviously intended as a grizzled loner type, but he only succeeded in being boring. Spoiled rich brat Cole Aaronson (played by James Franco's less talented brother Dave) is annoying to an insufferable degree. The presence of Turk and Dr. Cox was the show's only real saving grace, although they usually found their lives relegated to the the b-story of a given episode.
That all begs the question, if the show takes place in a new setting, and features a new main cast, why didn't Bill Lawrence just call it something other than 'Scrubs,' and make it a spin-off? The answer: ABC wouldn't let him. Lawrence's intention was to create a spin-off called 'Scrubs: Med School' that would center around a whole new group of young doctors. He considered Season 8 to be the true ending of 'Scrubs,' and had no desire to continue the show proper. The problem was that ABC didn't want to risk their time or money on an entirely new property, and demanded that Lawrence's idea be presented as yet another 'Scrubs' season. Not wanting to scrap the concept, Lawrence begrudgingly agreed to their terms, although he did still include the words 'Med School' on the Season 9 title card.
The Hall of Shame (a.ka. the worst episode of the season)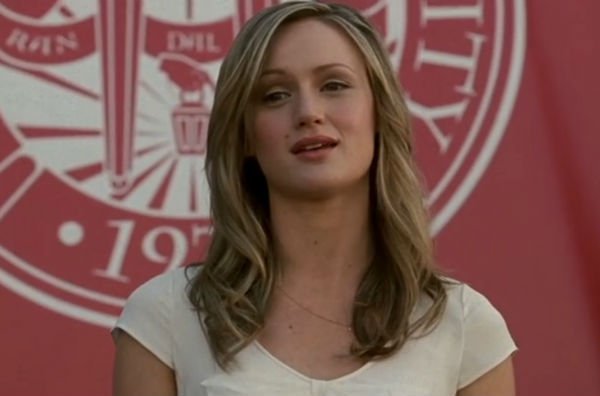 Picking a worst episode of this season is actually a lot harder than you might think. There were no really good episodes, but most episodes weren't outright dreadful either, thanks to the efforts of the remaining original cast members. More than anything, the entire season was just a big ball of meh. With that in mind, I have determined "Our Thanks" to be the worst episode of what is essentially a 'Scrubs' season in name only.
It earns this distinction simply for usurping the masterful "My Finale" as 'Scrubs' final episode. That two-part swan song was amazingly well done, tying up all the series' loose ends, and going out on a a beautiful final sequence in which J.D. sees he and Elliot's future life flashing before his eyes as he leaves Sacred Heart. "Our Thanks" on the other hand is a pedestrian sitcom story, containing no exceptional qualities whatsoever, and a cast that appears to just be going through the motions.
The Best of the Worst (a.k.a. the best episode of the season)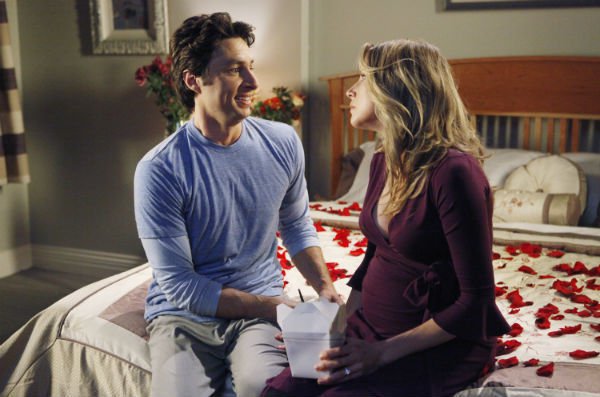 This is another tough choice, for the same reasons I just mentioned. If nothing was great, how does one pick a "best" episode? It was hard, but I ended up going with "Our Stuff Gets Real," which features the very last 'Scrubs' appearances by Zach Braff, Sarah Chalke, and Christa Miller (who played the recurring role of Dr. Cox's domineering wife Jordan). The plot focuses on J.D. and Elliott's anxieties over having their first child together, and their growing realization of just how big of a change is about to occur in their relationship. Dr. Cox also struggles with Jordan's insistence that he write up a will, just in case anything should ever happen to him, and leave her and the kids alone. Lucy also has trouble performing an operation, but really, who cares? As a special treat, I have embedded the full double length episode "My Finale" below. Any 'Scrubs' fan owes it to themselves to give it a re-watch.
The End

This concludes the second edition of Final Season Failures. I hope you found it to be a interesting read. Be sure to tune in next time, when I'll count down the many ways in which 'The X-Files' ninth season proved that the truth really wasn't out there.