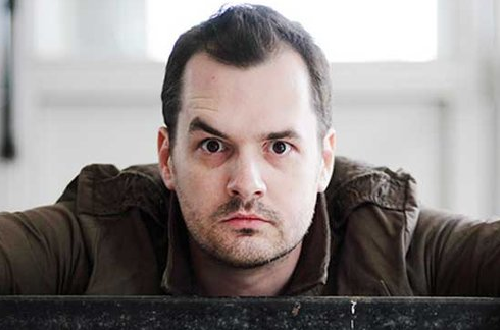 You could describe Jim Jefferies as a Godless hack of a shock comic whose biggest claim to fame is being "that guy who got punched in the head on stage," or you could actually listen to his stand-up and realize that there is a genius with a big heart underneath all the booze, hookers and blow jokes.
Jefferies, like the character he plays on his show 'Legit', is an Australian stand-up comedian who has spent the last few years touring the world and releasing full comedy specials every year or two, and not skipping out on all of the degenerative behavior that comes with it.
'Legit' is coming back on Wednesday, Feb. 26, 2014 (tonight), but it'll be on a new station. The show will be making its debut on FXX for its sophomore season. 
TVRage recently spoke with Jefferies during a conference call, and when asked how working his older work into a sitcom changed his view of his stand-up comedy he told TVRage, "It made me focus on the stand-up in the extent that if I put all my stories into the sitcom, then I can't perform it on stage, so it makes me write stand-up … but also, I think writing a TV show, having that discipline where I have to go into an office every day for a few months until it was done maybe helped with the discipline of writing a stand-up as well."
"I used to never write my stand-up down. I still don't write my stand-up on paper or anything, but I used to just organically do it on stage, have an idea; chatted it up a little bit. Now I'm keeping notes. I'm trying to keep up [and] … to bring out a new special every year." 
He went on to explain that 'Legit's second season won't be as heavily connected to his on-stage work, "I had a few fans that enjoyed the show, but they were a bit pissy that it wasn't all new material for the sitcom, so now hopefully we'll be pleasing them as well."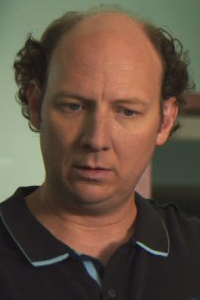 Comparing the two experiences he said, "In the first season, honestly, I hadn't written a sitcom before and it was a little bit more fly by the seat of your pants … eight of the episodes were based directly from my stand-up. This season there's actually one episode based on a stand-up routine. The rest of it is a full linear story. I've just now watched all of Season 2. Season 1 had, to be honest with you, maybe three or four episodes that I wasn't super proud of at the end of it, but you never make an episode going, 'I'm going to make a shit one now.' You know what I mean? You want them all to be good, but there were little tricks and little things that I maybe was slightly naïve about in the first season, so there are three or four of them I wasn't super happy with. Now this year… I think it's substantially better than Season 1."
If you've ever seen Jefferies break down the social norms or religious controversies on-stage, the depth that he considers and works them through won't be a surprise. During the conference call he broke down the character of Steve (Dan Bakkedahl) saying, "This season he becomes a full-blown alcoholic, which progressively gets worse throughout the whole season. And not like a comedy alcoholic, but like a real tragic figure. A guy who's actually falling down the rabbit hole and he's losing everything in his life. I think that's a very interesting thing to put into a comedy, because often when you deal with addiction in comedy it is sort of a funny sort of like, 'Here's junky "Phil" who lives down the hallway,' but this one is the raw side of that."
Jefferies also revealed that there are big things coming for Steve, but also Ramona (Sonya Eddy) and Walter (John Ratzenberger) will be coming back for some of their own storylines too, "The cast of three becomes a cast of four for a few episodes."  
You'd think a show that regularly mixes drugs with disabled people and hookers would have a line of picketing protestors, but 'Legit' manages to keep it real and keep such issues in perspective. It's also a big step in proving that not everything bad comes from bad places.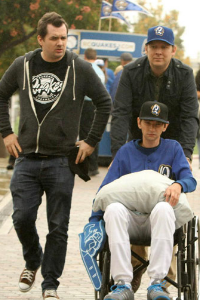 "The only reason we had the character, Billy (DJ Qualls), as a muscular dystrophy character, is because I grew up with a guy with muscular dystrophy. And I took a guy with muscular dystrophy to a brothel before he was going to die. He was one of my best friends and he's still alive, mind you, so that all really happened.
"Then when you have a character like Billy in the show, he has to come from a home, and so you have to populate that world and so then you have to bring other disabled actors, and so I think people could watch the show and say that we have a hard-on for having disabled characters in that show, but that's just not the case. It's just organically where the story from my actual life started, and where it is built."
In addition to Billy and Steve, there is one character in particular, Rodney (Nick Daley), who has become "one of the guys."  
"We have a mentally challenged actor, who performs regularly on our show," Jefferies said. "But I don't think we ever do anything gratuitous or we try to treat him like any other character on the show. … We also don't make him like a sickly, sorry character where you have to be sorry for him like a Hallmark movie. Those are things I'm happy to say."   
On top of the new linear storylines involving more of the characters we already know, Jefferies also told TVRage, "We have Carrie Fisher in an episode and she was just great. She's not playing Carrie Fisher. She's playing like an executive of the network. We got Bob Saget in the show. We got Tom Arnold to come in and do his thing, and George Lazenby, he plays my dad. He was James Bond for one movie, if you remember."
Ultimately his main point is, "I just hope that it's a fair representation of guys like me. I hope I empower other sleazebags and they feel that they can be good people as well."
The second season of 'Legit' premieres tonight on FXX at 10/9c.