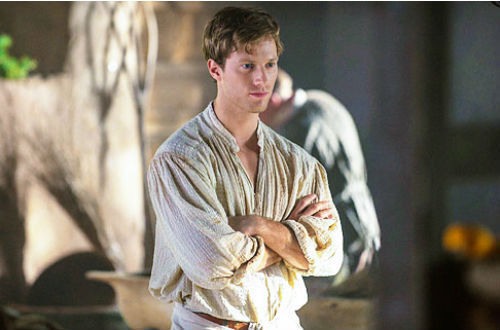 'Reign' is one of The CW's most promising new shows this season. Set in the 16th century and based on the life of Mary, Queen of Scots, the show combines the historical with the modern. Queen's Mary's life at French court is full of drama, particularly the love triangle between Mary, the future king of France and Mary's fiance since they were children, Francis, and his bastard brother, Sebastian (Bash). There are hormones flying all over the place, between the royals, and Mary's ladies in waiting.
One of Mary's ladies, Greer, is wealthy and cultured, but is lacking a title. Her entire family is counting on her to marry a wealthy, titled suitor, to support them. But while Greer may have come to court to meet a royal, she has fallen for the charming kitchen boy, Leith, played by Jonathan Keltz. This week, TVRage got the chance to speak with Keltz to discuss fight scenes, true love, and kitchen experience.
TVRage: Reign is returning tomorrow [Thursday], which we're all really excited about. We're wondering when we're going to see Leith again. Is he going to show up in this week's episode, or do we have a while to wait yet?
Jonathan Keltz: I'm not in this episode, we've got another couple episodes to go, but then I'm in a whole chunk of episodes. So don't worry, there is definitely more of me in the picture, but I am not in this episode.
TVRage: Rumor has it there's quite an interesting storyline coming up for you…maybe a love triangle?
Keltz: Well, we'll see. Our relationship [Leith and Greer] is very much based in love and based in trying to overcome all of the obstacles that there are in its way. And she has a family that's very eager to marry her off and there's plenty of rich, suitable people around. So hopefully no one gets in our way, but we'll see what happens in the next few weeks.
TVRage: How hard would Leith be willing to fight for Greer? He's obviously crazy about her.
Keltz: Yeah, well I'd say that she's definitely my true love. It's the relationship that we're hoping is the destined, fated relationship, per Nostradamus's prophecy, [In Episode 3, Nostradamus told Greer she would fall for "the man with the white mark on his face," followed later by Leith wiping his face in the kitchen, leaving behind a streak of white flour on his cheek.] But who knows if [they] will end up being able to be together…because of the class structure and everything. But I would definitely say that he'd be willing to lay his life on the line for her.
TVRage: The last time we saw you on the show was in Episode 7, "Left Behind," where you and Greer fought and killed one of Count Vincent's guards in the kitchens. How was it filming the fight scene?
Keltz: Oh it was awesome, it was an absolute blast. That was my favorite episode to shoot so far. We had most of the day to shoot that whole fight and it was great…I got to do a little bit too much of my own stunts for it. During one of the takes where I got thrown across the room, I accidentally had a bit too much momentum and rolled right off the table and smashed my face right into the shelf. So I had a nice little war wound for a few days, but it was well worth it.
TVRage: Are we going to get to learn a little bit more about your character's background? We know he grew up on a farm, but that's about all we've learned so far.
Keltz: Yeah, hopefully we'll get more into it, but pretty much that first episode is all we've learned, in terms of the fact that that's where I grew up, I come from very humble beginnings, and I definitely realized that that wasn't….not because of the poverty level, but that just it wasn't the life for me. I tried to come to court and I've definitely found my place in the kitchen and whatnot, and we'll see what happens in the next few episodes jobwise for me. In terms of family, hopefully we'll end up finding out some more about it.
TVRage: Congratulations on the show being picked up for Season 2, that's very exciting!
Keltz: Thank you very much.
TVRage: Can we expect to see more of you next season?
Keltz: Unfortunately, that's not something I'm able to comment on. I know that there is…tense things in my future for this season that prevent me from divulging anything more.
TVRage: What's the atmosphere like off-camera on set, do you guys all get along and hang out?
Keltz: Honestly, we are so blessed to have such a wonderful cast and crew. We really always have such a great time working together. The crew is the best, everything they're trying to do with the show, and what they get to make it look as authentic and real and as beautiful as possible, and it helps to ensure we escape into the world. The cast is awesome. I mean, Adelaide [Kane, who plays Mary] and everyone else is so great to work with. I love working with Celina [Sinden, who plays Greer], it's really nice. You know, most of my scenes are with her, because of the nature of our relationship being a secret and everything. It's really nice seeing them evolve over the season. It's really been wonderful. …Yeah, so, I feel really fortunate.
TVRage: It's nice to see the relationship that your character and Greer have, it's sort of a nice contrast, at least for now, with all the drama going on with Mary and Francis and Bash.
Keltz: Absolutely. You know, it's actually kind of funny because there's all the drama with all of them, and all the fans are freaking out -- they're either Frary fans or Mash fans, in terms of who they want Mary to end up with. But it's nice, we get to be the one couple that everyone can agree on.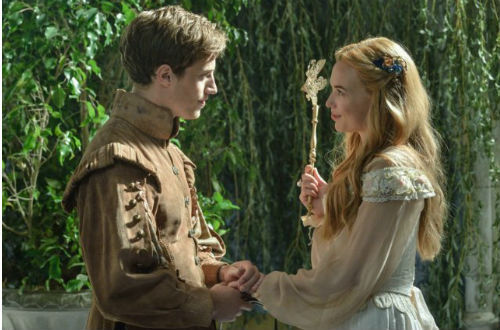 TVRage: So how about you, are you Team Francis or Team Bash?
Keltz: Oh God…you know, Toby [Regbo, who plays Francis] is my brother in arms, and Torrance [Coombs, who plays Bash] is my brother in humor, so I couldn't pick between the two. I think Mary needs a little bit of both in her life.
TVRage: As a kitchen boy, do you have any kitchen skills yourself that you brought to the table for this role? How would you fare as a kitchen boy?
Keltz: I've worked kitchen in a restaurant before. When I was in high school, I worked in a restaurant. I worked as a sous chef in a kitchen in a restaurant…and then actually when I lived out here in L.A., I worked on the floor. But I do have a background in kitchen work, and I was raised in a family that cooks a lot…I can handle myself in the kitchen.
TVRage: That's perfect!
Keltz: Yeah, my girlfriend's across the way, she's teasing me a bit about this.
TVRage: Does she not agree with your own assessment of your skills?
Keltz: She would just like to maybe see them in action a bit more.
TVRage: One of the more interesting things about 'Reign' is the integration of more modern music with the historical plot. If you could pick any song to be your character's theme song, what would you pick?
Keltz: Oh, well, it could just be that The Black Keys play every time Leith walks into the room. But I think what's actually really cool is, there's a channel called M3 in Canada, and the song that they've been using there to promote the show is "Royals" by Lorde, and it's really a perfect song for the show. I mean, obviously it kind of comes out the opposite, but for me, the kitchen boy, I think it would absolutely apply.
TVRage: Aside from 'Reign,' you've played a lot of different types of roles even just in the last year alone [USA's 'Necessary Roughness,' CBC's 'Republic of Doyle,' and '21 and Over' on the big screen]. Do you have a preference between the different types of roles: between a period piece or something more modern, comedy or drama?
Keltz: It's been so much fun working on a period piece, really getting to explore being in that world and the detail in the sets and the wardrobe and everything that they bring to it…But I definitely like all sorts of projects, I like working comedy, and drama, you know, modern joints, period pieces, all of it.
TVRage: What other TV shows are you into, what do you like to watch?
Keltz: I like to watch a lot. My girlfriend and I just finished 'Breaking Bad' now. It's been hard, with both of our schedules, to be able to watch and catch up on episodes. I'm very excited for 'Game of Thrones' to come back, [I'm a] 'Ray Donovan' fan…'House of Cards' (haven't seen the second season yet)…'Tomorrow People'! I'm a big 'Tomorrow People' fan. Robbie [Amell] is an old old friend of mine. And that'll about do it. And, you know, maybe I have been dragged to watch an episode or two of 'The Bachelor,' but I can't confirm or deny.
TVRage: That's all I have for questions, is there anything you'd like to say to your fans?
Keltz: Everyone that sticks it out with 'Reign': don't miss any episodes, crazy stuff happens every week…who knows what could happen week to week so make sure you're tuning in. And as many of us as possible try and live-tweet the episodes, so you can find us on Twitter. My twitter handle is @jonnykanyon.
'Reign' airs Thursdays at 9/8c on The CW.