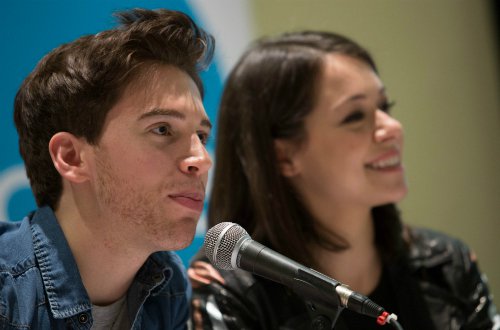 It's hard out there for a clone.
"I wish the other girls had showed up," joked actress Tatiana Maslany, after being asked yet another question that called on her to speak for all the characters she plays on 'Orphan Black.' The audience reeled and laughed as Maslany solicited help from colleagues and fans.
It was one of the most anticipated panels at Toronto ComiCon, and it did not disappoint, as beloved fans packed together to embrace their home-grown show and celebrate Clone Club.
Tatiana Maslany and Jordan Gavaris came out Saturday afternoon in the city where the show is filmed to sign autographs, take photos, and chat about what has happened and what's to come.
With a year under the belt, and a slew of awards and nominations, including a Golden Globes Best Acting nod for Maslany, the 'Orphan Black' stars gathered to tease Season 2 ahead of its April 19 premiere.
"Season 1 was conception; Season 2 was evolution," Gavaris declared ominously. "We kind of worked our way back into [Season 2] and tried really hard to approach it the way we did the first season and pretend no one is watching and push the envelope."
Creator Graeme Manson, who was in the first row when the panel began, was soon invited on stage, and like Gavaris, he hinted at the exciting and scary potential.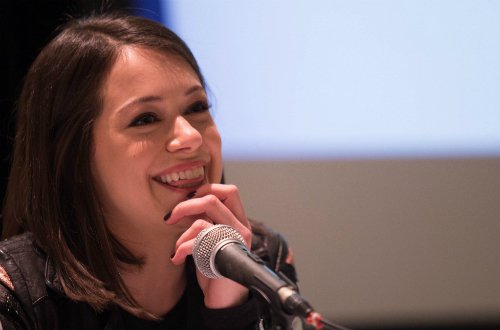 Since Maslany plays several characters on the show, and as the narrative has shifted slightly – where it was once just Sarah, it is now several clones whose lives are explored in depth – Manson was asked if there was a chance one of the clones generally, and Sarah, specifically, could be killed off.
"Yes," Manson said with the look of someone full of power and secrets. After a collective gasp from the audience, he added, "Sort of."
So there is that world for fans to contemplate (the most popular character at the expo seemed to be Cosima, with Sarah a strong second, and an Alison or two). Felix's role looks to expand as well, and Gavaris offered some thoughts on where his character will be going.
"Felix gets a love interest," he stated to cheers. "There will definitely be some love and lust for him. It's all part of making him different and seeing a different side of him, and keeping you guys guessing and not settling for complacence."
"As much as there is an ease as we know these characters, it's still expanding them and trying to challenge them and change them," added Maslany of what's to come in Season 2. "The writers did such an amazing job this season by not falling back on what worked last season. It was just totally bold new storytelling."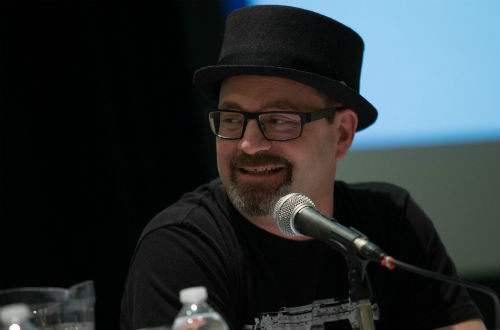 Of course, however, the show begins and ends with the incredible performances by Maslany, who seems invigorated and humbled by all the show has achieved. "It's very much this collaborative thing," said Maslany of what it takes to assumes several different roles. "The writing is so strong; none of the characters speak the same way. It's an organic sort of thing that comes out of saying the lines."
She added that the cast and crew on set would also act differently around her depending on which character she was portraying, be it soccer mom Allison or effervescent grad student Cosima. Gavaris and Maslany will work opposite tennis balls and pieces of tape when filming scenes where two or more clones are together, shooting the same thing over and over with the help of a clone double in order to make the show seamless.
It stands to reason that after an incredibly ambitious and successful first year, 'Orphan Black,' with a passionate fan base, can grow on what they've done and bring forth another barrier-shattering season.
"This an amazing genre shift," said Maslany. "All these separate worlds we got to know start to get detailed, it's all expanding."
"The coolest thing is how the characters are going to change," added Gavaris. "You think you know, but you don't know."
 --
'Orphan Black' returns for Season 2 on April 19 on Space and BBC America. You can watch the trailer below.