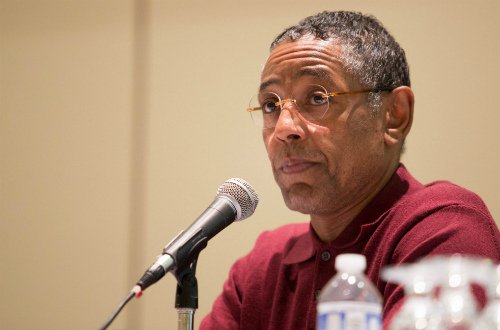 Giancarlo Esposito was once a warrior, is now a superhero, and always wants to be president.
Those were just some of the many fascinating insights shared by the talented and distinct actor as he graced a passionate and fascinated crowd at Toronto ComiCon. Combining humor and insight with axioms and wisdom, Esposito mesmerized an audience that it is safe to assume mostly knew him as the fabulously exacting villain Gus Fring on 'Breaking Bad.'
"This may be getting way too honest for ComiCon," Esposito said at one moment, and while it was in reference to a growing drug problem in America, he could have been referring to his call for alternative energy, political engagement, and being in service to one another.
Esposito championed communal, societal, and global action, calling on those in the audience to be leaders and not followers in a world he says is slowly slipping out of our control. "It's not until we speak up as a group collective group of concerned citizens, concerned world human beings, that things will change," he said, specifically referencing the global energy crisis.
The actor currently stars on NBC's 'Revolution,' a series by J.J. Abrams set in a future where the world is without power. "'Revolution' is an empowering show, a picture of what could be," stated Esposito. "This could happen; it's a breath away if we allow it. Our world is changing and we don't want to let it get away from us, we want to take control of it and move into a new world and really feel like we're a part of it."
Esposito went further, telling a rapt audience that life for his character Tom Neville and indeed everyone sitting in the room and beyond isn't just about getting by. "If you're always just trying to survive, then you are not in creation."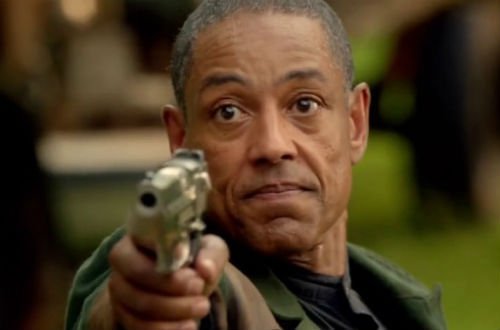 As 'Revolution' holds great meaning with the actor now, so too did 'Breaking Bad.' What compelled Esposito, who was born in Copenhagen to an Italian father and African American mother, to take the role was a story he had read about two Mormon missionaries. They fell into meth addiction and instead of being in service to their faith, they were slaves to drugs. "There is a problem in our country with drugs, as people are looking for a connection they that are not getting. I wanted to be a part of a show that exposed this to a massive amount of people."
"Granted, you didn't watch the show because it was an anti-drug show, and it may sound a little odd that that's why I took the role, but it is," he added. "The more we understand the connections, the more we take a hard look at not only our communities, but ourselves."
With both the characters of Tom Neville on 'Revolution' and Gus Fring, Esposito explained, he instilled them with something innate. "I know in a previous life I was a warrior, a soldier. Part of me being able to display Tom Neville the way he is and Gus Fring before him is that I have been in those situations. We have a memory of our previous existence, if we only take the time to…breathe. Everything you need to know is inside you."
So, in between challenging the crowd on the state of being, and after covering such topics such as his enjoyment of playing a genie on 'Once Upon a Time,' a guest spot on 'Community' ("that's a freaky show" he declared with a big smile), and his desire to play the president on screen (and maybe be one in this life or the next), Esposito chatted 'Breaking Bad.'
"I was inspired by one line: hiding in plain sight," Esposito said of Fring, who like so many great TV characters, did not begin as a regular role. "How many out there are who you say you are? Gus knew who he was, but was hiding something elicit."
"Underneath it all, there was compassion," he added, explaining that his favorite episode was "Box Cutter," in which Gus has to kill off a member of his team in a lengthy scene that called for Esposito to act without words. "He had to do it, and that hurt Gus. He had a family; those were a family of people he had to protect to keep the business going. He was selling meth, but it was a business, and every person who worked for him was a family."
The end, of course, was bittersweet, and Esposito joked about a meeting early in Season 4 with creator Vince Gilligan in which he would not allow Gilligan to close the door to his office, knowing what he was going to say.
"The high was so fantastic, and I put so much of my heart and soul into it," he said of his role, which came to an end in the Season 4 finale. "There is something that's released, especially when you die." Esposito didn't pause before offering the next nugget of knowledge. "You don't have to die. There really is no death, but we're conditioned to think there."
Whether or not the entire audience completely believed in Esposito's declarations of past and future existences, the message of engagement and service, spreading love and happiness, is universal. Cleverly, and effectively too, he related his attitude towards life to ComiCon.
"We're dealing with superheroes. In all these characters you love and enjoy, someone in them, you see yourself, a piece of you," he said. "I don't know about you, but I want to be a superhero, and I'm claiming it. I just said I want to, so guess what, I am a superhero!"
"If you don't have it, you don't know it, you act as if. You live vicariously through one, and one day you may wake up and realize you have it in you."