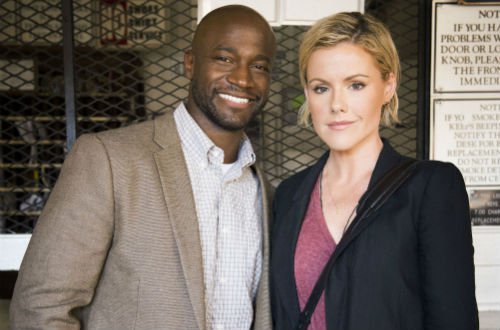 Earlier this week TNT announced premiere dates for 'The Last Ship,' 'Legends' and 'Falling Skies,' and now the network's revealed a slew of other summer premieres.
Of course, fans we'll be excited to see returning favorites, including 'Rizzoli & Isles,' 'Dallas,' 'Perception,' 'Franklin & Bash,' 'Major Crimes' and 'Cold Justice.'
TNT viewers can also look forward to new series 'Murder in the First,' starring Taye Diggs, Kathleen Robertson, Tom Felton, Raphael Sbarge, Ian Anthony Dale, Steven Weber and James Cromwell. Diggs and Robertson star as homicide detectives Terry English and Hildy Mulligan, respectively, as they investigate two seemingly unrelated murders. However, they soon discover both murders have something in common, Felton's Silicon Valley wunderkind.
As TNT President Michael Wright said in a statement, "'Murder in the First' is unique among TNT's crime dramas by focusing on one intense, complicated case across an entire season, with several surprises and twists along the way." The series is co-created by Emmy winner Steven Boncho ('NYPD Blue,' 'L.A. Law,' 'Hill Street Blues') and newcomer Eric Lodal.
Here's a complete list:
Monday, June 9
9/8c: 'Major Crimes'
10/9c: 'Murder in the First'

Tuesday, June 17
9/8c: 'Rizzoli & Isles'
10/9c: 'Perception'
Friday, June 20
8/7c: 'Cold Justice'

Sunday, June 22
9/8c: 'The Last Ship'
10/9c: 'Falling Skies'
Monday, Aug. 18
9/8c: 'Dallas'
Wednesday, Aug. 20
9/8c: 'Legends'
10/9c:  'Franklin & Bash'