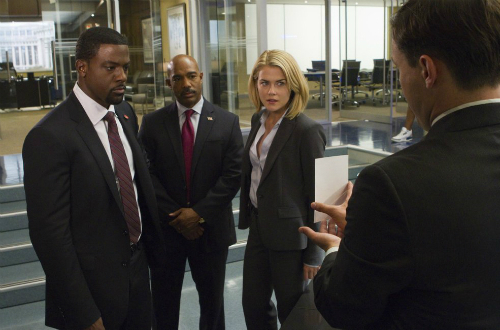 A script full of twists, a pair of clashing roles, and a plot where no one can really be trusted has made for challenging, compelling work for actors Rachael Taylor and Lance Gross.
The two are the leads, initially opposing, of the new NBC drama 'Crisis,' set to premiere Sunday night. Taylor is FBI agent Susie Dunn, while Gross portrays Secret Service Agent Marcus Finley; the two are forced to team up together amid a national emergency in this suspenseful drama.
"We really tried to create in the pilot a solid foundation of who our characters are and how they behave so that we had a solid basis to operate from," explained Taylor during a conference call with reporters ahead of the premiere. While it seems like a rather straightforward notion, there was a reason for this concerted effort to understand the characters as much as possible.
"It's a thriller with plenty of twists and turns," continued Taylor. "Things can exchange on a dime." The pilot opens with the affluent children of Ballard High, a school that teaches the privileged offspring of Washington D.C.'s political elite (including the president's son), on a field trip that takes a fateful detour. Stopped in route by armed offenders, the children and two chaperones (including Dermot Mulroney) are abducted and taken to an undisclosed location, igniting the titular panic.
"As cast members, we're reading the scripts, and they're page turners," said Gross, joining Taylor on the call. "I like that element of surprise. Of course [showrunner] Rand Ravich gives us enough information to prepare, but it keeps us intrigued as actors."
"You never know who to trust, and it's always exciting."
Those characters of which allegiances are unsure include teachers, politicians, federal agents, and just about everyone you meet in the pilot.
"We just accept the information and the given circumstances we have, but I'm excited by the possibilities," added Taylor.
It seems initially that Dunn and Finley are trustworthy (who's to say, though). Finley is going through his first day on the job when the incident ignites, while Dunn battles a fractured past and deals with her estranged, powerful sister (Gillian Anderson), whose daughter is among the many kidnapped. Both actors made sure to take advantage of any opportunities they could to learn from professionals.
"I talked to anyone that I could," explained Gross, who spent time having conversations with retired Secret Service agents. "I got a lot of information, but of course with their job, there are things they can't reveal." Gross undertook fight and gun training, and also found his 'Crisis' bible in a book titled 'Standing Next To History: An Agent's Life Inside the Secret Service' by Joseph Petro.
Taylor too solicited help, but also added another layer to her preparation.
"I talked to a former female FBI agent, who was super valuable to learn about the conflicts with my character," said Taylor. "We spoke about the technical aspects of being FBI; what it does to the inner person." Taylor, who hails from Australia, sought to understand how such a job affects personal and familial relationships, something that comes into play early and often on 'Crisis.' As it were, Taylor resisted help from Anderson, who, of course, played an FBI agent across nine years on 'The X-Files.'
It would seem that Taylor and Gross make up one interesting facet of a show that is about family, about politics, and about thrills. They are the unlikely duo, in a buddy cop situation of sorts, which looks to ultimately drive this drama.
"We really are kind of together for the whole season," said Taylor. "On set, they called us 'Rance.' We weren't really apart for 13 episodes. It's a very interesting relationship and friendship and professional partnership. I remembered recently where we were shooting a scene in the car, we were talking about the past, and it was a real watershed in terms of our characters."
So Dunn and Finley are teammates, whether or not they like it. Supported by a talented cast, Taylor and Gross form the heart of this sweeping drama that seeks to hold on to heightened suspense for the entire first season, or for however long this crisis plays out.
'Crisis' premieres Sunday, March 16 at 10/9c on NBC.