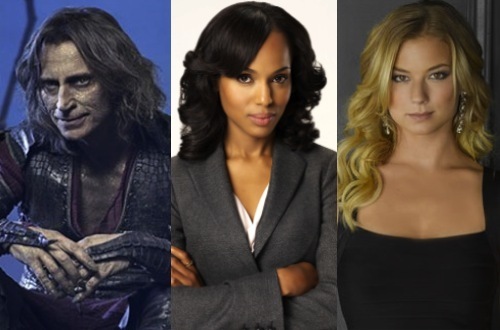 Spring is in the air (or at least it will be officially after tomorrow), which means it's time for the 2013-14 television season to start thinking about coming to a close. Last week, NBC unveiled their season finale dates, and now it seems ABC has decided to follow suit by announcing their own end-of-season schedule.
Those among the lineup include the network's No. 1 fairytale drama 'Once Upon a Time,' which will air a special two-hour season finale instead of its usual hour-long run. (Let's just hope this gift of extra time doesn't come with a price, dearies!)
Not to be outdone, 'The Middle' will also receive an extra bump in airtime, extending its finale to a full hour of airtime. Other shows listed include network favorites 'Scandal,' 'Castle,' 'Grey's Anatomy' and many more.
But hey, don't just take my word for it. Check out the complete rundown of the programming below and start setting those DVRs accordingly.
The 2014 ABC Finale Dates:
Thursday, April 3
8 p.m. - 'Once Upon a Time in Wonderland'
Friday, April 11
8:30 p.m. - 'The Neighbors'
Thursday, April 17
10 p.m. - 'Scandal'
Friday, April 25
8 p.m. - 'Last Man Standing'
Sunday, May 4
9 p.m. - 'Resurrection'
Sunday, May 11
8 p.m. - 'Once Upon a Time' (2 hours)
10 p.m. - 'Revenge'
Monday, May 12
10 p.m. - 'Castle'
Tuesday May 13
8 p.m. - 'Marvel's Agents of S.H.I.E.L.D.'
9 p.m. - 'The Goldbergs'
9:30 p.m. - 'Trophy Wife'
Wednesday, May 14
8:30 p.m. - 'Suburgatory'
10 p.m. - 'Nashville'
Thursday, May 15
9 p.m. - 'Grey's Anatomy'
Friday, May 16
8 p.m. - 'Shark Tank'
Sunday, May 18
7 p.m. - 'America's Funniest Home Videos'
Tuesday, May 20
9 p.m. - 'Dancing With the Stars'
Wednesday, May 21
8 p.m. - 'The Middle' (1 hour)
9 p.m. - 'Modern Family'
9:30 p.m. - 'Mixology'