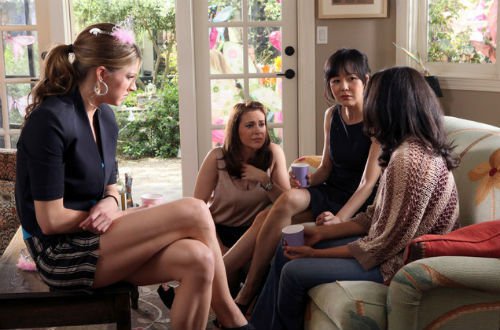 Another major network has released its summer schedule, including a slew of series premieres, so it's time once again to set your VCRs accordingly (or modern-day equivalents).
ABC has announced its lineup through August – summer starts in April, we'll be happy to know –  in a slate that includes a pair of new scripted dramas, 'Black Box' and 'The Astronaut Wives Club.' The network will also debut the singing competition 'Rising Star' to add to a collection of reality series that includes 'The Bachelorette,' 'Extreme Weight Loss,' and 'Wipeout,' as well as the premiere of 'The Quest.'
Things kick off with 'Black Box,' a series that follows neurologist Dr. Catherine Black (Kelly Reilly) and her crack staff as they try to unravel the mysteries of the brain (and maybe love?). The limited series will take the place of 'Scandal,' while three months later on the same night ABC will premiere 'The Astronaut Wives Club,' a period drama about the space race.
Here is the full lineup:
Thursday, April 24
10-11 p.m. 'Black Box' (series premiere)
Sunday, May 18
8-11 p.m. The 2014 Billboard Music Awards

Monday, May 19
9:30-11 p.m. 'The Bachelorette'

Wednesday, May 21
10-11 p.m. 'Motive'

Monday, May 26
8-10 p.m. 'The Bachelorette' (regular time period premiere)

Tuesday, May 27
8-10 p.m. 'Extreme Weight Loss'

Saturday, May 31
8-9 p.m. 'Bet on Your Baby'

Monday, June 2
10:01-11 p.m. 'Mistresses'

Thursday, June 19
8-9 p.m. 'The Quest' (series premiere)

Sunday, June 22
7-9 p.m. 'Wipeout' (special two-hour premiere)
9-11 p.m. 'Rising Star' (series premiere)

Tuesday, June 24
10-11 p.m. 'NY Med'

Sunday, June 29
8-9 p.m. 'Wipeout' (regular time period premiere)

Thursday, July 17
10-11 p.m. 'Rookie Blue'

Thursday, July 24
9-10 p.m. 'The Astronaut Wives Club' (series premiere)

Monday, Aug. 4
8-10 p.m. 'Bachelor in Paradise' (series premiere)