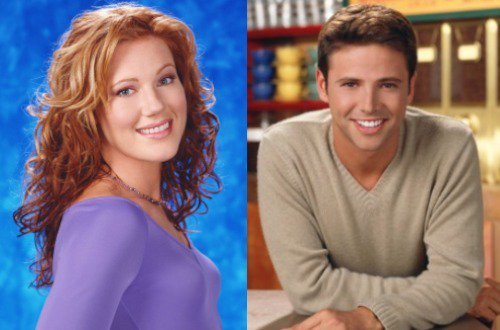 Prepare yourselves, 'Melissa & Joey' fans, because things are about to get a little bewitching. Or at least it's going to seem that way.
In this week's episode, which airs on April 9, the ABC Family favorite will play host to two very special guest stars: Elisa Donovan and David Lascher, widely known for their popular roles as Morgan Cavanaugh and Josh Blackhart on the wickedly wonderful series 'Sabrina, the Teenage Witch.'
And while this mini-reunion will involve completely different characters, it's still exciting to see a portion of the old gang together again, in any capacity. During a recent conference call, both actors were able to open up about how their new characters will impact the series and how it feels to be reunited after all this time.
In regards to their upcoming characters, both actors tease it could spell a little bit of trouble for Melissa (Melissa Joan Hart) and Joey's (Joey Lawrence) budding relationship.
"I play a woman who David's character and Joey meet in a bar," Donovan describes. "Joey is being the wing man for David's character. Then I wind up being the museum curator at an event that Melissa has to attend and speak to me at, and she discovers that the two of us have been in contact. Then you'll see what happens after that."
Talk about an unfortunate run-in. So how was it playing less friend and more foe with her former co-star? "It was a change," Donovan explained to TVRage. "In this case it was fun because, as you'll see in the episode, when we do cross paths in this way, we have an understanding with each other. It's more that Joey's the one that has to answer to the issues at hand…because he's the one who makes the mistake, really."
As for Lascher's character, he'll play Charlie, Joey's happily divorced friend, which he described as being "so much fun to play because Joey's in a committed relationship and I am constantly talking about how great it is to be single again and find other women attractive again." Perhaps he's the one responsible for whatever goes down between Donovan's character and Joey at that bar. Only time will tell!
But the only drama that exists is strictly on-screen only. Both actors could not have been more thrilled to reunite with the 'Sabrina' gang again.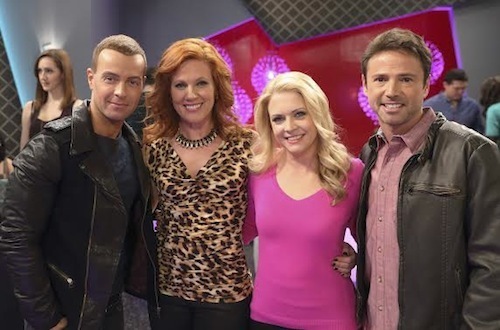 "I was just thrilled at the whole plan," exclaimed Donovan about their time on the 'Melissa & Joey' set. "There's obviously such a history between all of us, and to come back and all work together as adults was just fantastic."
In fact, it was enough to make them very nostalgic about those magical (pun intended) 'Sabrina' days. Lascher recalled, "I remember when we were on 'Sabrina,' it was like a big family. Melissa's mom Paula was like a mother to us. And literally, her front door to her house was always open to me and my whole group of friends."
"It's really fun to work with friends," Donovan added. "I miss that part of it, the everyday, being together and laughing, and we have gag reels from that show that are pretty hilarious, that I feel like should be one day aired somewhere." Umm, yes please. We'll take two copies!
Aside from their recent stint on ABC Family favorite, the duo also shared what other shows out there they'd like to be apart of someday.
Donovan preferred to stick to the sitcom approach. "Oh, I would say 'Brooklyn Nine-Nine' or 'The Mindy Project.' Lascher, however, would love to dabble in something a bit darker. "I know it's not on the air anymore, but I just finished watching 'Breaking Bad,' and I would love to do something on that dark, twisted type of show."
And as for comedy-wise, "I would love to do 'Modern Family.' I think that show's hilarious and really pushes the envelope."
In the meantime, they're both keeping themselves pretty busy these days. "I am doing a couple of web series at the moment," Donovan announced. "I've done the voice for Cheryl Sandburg's best-selling book, 'Lean In.' It came out last year and they are releasing another book April 8, that is specifically geared toward graduates, 'Lean In for Graduates.'"
Lascher added, "I just finished my first film that I wrote and directed called 'Sister,' that's premiering at the Tribeca Film Festival on April 25, with Barbara Hershey and Reid Scott and John Heard. So I'm really excited about that!"
Be sure to catch the brand new 'Melissa & Joey' episode this Wednesday, April 9 at 8/7c on ABC Family.