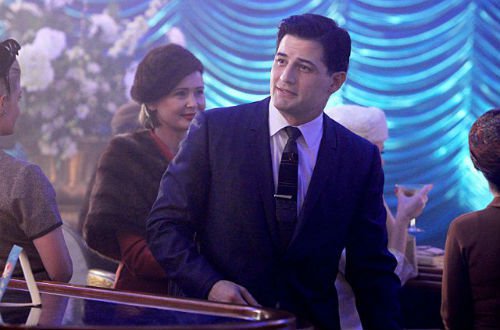 It looks like Enver Gjokaj might be making eyes at Sasha Alexander -- well, on the small screen that is.
According to TVLine, Gjokaj, known for his time as Victor on the late 'Dollhouse' series, will pop up on 'Rizzoli & Isles' for its upcoming fifth season in a multi-episode arc. Not only will Gjokaj be showcasing his smart side, but he'll also be exuding charm as well.
He'll play Jack Keystone, "a charming" professor at Boston University who comes into Jane (Angie Harmon) and Maura's (Alexander) lives in "a new and exciting way." Jack is said to be both "intelligent" and "funny," and with those two positive qualities he meets Maura. It just so happens that the successful medical examiner is preparing a lecture for her new seminar when she meets Jack.
Will this be love at first sight for the two? Will Jack charm the medical glasses and gloves off of Maura? Will he be the next villain on Jane and Maura's list? Whether friend, lover or foe, we'll have to wait and see when the hit TNT procedural returns this summer.
So far, Gjokaj is slated for roughly three episodes. The actor is also known for appearing on 'Made in Jersey,' 'Vegas,' and, most recently, Lifetime's 'Witches of East End.'
'Rizzoli & Isles' returns Tuesday, June 17 at 9/8c on TNT.