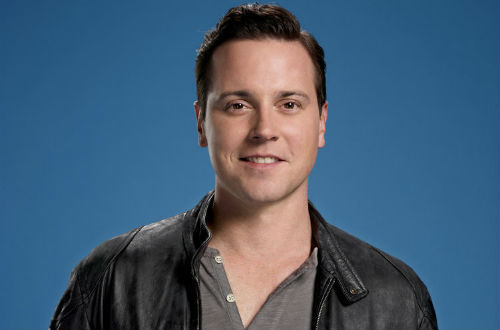 He's played a pilot in the '60s. He portrays a killer every now and again on a hit ABC drama. Now, he showcases his funny and lifesaving side on a new USA comedy from Denis Leary and Bob Fisher.
Yes, I'm talking about Michael Mosley from 'Sirens,' where he struts his stuff as EMT Johnny Farrell. When he isn't saving lives, he's busy pranking the new rookie with his best friend, Hank (Kevin Daniels), and figuring out his love life with Theresa (Jessica McNamee).
Mosley was nice enough to sit down with TVRage.com to chat about the brand new comedy, what it's like working with Leary and the cast, and how he hopes to be back as everybody's favorite killer on 'Castle.'
TVRage: So, let's talk your new show 'Sirens.' What was it that attracted you to the show and your character, Johnny?
Michael Mosley: Well, what first attracted me to the show is getting a job and a paycheck … [that] was my first attraction. Obviously, to be able to work with Denis and Bob is amazing. To have Denis there -- I didn't know how involved Denis would be. You never know with these things. … I didn't really know his involvement, but having him there as often as he's been there, which has been pretty much all the time, has been awesome. It's been amazing. To get to work shoulder to shoulder with him and Bob (the creator of 'Wedding Crashers') … to be shoulder to shoulder with those guys and kind of attack the material with them -- they're kind of comedic geniuses -- so it's been like a master class, you know?
TVRage: Obviously, you play an EMT. Did you do any real-life training or research for the part?
Mosley: Yeah, we had a couple technician guys, well, they're called technical advisors, that were there to make sure that if they heard anything that sounded like bullshit, they would come over and make sure we were doing it right. But, for the most, the show is not a tech-heavy feel, it's mostly about us being screw-ups and busting each other's balls and being ridiculous. Then, they kind of temper it with these real incidents. If it was a really tech-heavy day, or there was a lot going on, or we were doing a lot of saving and stuff like that, then we were sure to have those guys right next to a camera so we could run over and make sure nothing looked like baloney.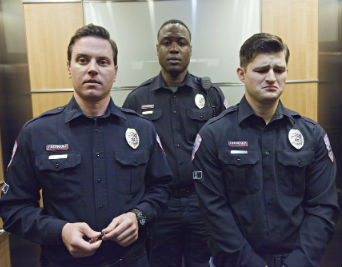 TVRage: Since you actually spoke with EMTs, how many of the scenarios we've see are based on real-life situations?
Mosley: Yes, some of them are. … The porn thing [Episode 3, "Rachel McAdams Topless"], that was a real thing. That was one of our guys that was working on the show. He thought he was having a heart attack. No baloney. He thought he was having a heart attack -- it was just like a panic attack or whatever. So, he was going to the hospital and he had another guy that works on our show go back to his hotel room and erase his web browser. That's what he was thinking about. As he thought he was turfing out, when he thought he was going to be seeing Jesus and walking into the gates (laughs), and the last thing he thought about was his web browser, which is just fascinating to me. So, that's a real thing. Denis heard the story and was like, 'Well, shit, we gotta put it in the show.'
It's really fun to have Denis be that improvisational and to be able to move that quick. He hears this and he likes, 'Oh, shoot,' and he starts writing. Very fun, and I guess it speaks to the essence of the show that they're just open to what's funny. There's not just some dogma or doctrine about where we're gonna go or what's gonna happen -- from what I can see. I don't know, maybe they've got ideas as far as Seasons 2, 3 or 4, but at its core, it's very loose and I like that about it.
TVRage: There's great chemistry between you, Brian (Kevin Bigley) and Hank. Was there an immediate connection, or did it take some time?
Mosley: There kind of was. A lot of time you do these shows and there are people that are kind of -- there are like assholes around. There's somebody's that's gonna think that what we're doing is curing cancer or something like that, and it's not. It's fun and we have a great time doing it and we should enjoy it. With the Kevins, we immediately got along, and the same with Jess McNamee. The four of us were like the four musketeers. We have a great time. We hang out off set all the time. We have dinner. Yeah, they're really great guys, and same with Jess.
We shot the pilot in 2012, and then we shot the season in 2013, and now, we're airing in 2014. So, I've known them for almost two years. That's very helpful. Other times on a show, you'll meet the cast, and then a week later you're shooting, and then a month later you're airing. Then, some months after that the numbers aren't good, so everybody's kind of removing themselves from the situation. We were allowed to sit out in Chicago and shoot this whole series within two months. We weren't airing while we were shooting. We were kind of in a little bubble out there. It was kind of like being at camp.
TVRage: That's great that you had time to bond and get to know one another.
Mosley: Yeah, we got to know what the show was. As the show progresses -- the episodes now are when we all kind of started looking at each other on set and we started to get a handle of what the show was and what the show was naturally becoming. So, I'm really excited about these next few episodes.
TVRage: Now, you're character is also in love with Theresa. So, what can fans expect between Theresa and Johnny in upcoming episodes?
Mosley: The nature of this thing is boy-gets-girl, boy-loses-girl, boy-gets-girl-back. That's how these things kind of go, but you'll just have to wait and see. I don't want to spoil anything. I think he would do anything for her -- anything in the world -- because he loves her to death. He would do anything for her, except for moving in with her. That's the one pill he can't swallow. I think he's still deathly afraid of commitment.
TVRage: Let's switch gears and talk about your role on 'Castle,' where you play Jerry Tyson aka 3XK
(The Triple Killer). What's it like being known for playing a killer?
Mosley: I love that show. I love working on that show. I love everybody on that thing. You know what's crazy? Fans of that show are rabid. I only did two episodes of that show, but people love the character and the storyline. It's amazing. It's amazing to play the bad guy. Playing the bad guy is so much fun. You get to find the good in the bad guy. Well, not the good, but part of the bad guy that the bad guy likes. He doesn't think he's bad. He thinks what he's doing is justified. So, to find those things in him that are good. Does that make sense?
TVRage: I understand what you're saying.
Mosley: Yeah, I don't know if I'm articulating it very well, but it's been awhile and people love that show. People love that character. So, that's been fun to be a part of.
TVRage: Like you said, you've only been in two episode. Sometimes you're not even in an episode, but your character is just mentioned and it sets the tone for the entire episode. What's it like to play a role that has that kind of presence?
Mosley: I know! I don't know. It's crazy. I just want them to call me back. Not that I'm calling them. (laughs) It's like, I'm like, 'Hey, guys, I'm over here! I'm not shooting right now. Can I come?' No, they don't call me back, but I do want them to call back and invite me back to do more stuff. It's so much fun and I want to chase Castle [Nathan Fillion] down into the woods or something. I feel like they have to put Tyson out, because he hasn't really been killed yet. They don't think he's been killed yet.
TVRage: It's very open-ended. I can only imagine you'll come back sooner rather than later. I think fans would enjoy that as well.
Mosley: I hope so. I hope it's not just another dead body in the dumpster. And, they're like, 'Oh, that's Tyson. Someone got him before we did.' It's been awhile since they've been able to crack that character and that storyline. And like you said, they just mention the guy's name and it just changes the whole kind of ego to the show. It's been a cool ride.
In addition to 'Sirens' and 'Castle,' Mosley will soon be appearing -- again -- on A&E's 'Longmire,' where he plays Katee Sackhoff's husband.
You can catch a new episode of 'Sirens' tonight at 10:04/9:04c on USA.