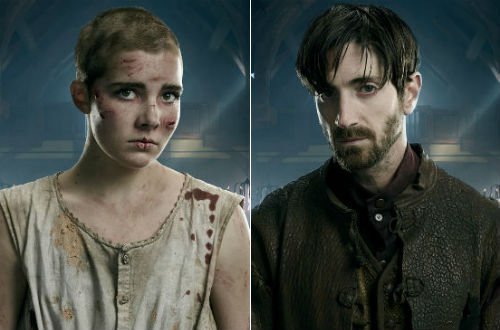 Elise Eberle and Iddo Goldberg. These are the two to watch out for on WGN America's 'Salem.' Both play outcasts, tormented characters and have some of the most intense scenes -- and that's all in the first episode.
As the tortured Mercy Lewis, Eberle brings to life a troubled, young girl living in a world of witches and Puritans. As for Goldberg, he plays Isaac Walton aka "Isaac the Fornicator" -- for obvious reasons -- a man looking for redemption.
When I sat down to chat with these two on the 'Salem' set, not only were they the life of the party, but they opened up about what it's like playing afflicted characters. Despite not having any scenes together in the first episode, viewers will quickly realize Mercy and Isaac have a lot in common.
For two characters to be so tormented, Goldberg said, "It's a great engine for a character." Eberle agreed and said, "There's nothing to lose, in a sense."
"I think Mercy's fascinated with power," Goldberg added. "I think Isaac is desperate to part of, or hopefully one day, save Salem, because that would rid him of the shame and guilt that he carries. They're great beginnings for journeys." Eberle noted, "They're both really meaty."
To ensure they do justice to their characters, these two committed in several ways. One, Eberle cut her hair, which is shown in the first episode in a scene between her and Cotton Mather (Seth Gabel). As for Goldberg, he broke his arm -- OK, not on purpose, but he did on accident.
"(laughs) I was like this is not working," Goldberg joked. "Yeah, we were filming last week, and I fell off a horse-drawn carriage. I can't believe it. (laughs). It could've been a lot worse, and it's kind of healthy. I think it's good to hurt yourself once in awhile. It really makes you appreciate how fantastic it is to be healthy and in one piece."
"He was committed," Eberle joked.
Mercy and Isaac might be the outcasts of Salem, but they're both vital to the witch hunt. Without giving too much away, Eberle elaborated on Mercy's future, "[She] is dangerous. She's evolving and she's realizing what control that she has over Salem. So, I think that is something that you have to watch out for -- the audience and also Salem."
As for Isaac, Goldberg revealed, "I think in the same way Isaac is going to get a lot more involved in the proceedings than he was ever expecting to be. And, is he ready for it?"
Eberle and Goldberg encourage everyone to watch. For Eberle, "I think [the show is] its own self. There's nothing like it. There's nothing like it on TV right now, and it is pushing boundaries and it is going out there -- nothing else is. So, that's fulfilling and that's enjoyable to watch." And as for Goldberg, "I think it's going to be very hard not to want to tune in to the second episode."
Like Eberle expressed, "You'll be addicted."
To hold you over until the premiere, here's a little teaser: keep an eye out for Mercy's marketplace scene and the opening scene with Isaac. They're both intense, which Goldberg and Eberle discuss below.
'Salem' airs Sunday, April 20 at 10/9c on WGN America.
--
More on 'Salem':
Xander Berkeley and Tamzin Merchant Talk Father-Daughter Relationship
Co-Creator Brannon Braga and Creative Team on Designing 'Salem'