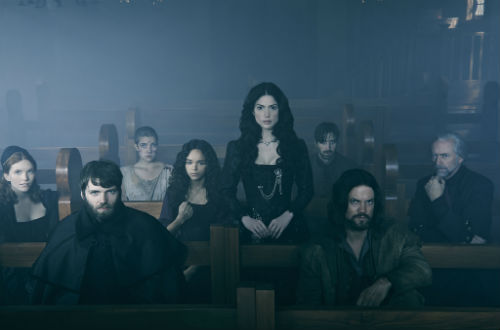 If you thought you knew everything there is to know about the infamous and historic Salem witch trials, think again.
Thanks to WGN America's first original scripted series 'Salem,' which debuts this coming Sunday with its first episode, titled "The Vow," we are presented with an entirely fresh, new, dark and twisted tale about the 17th century witch hunt and trials in Massachusetts.
Like the show, the cast itself embodies talent left and right, including Shane West, Janet Montgomery, Seth Gabel, Elise Eberle, Xander Berkeley, Tamzin Merchant, Iddo Goldberg and Ashley Madekwe. These talents surely -- and not surprisingly -- bring 'Salem' to life in a thrilling way. Let's just say, the cast and characters (most are based on historical figures) exceeded my expectations.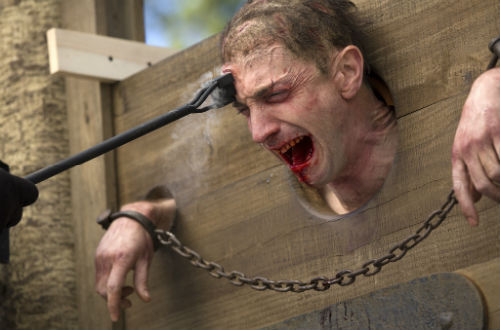 Revolving around witches and the supernatural, it's no shock that the premiere episode opens up in 1685 with a gripping and intense scene (one of many), where we see "Isaac the Fornicator" (Goldberg) being brutalized in the stocks for his indiscretions, according to the Puritans. Immediately, we are then introduced to the heroic John Alden (Shane West), the powerful and beautiful Mary (Janet Montgomery) and the controlling George Sibley (Michael Mulheren).
That opening leads us to one powerful and dark-tastic scene between Mary and her "servant," the ageless Tituba, played by Madekwe ('Revenge' fans, she's no Ashley Davenport -- she's a million times better), in addition to a snippet into the romance between John and Mary, whose "vow" leads the story in a twisted, layered and intriguing direction.
Quickly, we're transported seven years into the future (1692), where the witch trials and witch hunt are in full effect, all thanks to the "religious and law-abiding" Cotton Mather (Gabel). No surprise here that Gabel is once again showcasing his brilliant talents as an actor and the so-called villain. From his sermons to his pro-Puritan beliefs to his "extracurricular" activities, Cotton Mather is a man of many contradictions.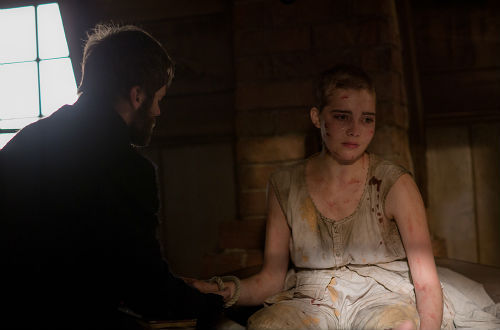 In keeping with the brilliance, one name also stands out: Elise Eberle. Her performance as the tortured and tormented Mercy Lewis is the one to watch out for. She makes you feel emotions you didn't even know you had. You'll know exactly what I mean once you see a particular scene between Mercy and Cotton. It's animalistic, evil and pure brilliance, all at once.
That's not to say the entire cast isn't impressive, because West is a grand hero, Montgomery brings a strong woman to a whole new level, Berkeley is fabulously mysterious (as always), Merchant embodies rebellion perfectly and Goldberg makes you root for the outcast.
Soon enough, all the characters are mingling, history is being made and the supernatural is taking the small village by storm. Speaking of the supernatural, this is one show you should definitely watch with the lights on, because you may or may not be having nightmares about the devil, a hag and some scary animal flesh masks. Oh, and the line "time for your feeding" will change your outlook on amphibians.
In between the nightmares, 'Salem' keeps you guessing and even has you questioning just who the villain is. Are witches really that evil? What about the Puritans aka a group of controlling religious leaders forcing their beliefs down the throats of a community? Like the show's twisted evils, 'Salem' continues to twist your own perspective on a period in history that we all thought we knew about -- well, guess again.
Creators Brannon Braga and Adam Simon have pulled out all the stops (not just by building their very own town in Louisiana) when it comes to intertwining romance, horror, sex, heroes, villains and history.
All in all, dark and twisted never looked so good. I promise, 'Salem' will bewitch you.
--
'Salem' premieres Sunday, April 20 at 10/9c on WGN America.