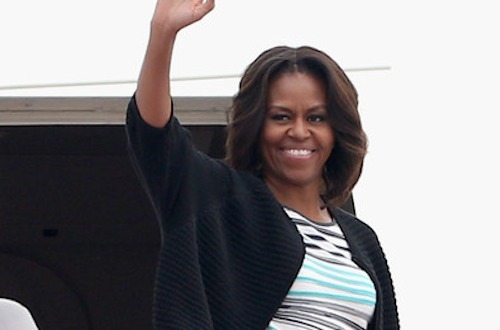 Prepare yourselves, y'all, because it looks like the First Lady is headed to 'Nashville.' Word has spread that Michelle Obama will play herself in a cameo appearance on ABC's popular country music drama during the May 7 episode, titled "All Or Nothing With Me."
And while very little is known about what exactly earns these Nashvillians (that's a word, right?) this White House treatment, we DO know that it is set at the Fort Campbell Army base. The network has also revealed that the episode's storyline involves Rayna (Connie Britton) organizing a charity concert on the Army base after finding out Luke (Will Chase) has been injured in Afghanistan, cutting his tour short. We assume Obama will be there to help show support for the troops.
But this isn't the first time the First Lady finds herself up on the small screen. In fact, back in February, it was announced that she would also be dropping by Pawnee to guest star in the 'Parks and Recreation' season finale, which is slated to air on April 24.
She has also made memorable appearances on numerous late night shows and even performed a hilarious skit on 'Saturday Night Live' this year, alongside Jimmy Fallon and Will Ferrell. (Ew!) Basically, we just can't get enough of her!
'Nashville' airs on Wednesdays at 10/9c on ABC.