When I heard about 'Dinner With Friends With Brett Gelman and Friends,' I had no idea what to expect. I looked into it and found it listed as a pilot, a special, and a TV movie. Luckily, we were able to clear that up when Brett Gelman himself spoke to TVRage.com about the projects he's been working on.
The first thing I wanted to learn is "What exactly is this, a movie, a series, or a special?" Truthfully, I'm just getting the joke now. Gelman told me it was a play, the only thing I didn't have listed and he repeated it later. He is so personable and deadpan that I didn't even catch that he was messing with me... He described 'Dinner With Friends' as a play that is a great dinner conversation, which eventually transforms into something really intense.
He gave a lot of credit to Adult Swim for letting him do what he wanted on the project, and not putting a halt on elements when even the cast thought maybe they were going too far. And the cast? The cast has some heavy hitters doing new things. People like Lance Reddick, Dale Dickey, and Gilbert Gottfried who we get to see in a dramatic role.
When talking about Gottfried, Gelman said, "We do for Gilbert what Woody Allen did for Andrew Dice Clay in 'Blue Jasmine.'" He was so proud and excited about the treat that Adult Swim viewers are in for.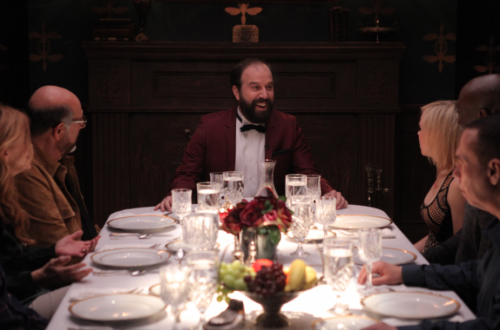 Gelman's snap reaction to whether he liked television or the Internet more was television, but after considering the people involved and the freedom that he's enjoyed on both mediums, he decided that it comes down to the project. He also corrected my thinking that there would be much less freedom on television and that so many of the TV executives are heartless number crunchers. He cited a few shows, one of which being 'Breaking Bad' as being somebody's very personal project.
You could hear his smile the whole time we talked about what he's been up to. You can find Gelman all over television and the Internet. He's a writer for Funny or Die, hosts a podcast, and regularly does various guest spots on TV, recently 'Kroll Show' and 'The League.'
Like popping in wasn't time consuming enough, he's also part of some main casts. Nothing has been said about 'Eagleheart's fourth season yet, but his new show, 'Married', got picked up by FX and he'll be on that with Nat Faxon and Judy Greer.
Proving he's a well rounded guy, he told me that he still manages to get on stage with the Upright Citizens Brigade, though he admits it's been less and less.
Gelman is a performer, but he realizes if you don't live your life you run out of things to say. You can hear what he has to say in his stand-up comedy, or on his podcast, Gelmania, which you can find at Gelmaniapodcast.com, where he posts other news too.
'Dinner With Friends With Brett Gelman and Friends' will be airing on Thursday, April 24 at midnight on Adult Swim. Be sure to follow Gelman on Twitter.