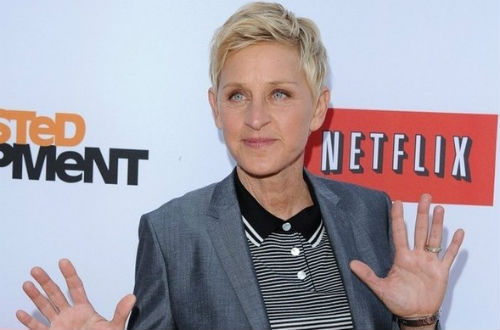 Ellen DeGeneres is looking to paint the town red. Or blue. Or purple. And, acutally, it's not really a town, but furniture. The popular talk show host/comedian is launching her first cable series, a design competition show appropriately called, 'Ellen's Design Challenge.' 
The reality show will pit six contestants against each other to tackle challenges to sketch, design and build furniture, all within a 24-hour span. Talk about being handy. The contestants will also be under the tutelage of a carpenter, you know, just in case they need someone to hold a nail or something. The last person standing will win a cash prize (and hopefully what they built). 
According to Kathleen Finch, president of the company's HGTV and DIY networks, DeGeneres met with HGTV executives and discussed "her love of buying and renovating new homes" and how her personal passion for furniture design is what led to the series' creation.  
"I'm so excited about this show because I love finding really special pieces of furniture," DeGeneres said. "One time I found a beautiful one-of-a-kind armoire that spoke to me in a way I'd never experienced. It turned out there was a drifter living inside of it, but that's a story for another time."
The show will be produced by DeGeneres' production company, A Very Good Production, as well as A. Smith & Co. in association with Telepictures, which also produced her daytime series "Ellen."
The six-episode series will also have a six-part online companion series and is slated to debut in 2015.