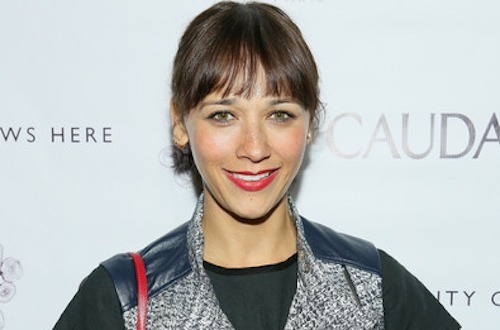 It's official: Rashida Jones is returning to the small screen in a full-time capacity.
Ahead of its upfront presentation next week, TBS has decided to give the green light to Steve Carell's upcoming cop comedy, 'Angie Tribeca' (formerly 'Tribeca'), picking the project up for a full series order. (Evidently, the network higher-ups know funny when they see it.) A total of 10 episodes have been ordered, which will air sometime in 2015.
RELATED NEWS: Rashida Jones to Star in Steve Carell's TBS Comedy Pilot 'Tribeca'
'Angie Tribeca' is a single-camera comedy, which will give a satirical look at police procedurals. Carell directed and penned the script with his wife Nancy Carell (aka Michael Scott's girlfriend Carol Stills).
The series will focus on an eccentric but brilliant group of LAPD detectives who are all part of the RHCU: Really Heinous Crimes Unit (naturally). They investigate crime — while revealing way too much about themselves — but refuse to rest until justice has been served…sort of.
For her part, Jones takes on the lead role of Angie Tribeca — a lone wolf who's capable, committed, strong, and not thrilled when her boss ('Justified's Jere Burns) tells her she has to work with a partner (guest star Hayes MacArthur).
RELATED NEWS: Steve & Nancy Carell Sell Spoof 'Tribeca' to TBS
The pilot will also feature appearances by Alfred Molina ('Monday Mornings'), Lisa Kudrow ('Friends,' 'The Comeback'), Gary Cole ('The Good Wife'), Nancy Carell ('The Office'), and Matthew Glave ('Growing Up Fisher').
Additionally, the network has also greenlit 'Buzzy's and 'Your Family or Mine' to series.
Set in a barbershop that hails from 'Will & Grace's David Kohan and Max Mutchnick, 'Buzzy's will center around a group of kids from high school who ran in different circles but now all work together at a Charlestown, Mass. barbershop called Buzzy's. Ashley Tisdale and George Wendt star in the comedy alongside Lauren Lapkus.
Meanwhile, 'Your Family or Mine' stars Kyle Howard and Kat Foster as a young married couple, Oliver (Howard) and Kelli (Foster), who are living proof of the age-old saying, "When you marry someone, you don't just marry them, you marry their whole family." The series will alternate episodes, shifting focus between Oliver and Kelli's respective families. 'Ground Floor' co-creator Greg Malins penned the script.