Sanya Richards-Ross got the Gold, now she's chasing reality superstardom.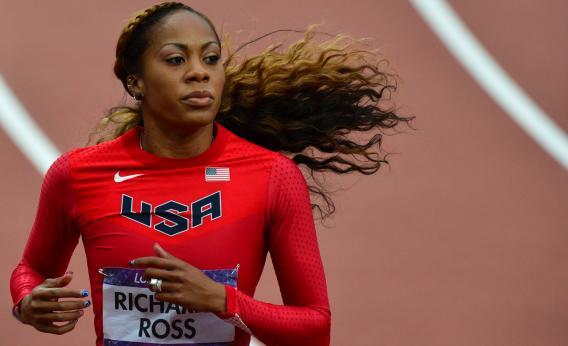 Deadline reports that WE tv has given the greenlight to producing a documentary series revolving around the Olympic athlete and her husband, NFL star Aaron Ross.
"Glam & Gold" revolves around the college sweethearts turned extremely competitive couple as they juggle work and the spotlight, all while keeping their relationship solid. In addition to making numerous public appearances and continuing to train, Sanya also runs an Austin, Texas hair salon called The Hair Clinic with sister and business partner Shari, as well as her cousin and stylist/publicist Yolandae.
"This is a great side of a professional athlete that people don't get to see," said Lauren Gellert, WE tv's SVP of production & development. "Sanya is pretty incredible and embodies all the characteristics we tend to go for at WE — she is strong and dynamic and really successful in her career and always juggling something with her family."
Richards-Ross took home two gold medals at the 2012 London Olympic Games last summer, as well as gold and bronze medals at the 2008 Beijing event. Her husband is two-time Super Bowl champion Aaron Ross, recently signed to a hefty $15 million contract with the Jacksonville Jaguars. Given the six-episode series' setting in a hair salon, it is expected that the reality show will be paired with WE's "L.A. Hair."
Added Richards-Ross, "My quest for Olympic gold wouldn't have been possible without my family, who is behind me all the way! I am so looking forward to sharing our journey to grow our businesses and expand my career all while I try to keep my marriage first – something women can truly identify with."