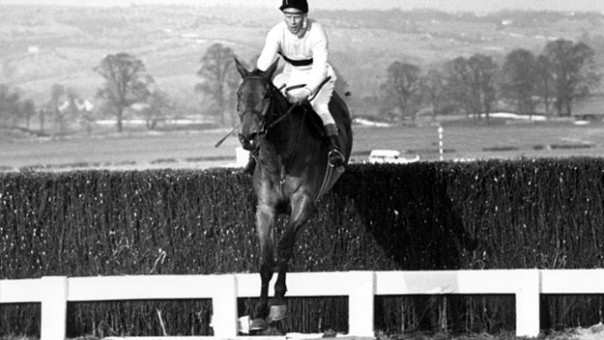 A specially commissioned documentary to mark 50th anniversary of the iconic gold cup clash between Arkle and mill house in 1964 to be screened on Channel 4 & TG4 during Cheltenham festival week.
2014 marks the 50th anniversary of the legendary 1964 Cheltenham Gold Cup clash between Arkle and Mill House and Touchline Media – producers of the IFTA-nominated "Jump Boys" documentary – have been commissioned by Channel 4 & TG4 to produce "ARKLE – THE LEGEND LIVES ON", a one-hour documentary that takes a nostalgic look at that momentous occasion and reflects on a golden era when Arkle changed the face of National Hunt racing forever. It also examines how the legend of Arkle has grown over the past half century and compares "Himself" to many of the modern greats of the chasing game. This special documentary will air on Channel 4 at 11pm on Thursday, 13th March at 11pm – the night before the Gold Cup and on TG4 at 9.30pm on Wednesday, 12th March and at 8.45pm on Saturday, 15th March.
"ARKLE – THE LEGEND LIVES ON"
will include extensive archive footage on that great era and contributors include all the surviving connections with the great horse, his work rider Paddy Woods; head lad Johnny Lumley; Jim Dreaper, son of trainer Tom Dreaper; Willie Robinson, rider of Mill House and Cath Walwyn, wife of the late Fulke Walwyn, trainer of Mill House. The documentary also features 96-year-old broadcasting legend Sir Peter O'Sullevan, whose evocative commentaries on Arkle's three successive Gold Cups from 1964-1966 perfectly captured those thrilling occasions. Other contributors to "ARKLE – THE LEGEND LIVES ON", include Ted Walsh, Brough Scott, Hugh McIlvanney, Eamon Dunphy, Nicky Henderson, Paul Nicholls, Alan Sweetman from the Racing Post, racing analyst Donn McClean and Senior Irish National Hunt handicapper Noel O'Brien.
"Arkle is considered the greatest National Hunt horse of all time and we are delighted to have been commissioned to take a look back at that golden period for National Hunt racing half a century ago when the Arkle and Mill House rivalry thrilled racing fans on both sides of the Irish Sea. The documentary will feature many of the great moments in Arkle's glittering career and it is appropriate that both Channel 4 and TG4 viewers can relive that great era on the 50th anniversary of one of the most iconic races of the 20th century" said Denis Kirwan, Producer, Touchline Media.
Luke McManus, Director of "ARKLE – THE LEGEND LIVES ON", said "Never before or since has a horse so powerfully captured the public imagination and become a symbol, not just of success, but of hope. The story of Arkle is uniquely fascinating. He came to prominence in the sixties, at the time of JFK, the Beatles, George Best & Muhammad Ali. Just like them, Arkle was sublimely talented, charismatic and ultimately, iconic. In Ireland, Arkle still inspires devotion. As Brough Scott says in the film "It's much more than just a racing story…it's about a nation yearning for something".
"ARKLE – THE LEGEND LIVES ON"
has been supported by funding from Channel 4, TG4 and by Horse Racing Ireland. Brian Kavanagh, Chief Executive of Horse Racing Ireland said: "The story of Arkle is timeless and the people who were part of his story are legends in their own right. Horse Racing Ireland is honoured to be involved in bringing that story to life once again". (
Source:
hripressoffice/CH4/TG4)