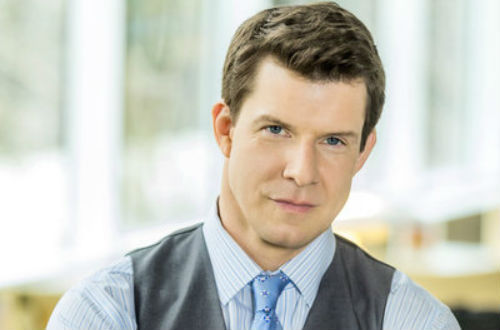 Eric Mabius is most recognized for his role as the gorgeous womanizer Daniel Meade from ABC's 'Ugly Betty,' alongside America Ferrera. Well, today, Mabius is taking on an entirely different role on Hallmark's latest feel good series, 'Signed, Sealed, Delivered.'
He plays Oliver O'Toole, a genius postal detective and the leader of the POstables, a team of postal detectives working in the Dead Letter Office. Basically, they return lost letters to their rightful owners with a heartfelt twist.
The series comes from 'Touched by an Angel's Martha Williamson, featuring Oliver alongside three other postal detectives, Shane McInerney (Kristin Booth), Rita Haywith (Crystal Lowe) and Norman Dorman (Geoff Gustafson), as they go on a journey each episode, with each incorporating comedy, drama, romance and yes, you guessed it, tears (check out Episode 2, "To Whom It May Concern," if you don't believe me).
RELATED NEWS: Brennan Elliott Talks 'Cedar Cove,' Growing Up and Wholesome TV
Just the other day, TVRage.com was lucky enough to chat with Mabius, alongside other reporters on a conference call, about his new role. For those wondering, it was never Mabius' intention to play someone opposite of Daniel Meade, someone who is wholesome and a decent man.
He first read the script on his way to China, where he was working on a film, and immediately felt a connection to the script and to Williamson. As he told TVRage.com directly, he compared 'Signed, Sealed, Delivered' to 'Ugly Betty' in the sense that "they [are] both trying to put something positive out in the world, and they [have] messages they try impart to their audiences."   
For Mabius, he felt like this show and his character were two great elements to add to present day television, "...We [Mabius and Williamson] had great sort of general conversations about the type of TV that we don't see anymore. There are television events, and it sort of seems like TV's goal is to shock as much as possible and to portray people suffering. Almost like there's a type of sadistic undercurrent running. 
I don't know if it's because not that many interesting films are being made, so it's spilling over into TV, but I found most shows unwatchable nowadays, short of a few comedy things. And I don't know if that's because I've changed or because I have two children -- I have two boys at home -- or what. But there was something that really spoke to me about the show and what Martha was trying to do. And I find that she's so expert at facilitating certain ways of addressing issues without an audience feeling preached to."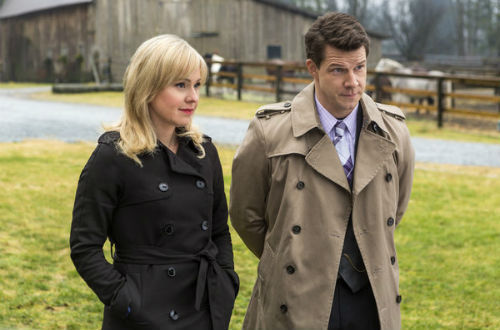 He's also aware that Hallmark is known for putting out "sweet" shows that are "trying to say something positive." For him, he's OK with that and as he said, "I really will take that."
In keeping with the sweet and sincere stories, that just might have something to do with some of the plotlines being based on real-life events, "Every episode that you see has some element of truth in them," Mabius also told TVRage. "Maybe the specifics have been changed, certain elements, but they're -- Martha is much more interested in weaving real life into these stories, because real life is oftentimes more captivating than anything you can make up. So every episode has some element of truth in them."
For example, in Episode 1, Valerie Harper's guest-character told a story about Oliver's grandfather staying up all night on Christmas Eve to watch a load of eggs hatch, which is actually based on Mabius' grandfather, "That's a true story. My grandfather worked for the post office I believe for something like 25 years. But there was one Christmas Even he didn't make it home, and they [his family] started to get worried. And it turned out that someone had sent eggs through the mail, and the farmer's eggs were starting to hatch. So, that's just a small example, but obviously my mother's side of the family is very excited to have a real life story make it in there."
He continued, "And it makes it -- we know we're putting something good out in the world, but portraying something that really happened to someone makes us feel like we're on to something that's more authentic or we become more impassioned by what we're portraying."
As he also told reporters, 'Signed, Sealed, Delivered' presents a different kind of storytelling that people have been "longing for," which is why Mabius feels people are responding positively to the series.
Mabius truly believes Williamson "finds something that every audience can attach themselves to.  A person from every walk of life at any age, male/female, young/old, there's something for everyone in the episodes. And there's a universal theme of hope that I think everyone is really attracted to."
Just like he's attached to the storylines, Mabius also feels the same way about the cast and crew, "And I feel like I landed in great company and great hands. And I don't think I've ever enjoyed a collaboration more in my entire career than what I've been experiencing with Martha over the last nine months or so."
'Signed, Sealed, Delivered' airs Sundays at 8/7c on the Hallmark Channel.