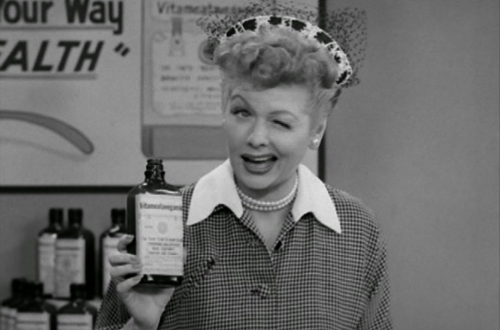 I love Lucy, and she loves me. At least that's what I felt when viewing the entire first season of 'I Love Lucy' on Blu-ray.
Thanks to CBS Home Entertainment and Paramount Home Media Distribution, fans of Lucille Ball, Desi Arnaz, Vivian Vance and William Frawley can now enjoy these four friends on Blu-ray -- well, the first season of their shenanigans. From Lucy's famous TV commercial ("Do you pop out at parties? Are you unpoopular? Well, are you?") to her getting locked in the freezer to Lucy dabbling in ballet to her trying to bake bread like a pioneer woman, fans of this red-haired lady can enjoy each of these hilarious moments now on Blu-ray.
Set to be released, alongside 'The Honeymooners' and 'The Andy Griffith Show,' on May 6, 2014, this disc version brings the comedy of Lucy, the love of Lucy and Desi, and the singing, dancing and comedic routines of Lucy, Ricky, Ethel and Fred to an iconic new level.
RELATED NEWS: The Best TV Love Affairs Ever
This "ultimate" Blu-ray set lets viewers take a peek behind the curtain of a show that stole people's hearts, made people laugh and even made people cry with sweet moments like the announcement of Lucy and Ricky's first son, Little Ricky.

It's no secret that 'I Love Lucy,' like its stars, is timeless and relevant -- who doesn't like watching an extremely talented and funny female starring in her own show and transforming the TV comedy into something we all know and love today?
This is one Blu-ray worth purchasing. So, what can you expect from this classic Blu-ray package? Check it out right here.
The Package Deal: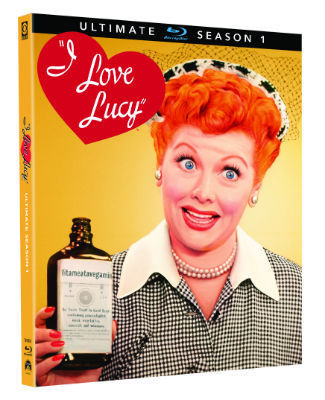 -All 35, uncut Season 1 episodes, presented in two ways:
     1. With the traditional heart-on-satin openings and closings.
     2. As they were originally broadcast, with the animated stick-figure openings and closings -- and all the original commercials.
-For the first time anywhere -- Lucille Ball and Desi Arnaz's 'I Love Lucy' costume and makeup tests, presented by Robert Osborne.
-The original 'I Love Lucy' pilot, remastered from 35mm negative.
-CBS' special titled 'I Love Lucy: The Very First Show.'
-Audio commentary on select episodes from Lucille Ball, Desi Arnaz, Jess Oppenheimer, Madelyn Davis, Bob Carroll Jr. and others.
-13 Season 1 repeat episodes with alternate elements.
-On-set color "home movies."
-Selected episodes of Lucille Ball's 'My Favorite Husband' radio series.
-Lastly, flubs, guest cast bios, production notes and photo galleries.
RELATED NEWS: Erratic 'Black Box' Another Procedural About a Brilliant Rogue Doctor, But Poorly Done
To entice you even more, here's even more information on a few of the above tidbits you can enjoy.
Lucy and Desi Costume and Makeup Tests:
Robert Osborne, known for his special introductions before classic films on TCM, provides commentary, trivia and insight into the beginning of the comedy before it even aired. During the costume and makeup tests (which was meant to test lighting, etc.) special feature, we get to see Lucy and Desi test out their hair, makeup and costumes for the very first episode. Shot before the show went live, this is one special feature not to be missed. Seeing Lucy silently test out facial expressions is quite magnificent. She didn't even need to utter a word to show her talent. Also, to observe the off-camera interactions between Lucy and Desi showcases the passionate love and admiration this duo had for one another. This just proves it wasn't faked for the cameras -- this was one couple who really did love one another and put it out there for the whole world to observe.
'I Love Lucy' Flubs:
Who doesn't love a gag reel? This isn't your typical blooper segment, but it gives a behind-the-scenes look into the not-so-perfect world of the series. From Desi saying "hello" before picking up a telephone to cameras being in the shot to hearing cymbals (from Desi's band) clashing in the background, the "flubs" special feature just goes to show the world of Lucy and Ricky wasn't as flawless as it seemed.
Original Commercials and Sponsor Talents:
In one of the most interesting pieces on the discs, especially for those of us who didn't grow up in the '50s, we get to see original commercials. You can choose to play the original episode, the original rerun version (for when Lucy was on maternity leave) or the original broadcast version. I suggest the latter, as the original opening, closings and commercials are included, with Johnny Roventini, John Stephenson, Jay Jackson and Bob Shepard as the sponsor talents. Philip Morris cigarettes was the major sponsor for the first season of 'Lucy,' and let me tell you such ads would not go without criticism today. Clearly, they promote smoking, but with a twist. The ads recognize smoking is bad, but promise Philip Morris isn't as harmful as other brands -- after all, the company did check with nose and throat specialists to prove these cigarettes are the better choice.
This is just a snippet of what to expect from the 'I Love Lucy: Ultimate Season One' on Blu-ray. If you're a true Lucy fan at heart and can't get enough of this classic show that changed television, then this is one package deal I suggest buying. Plus, it'd make a perfect gift for mom and Mother's Day is right around the corner!
Stay tuned for reviews of 'The Andy Griffith Show' and 'The Honeymooners.'