Warning: if you've yet to watch tonight's Season 5 finale of 'The Vampire Diaries,' and don't want to be spoiled, turn around right now. Don't say we didn't warn you.
After what was an episode full of many emotional ups and downs, one magnificent thing (well, person) came out of 'The Vampire Diaries' finale -- Alaric!
RELATED NEWS: The CW Fall Schedule Set: 'The Originals' Moves, 'The Flash' on Tuesdays & More!
That's right 'TVD' family, Matt Davis is officially returning as everybody's favorite former vampire hunter and history teacher, Alaric Saltzman, TVGuide.com exclusively reports. Raise your hand if you're excited to see Alaric as a Season 6 series regular.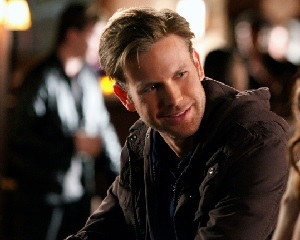 As those of us saw tonight, basically the entire Mystic Falls gang raced to save the Other Side, with several familiar faces returning. While we saw Stefan's BFF Lexi (Arielle Kebbel) kick some Markos Traveler ass and the evil return of Silas (it never gets old seeing Paul Wesley as a fantastic villain) for a brief moment, Alaric had better luck and was once again reunited with his friends.
RELATED NEWS: The CW Unveils Trailers for 'Jane the Virgin' and 'The Flash'
A lot of good comes from this. Not only do we once again get to bask in the glory of Davis and his beloved character, but Jeremy and Elena have their surrogate parent back.
However, we can't say the same for Alaric's drinking buddy Damon, as the episode ended with Bonnie and Damon getting stuck on the Other Side and disappearing or "dying."
Basically, we don't know what really happened, but honestly, does anyone ever really die on this show? I refuse to believe this is true, but I guess we'll have to wait until 'TVD' returns next fall -- and with Alaric in tow!