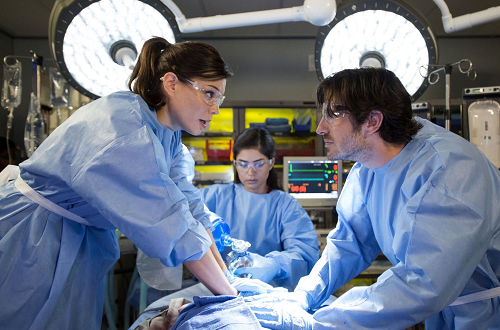 If you are a fan of medical dramas, it is time you check out NBC's new fast paced and hard hitting series 'The Night Shift.'  The season is only three episodes in, but has already presented interesting medical cases, funny storylines, realistic E.R. drama and intriguing personal relationships to viewers. I had a chance to sit down with Jill Flint (Dr. Jordan Alexander) earlier today to talk about her past roles, her starring role on 'The Night Shift,' her love for her new character and Dr. Jordan Alexander's complex working relationships.
TVRage: I have to say, I am a huge 'Royal Pains' fan so it was very sad to see you go from that show.
Jill Flint: I know, I watched the premiere last night. They had their season premiere and it was nice to talk to everyone. I was texting back and forth with them. I think they were all on set because they are filming right now, but it is always nice to talk with those guys.
TVRage: You were such a fan favourite and now every time Hank gets a new girlfriend people seem to be upset because it is not you.
Flint: I know! (laughs) To be honest with you I am so surprised but it makes me feel good. Deep down inside a little bit it makes me feel good!
TVRage: Is there any chance that you will be guest starring in future episodes of 'Royal Pains'?
Flint: We haven't really talked about it. I don't know, it's not like they killed off Jill Casey, she's just in Africa, and so the possibility is always there.
TVRage: I have always been a huge fan of medical dramas so I was really looking forward to watching 'The Night Shift.'
Flint: Same here. I plowed through nine seasons of 'Grey's Anatomy' so quickly, just binge-watching.
TVRage: In your opinion, how is "The Night Shift" different from many of the other medical dramas out there right now?
Flint: The thing about 'The Night Shift' is that it is an extremely fast paced drama. Other than the fact that it is set at night, there is a really fast paced movement. I really like in the scripts how they balance out the dark humor with the drama of everything. We are a show that takes place in San Antonio, which really informs the environment of it as well. It is not LA, it's not Chicago, it's not New York, it's a smaller place. We try to get out of the hospital as much as possible and you have the military element as well. It is a military hospital surrounded by military bases. I think it gives it a slightly different element. We're not trying to be the next E.R., there's a lot of humor
TVRage: When I am watching it I feel like 'The Night Shift' comes off much more realistic and relatable than many other medical dramas. There is a gritty element to it that makes it feel less like a glamorous television show and more like something you would actually encounter in real life.
Flint: Yeah, we wanted to have more of a blue collar feel to the show, have it be a little bit more accessible. We want it to be fun, we want it to be exciting, we want to really showcase some of the most insane cases you can come across because, let's face it, E.R.'s are nuts. They are crazy places and we wanted to focus on some of the wackiest things you can get your hands on. I don't know if you saw the episode last night but we had a pig running around the hospital. (laughs) It's crazy.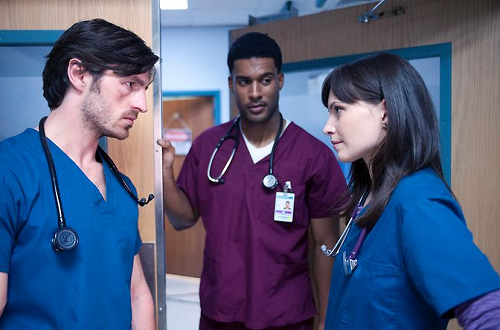 TVRage: What was it about "The Night Shift" that drew you to the show and to your character?
Flint: When I read the script I really respected her (Jordan). She is the kind of woman that doesn't have any fears and takes charge. She doesn't back down, she sees a problem and she is going to fix it. I like that, I like playing this woman that doesn't think twice and doesn't doubt herself at all.
TVRage: It is definitely a refreshing thing to see, particularly in dramas. In many cases the female leads are not the most strong or independent women and they take a back seat to the males in the show.
Flint: I tend to play the girlfriend a lot and I was kind of concerned about doing that, about being just the romantic interest. At times, and not always, they tend to be an accessory to the male and I like the fact that Jordan stands on her own two feet. She's got a bond with T.C., she cares deeply about him because of their past and history, but she doesn't let it slow her down at all.
TVRage: I absolutely get that impression from Jordan just from the few episodes that have come out so far. Jordan is such a strong and independent character. What would you say are her greatest upcoming challenges?
Flint: Wait until you see the next episode. T.C. is very impulsive, where Jordan is more calculated, but in the next episode there is a case that comes across her that she has a really hard time making the right decision about. She ends up going with her instinct, as opposed to doing what might be considered "the right thing." It is a very complicated episode for her. You get to see where her "I am going to fix this, I am going to save somebody," instincts trip her up. You also get to see why she does what she does and who she is as a person. The episode reveals much more of her past and how that shaped her as a person.
TVRage: Has your experience working on other medical dramas ('Royal Pains' and 'Nurse Jackie') helped with learning your lines and getting the medical jargon down?
Flint: What is interesting is that in 'Royal Pains' I was actually the Ragosa of the show. I was hospital administrator. Although I might have been there to assist Hank, the medical jargon was left up to the rest of the doctors for the most part. This time is a whole new ball game. I finally understand Mark ('Royal Pains') and why he was so intense in rehearsals trying to get the medical jargon down and working with the utensils. There is so much happening at a fast pace. To be honest with you the language of it doesn't bother me too much. I enjoy learning this stuff, it is fun. It has given me an entirely different level of respect for doctors and nurses for what they do and how much they truly know.
TVRage: Jordan and T.C. obviously have a strong connection and history together.  How does Jordan balance her personal relationship with T.C. with their professional one without crossing the line?
Flint: I think she has to do that with all the characters. T.C. the most, for very clear reasons. I think it is a common thing in a lot of workplaces where you have to at some point, somewhere, draw the line and you see it does get blurred. There are moments where it definitely gets blurred. You will see that is a struggle for her throughout the season.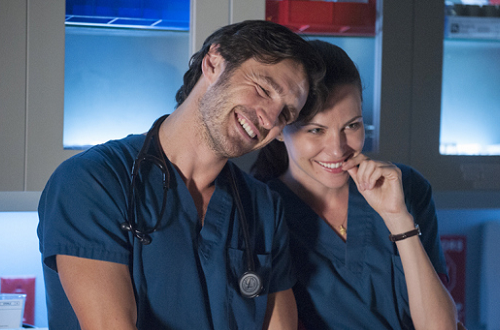 TVRage: There is a very tense relationship between not only Jordan and Ragosa, but virtually the entire staff seems to dislike him. However I feel like Jordan and Ragosa have a lot in common in some ways. They both have to make the tough decisions and deal with the backlash from the staff members. Will we get to see their working relationship evolve further this season?
Flint: You will get to see Ragosa's relationship with everyone develop throughout the season. He is put in the position of running the hospital. It's a business, so you can't be doing things for free, you can't be giving things away. Most hospitals in this country are already in the red, so he has to be the task master. It is really amazing what Freddy has done with Ragosa because he is not just the guy who is finger waving throughout the whole show. You really start to see that underneath that tough exterior is a big heart.
TVRage: My initial reaction was to immediately dislike the character of Ragosa, but then we got a little bit into his back story and you get to see him as a person. He has his own problems, and personal struggles, and that made it so much harder to just blindly hate him.
Flint: (laughs) We are going to make you feel bad for hating him. Each episode you start to peel a little bit of the layers away. Not only with Ragosa, but with every character. You get to see a little bit more revealed into the personal lives of these people. Who they are, why they make the choices they make, why they find themselves in certain positions.
TVRage: What has been the most interesting medical case you have worked on this season on "The Night Shift"?
Flint: Oh man, we have everything from a man's hand lodged inside a pig's stomach to a fork lodged into a woman's throat. It's all across the board crazy!
You can follow Jill Flint on Twitter at @JillMFlint and catch episode four of "The Night Shift" next Tuesday at 10pm on NBC.