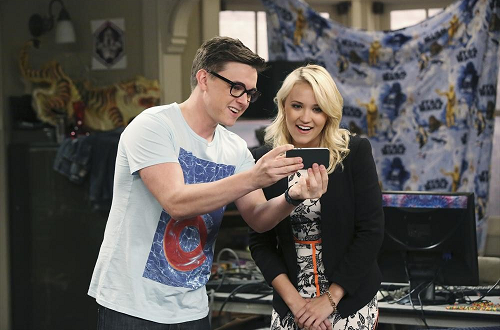 JOSH GOES A LITTLE TOO FAR TO DEFEND GABI'S HONOR
ON AN ALL-NEW EPISODE OF "YOUNG & HUNGRY,"
AIRING WEDNESDAY, JULY 30th AT 8:00PM ET/PT

Jesse McCartney Guest Stars as Cooper
Burbank, CA (July 10, 2014) – Gabi hits it off with Josh's potential new employee in a new episode of ABC Family's original comedy "Young & Hungry," airing on Wednesday, July 30th at 8:00 p.m. ET/PT.

In the episode, "Young & Punchy," Josh wants to hire computer genius Cooper Finley (guest star Jesse McCartney), but an awkward incident with Gabi leads Josh to punching Cooper rather than hiring him.   Now Gabi is determined to make things right between them, leading to a different kind of spark between her and Cooper. Meanwhile, Elliot and Yolanda each scheme to be the first person to try out the fancy new bathtub Josh had installed.

"Young & Hungry" is produced by David Holden, Ashley Tisdale, Jessica Rhoades, Caryn Lucas, John Ziffren and Eric Tannenbaum and Kim Tannenbaum in association with CBS Television Studios. The show stars Emily Osment, Jonathan Sadowski, Aimee Carrero, Kym Whitley, and Rex Lee.