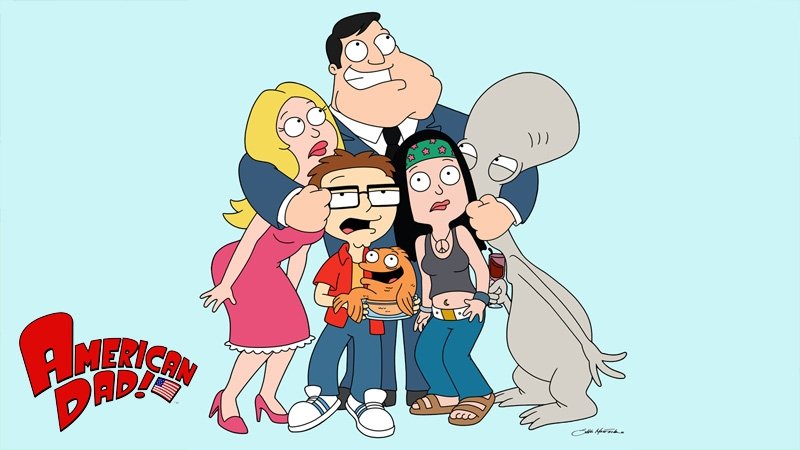 TBS is set to offer a special digital sneak peek of the premiere episode from the all-new season of American Dad! via social media, one full week ahead of the show's launch in its new home on TBS. The first episode will be available for streaming via Facebook (www.facebook.com/AmericanDad), Twitter (twitter.com/americandadtbs), and YouTube (www.youtube.com/user/TBS), starting Sunday night, Oct. 12, at midnight (ET). The episodes will remain available for 48 hours, until Tuesday night, Oct. 14, at midnight (ET).

"This sneak peek is a wonderful way to reward the nearly 20 million fans of American Dad! on Facebook and Twitter for their longtime devotion to the series," said Tricia Melton, senior vice president of entertainment branding & marketing for TBS, TNT and Turner Classic Movies (TCM). "It's also a great way to build up the excitement for the show in its new home on TBS."

TBS and sister network Adult Swim will launch the new season of American Dad! on Monday, Oct. 20. The premiere will air on TBS at 9 p.m. (ET/PT) and on Adult Swim at 10 p.m. (ET/PT). In subsequent weeks, new episodes of American Dad! will premiere on TBS each Monday night at 9 p.m. (ET/PT), with encores on Adult Swim the following Monday night at 10 p.m. (ET/PT).

American Dad! is the award-winning animated comedy created and executive-produced by Seth MacFarlane, Mike Barker and Matt Weitzman. The series follows staunch GOP supporter and CIA agent Stan Smith (voiced by Seth MacFarlane) and the misadventures of his unconventional family in Langley Falls, Va. Stan's blissfully unaware wife, Francine (Wendy Schaal), has an unfaltering loyalty that allows her to turn a blind eye toward Stan's unabashed arrogance. Meanwhile, Stan constantly butts heads with his 18-year-old left-wing activist daughter, Hayley (Rachael MacFarlane), who knows just how to push her father's buttons, whether it's by helping the homeless, demanding women's rights, or advocating gun control. Hayley's 14-year-old brother is the geeky-yet-confident Steve (Scott Grimes), a kid who spends his time playing video games and obsessing about the opposite sex.

The Smith cabinet is rounded out by two rather unconventional members: Roger (MacFarlane), the sassy, sarcastic and routinely inappropriate space alien who is constantly trying on new disguises and, with them, new personalities, and Klaus (Dee Bradley Baker), the attention-starved goldfish with the brain of a German Olympic skier who always throws in his two cents, regardless of whether anyone is listening. Together, this screwball family of radically different personalities is just trying to figure out how to love and trust one another in a bi-partisan world. And with a guy like Stan in charge of national security, it's guaranteed to be one hilarious ride.

Since premiering on FOX in 2005, American Dad! has earned several industry accolades, including two Emmy® nominations for Outstanding Animated Program, two Annie Award nominations and seven Teen Choice Award nominations. In 2012, it took home the top television series prize at the ASCAP Film & Television Music Awards.