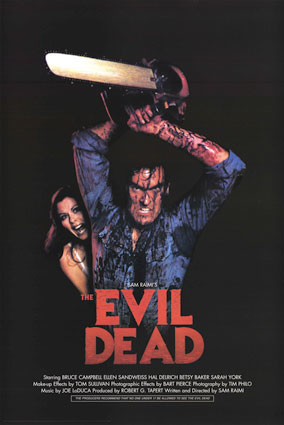 A cult classic horror flick from the 80's that spawned two sequels, a recent reboot, and even a musical, will be resurrected in 2015.
That's right fans, Evil Dead lives on in the new series Ash vs. Evil Dead.  The show will reunite the original filmmakers, director Sam Raimi who will serve as executive producer, as well as write and direct the first episode, longtime producing partner Rob Tapert who will also executive produce, and star Bruce Campbell, who will be reprising the iconic role of Ash.
The logline for the series is sure to induce maddening anticipation for the premiere:
"Bruce Campbell will be reprising his role as Ash, the stock boy, aging lothario and chainsaw-handed monster hunter who has spent the last 30 years avoiding responsibility, maturity, and the terrors of the Evil Dead.  When a Deadite plague threatens to destroy all of mankind, Ash is finally forced to face his demons-personal and literal.  Destiny, it turns out, has no plans to release the unlikely hero from it's 'Evil' grip."
The original film watches as Ash and his friends unknowingly release flesh-possessing demons after discovering an ancient Sumerian text, the Necronomicon Ex-Mortis, in an isolated cabin in the woods.  Havoc and hilarity ensues.
Ash vs. Evil Dead has been given a 10-episode straight-to-series order from Starz.  Groovy.