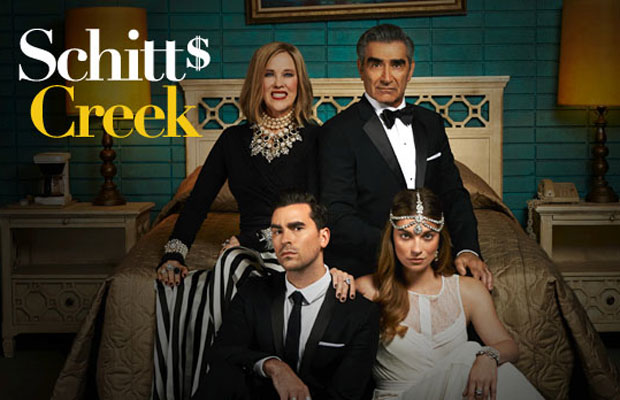 Schitt's Creek brings Canadian comedy royalty back to the small screen.  Catherine O'Hara and Eugene Levy, first brought together by the wonderfully wacky sketch comedy series SCTV, are reuniting in the new CBC sitcom. 
The series follows the Rose family as they are stripped of all their assets when it is discovered their business manager didn't pay the taxman.  As a result they are forced to move to Schitt's Creek, a town Johnny Rose bought for his son David as a joke.
The chemistry between the cast is instantly engaging.  Catherine O'Hara as Moira, the former soap star, often quips delightfully dark lines with perfect deadpan delivery and Eugene Levy as the head of the family, Johnny Rose, displays nothing less than comic genius in his exasperation and frustration as he tries to rebuild the family empire.  The Rose children, played by Annie Murphy and Dan Levy, bring brilliant characterizations to their characters Alexis, the pampered princess socialite, and David, the snarky hipster.
The pilot episode premiered to an audience of 1.36million viewers and has made history having had more online views in the first week than any other CBC comedy ever.  Created by Eugene Levy and son Dan, the show offers smart writing and strong performances that translate into sidesplitting laughter and the occasional spit take relished by an audience that can relate to being up Schitt's Creek without a paddle.
Schitt's Creek airs Tuesday nights at 9:00pm on CBC.