So Series 2 of 'Penny Dreadful' starts this Sunday. For those who missed it, Showtime released a TV-14 version of the premiere episode "Fresh Hell" on their website and on Youtube. If you want to catch it before the premiere, it's probably still there minus the nudity.

What is Penny Dreadful'? Good question! It's basically a 19th century horror/supernatural mashup. If you've read or *shudder* watched 'League of Extraordinary Gentlemen', you have an idea of what you're getting into. There's Victor Frankenstein and his creation, there's a big-game hunter, there's a woman with ties to the Devil, there's an American sharpshooter (and werewolf), there's a mysterious native African manservant, there's Dorian Gray. There's a... umm, prostitute (Billie Piper) but she died of consumption and is going to be resurrected as the Bride of Frankenstein.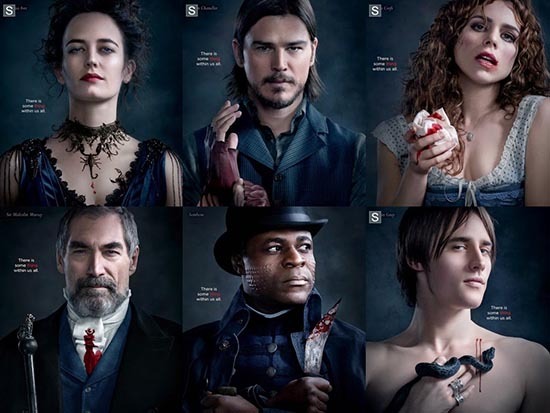 Series 1 featured the big-game hunter, Sir Malcolm, trying to rescue his daughter Mina who had been turned into a vampire by a mysterious "Master." The possessed woman, Vanessa Ives, was childhood friends with Mina and is using her connection to demons to help. The manservant, Sambene, works for Malcolm and wields a mean kiri knife. They've hired Victor and American Ethan Chandler to help, and Victor's creation (Caliban) just wants his creator to make a bride for him and pick off anyone who gets too close to the young doctor.

The Master may or may not be Dracula, because it wasn't clear if they actually met him. They spent most of their time fighting a pale bald vampire with Egyptian hieroglyphs tattooed under his skin, who was creating a nest of vampires. Mina was apparently created by the Master, not this vampire, so the Master--Dracula, presumably--is still out there somewhere. Malcolm was forced to kill his own daughter when she threatened Vanessa, Ethan turned into a werewolf for the first time and killed an inn full of sailors, and that was the end of Series 1.

"Fresh Hell" is basically a reintroduction to the series, and fully introducing Evelyn Poole (Helen McCrory), a psychic who is actually a devil worshipper Evelyn has a coven of pale bald nude witches covered in claw marks, including her daughter Hecate. They seem determined to make sure Lucifer marries Vanessa (Eva Green), and kill anyone who gets in their way. In the meantime, Evelyn bathes in virgins' blood and sings Irish ballads.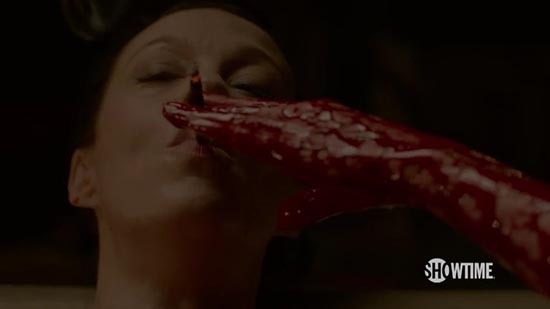 Victor (Harry Treadway) has acquired the prostitute's body and at the end of "Fresh Hell," brings her back to life. However, he seems to have a romantic interest of his own in her that will no doubt put him at odds with Caliban (Rory Kinnear). In the meantime, Caliban has gotten work at a waxworks where the owners plan to use his disfigured face to promote their failing business.

Not much time has passed since the end of Series 1, so we don't really find out much about the others. Malcolm (Timothy Dalton) has separated from his wife, but we never saw them together much in the first place except in flashback. Ethan (Josh Hartnett) was going to leave the country but he has a thing for Vanessa. Now that she's in danger again, he's sticking around to help. As for Sambene (Danny Sapani), who knows? His character remains a profoundly-speaking enigma.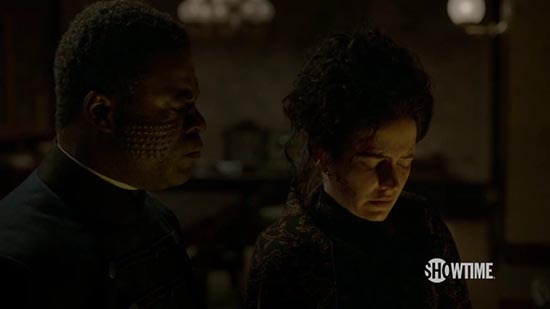 Besides McCrory, the show has brought in Simon Russell Beale as a main character, in his role as eccentric Egyptologist Ferdinand Lyle. However, neither he nor Dorian (Reeve Carney) are seen in "Fresh Hell." We also get a new police inspector who presumably will actually do something this year.

To those familiar with Series 1, there's nothing new here. Vanessa is still a tormented soul, Malcolm is still stern and forbidding, Caliban is still darn cute. There's one showcase monster attack when the witches attack a carriage with Vanessa and Ethan in it, and lots of creepy scenes of Evelyn talking about memento moris and cutting the throat of a witch that failed here.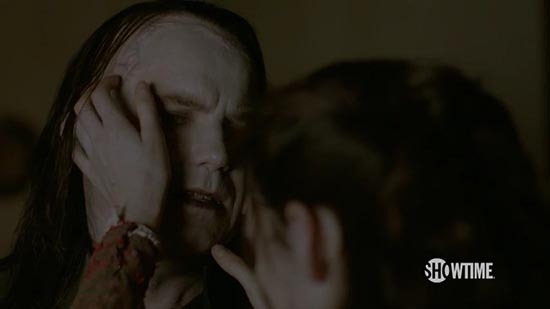 There's a lot of nudity in "Fresh Hell," although you won't see it in the previews. The witches are nude, Evelyn's virgin victim is nude, Billie Piper's body double is nude. No sex scenes this time out, but that may be because Dorian isn't in the episode. Since he was the sexual instigator for most of the hijinks in Series 1.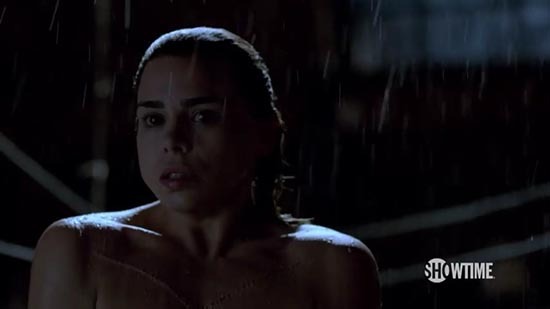 Other than a graphic throat cutting, there really isn't a lot of bloody violence in this episode.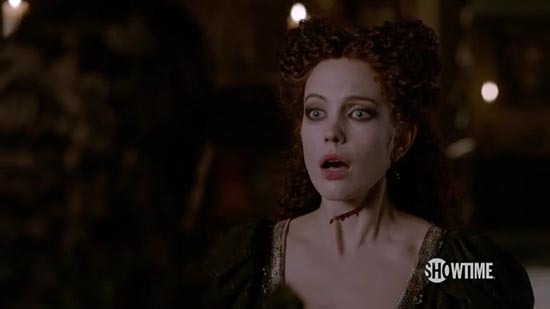 Given that there are only ten episodes to the season, "Fresh Hell" is kind of slow. But it's a necessary re-start to the series for those just coming in and those who don't remember what happened 9+ months ago. It looks like Evelyn will make a much better villain than the snarling bald-headed Mini-Master from last year, giving a face and a voice to the evil.

If you don't or can't watch the preview, check it out on Showtime this Sunday at 10/9 central.