So the first look at the new 'DC's Legends of Tomorrow' is out. You can see the video here:



Not surprisingly, a lot of it is made up of already-seen footage. Arrow, Flash's origin, last summer's Flash vs. Arrow promo, Captain Cold and Heat Wave (Heatwave?) fighting it out in the Fight Club dome and in the streets of Central City,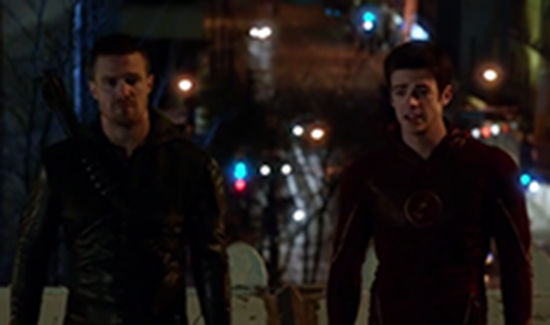 But there's also a pleasant amount of new footage. Either they've already filmed it, or some of it will be featured in the 'Flash' season finale.

So what have we got...?

Dominic Purcell and Franz Drameh are absent except for the aforementioned reused footage. So no clue as to who Drameh's "Jay Jackson" is supposed to be. Speculation is that he's either Jason Rausch (the later second half of Firestorm), Cyborg or Static Shock.

Hawkgirl is the Geoff Johns' reboot of a young woman who is plagued by her past-life visions. She has actual wings, instead of an anti-gravity harness, so that raises some interesting questions. The Hawkgirl with natural wings is the animated 'Justice League Unlimited' version. And that drags in alien planets like Thanagar. We don't see Hawkgirl in battle so it's hard to tell if she'll be the mace-wielding Amazonian-like alien cop of the animated series.

Captain Cold is... Captain Cold. Snart's got snark, as always.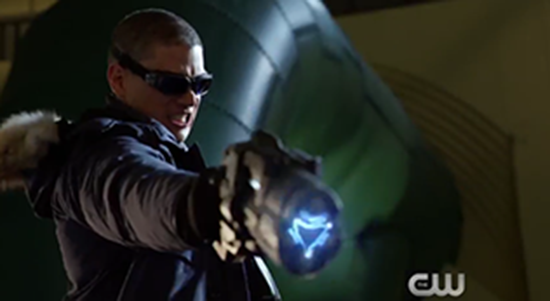 As many have accurately speculated and the CW confirmed earlier today, Caity Lotz is playing her previous character from 'Arrow', Sarah Lance. She was killed at the beginning of season 3 of 'Arrow', but will be resurrected by the Lazarus Pit and become White Canary.

Brandon Routh is Ray Palmer, the Atom. He still has the battle suit going for him, but as the 'Arrow' finale hinted, the white dwarf star explosion also gives him the power to shrink. Apparently the suit gives him the power, since he taps his chest piece to shrink. But an explosion triggering a suit's ability to shrink seems a little odd. It looks like there will be plenty of full-sized flying and blasting as well. And Routh is still going for the overgrown Boy Scout attitude that some of us wish he'd had back in 'Superman Returns'.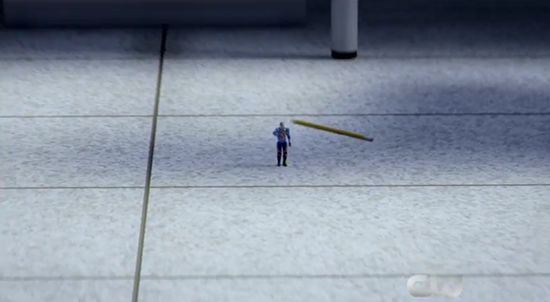 Firestorm, it's hard to tell. Robbie Amell hasn't been signed to appear as of this writing, so apparently Victor Garber will be doing the non-transformed version. Franz Drameh may be the new second half of Firestorm as the aforementioned Jason Rausch.

Although Grant Gustin isn't signed to be a series star, it looks like the Flash will be heavily involved with the team's origins. That raises the question of what the footage we're seeing is coming from. The 'Flash' series finale, or some initial footage from the series itself.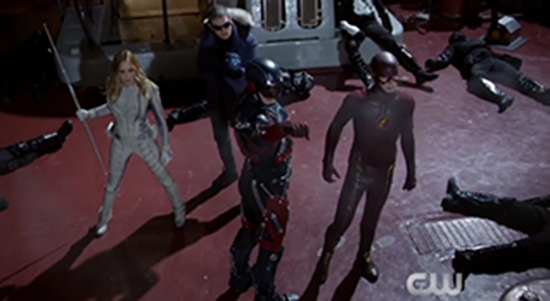 Arthur Darvill as Rip Hunter is a very... British Time Master. Whether he's telling the team the entire truth about being part of an organization, or he's a rogue, remains to be seen. I've heard rumors that he may have an agenda beyond just leading the team in their fight against Vandal Savage.

And the promo confirms that they're going up against Vandal Savage. In the comics, Vandal is a cave man who was exposed to meteor radiation and gained immortality. He's lived down the ages, amassing wealth and power while maintaining a caveman's instincts. Vandal isn't a time traveler per se, and has occasionally been presented as a cannibal. But he has commanded modern-day mercenary armies occasionally, and he's had occasion to team up with other time travelling villains. So Vandal could make a decent master villain... or there could be someone behind him.




Although next week's 'Flash' finale is supposed to reveal the team, it's not clear if they'll feature this promo, we'll just get the team meeting Flash, or if they'll toss out the big fight we see here . Tune in next Tuesday, May 19, 2015, at 8/7 central to find out.