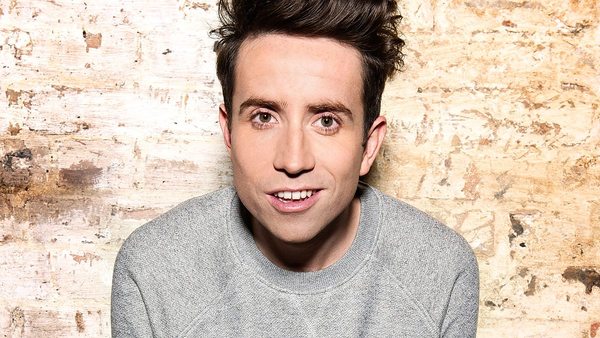 Nick Grimshaw reveals all about his decision to join the judging panel on The X Factor this year and talks about his relationship with the other judges. The X Factor can be seen Saturday and Sunday evenings at 8pm on ITV.

How did Simon convince you to join the show?
Simon didn't convince me to do the show, he didn't have to! I am such a big fan of The X Factor, it's the only show that I religiously watch. I watch other stuff but X Factor is the only show on TV that I purposely stay in to watch, where I don't go out and me and my friends are all at my house, we cook and we watch it every Saturday and Sunday together. It's good, it's like rehab because we don't go out from August till Christmas and then you feel lost for the rest of the year. So he didn't have to convince me, I've loved it ever since it's been on and everyone knows I love it.
So you didn't get wined and dined like Olly and Caroline?
He didn't wine or dine me, no wining and dining from Simon whatsoever. I heard that with Olly and Caroline he took them out for dinner, he put on a full curry for Olly, every dish available - but none of that for me, he didn't even treat me to a lunch or anything! I've had nothing, I don't even know if I'm getting paid!
Are your showbiz friends annoyed you're on the show because now you've ruined their weekend?
My friends are mixed about it, half of them are like, 'You've ruined our Saturday nights because we can't come to your house and watch it', and then half of them are super excited because they can come to the show and watch it. They've already been at auditions and they want to come again. As a friendship group we all love it, so overall everyone's excited.
They must be lining up to try and help you at Judges' Houses then?
I've not really thought about judges' houses yet. I've got an idea of someone I really want to do it but I've not asked them yet.
Can you say who they are?
No, but they sing! I don't sing, so I need someone who is really, really good at singing. I know about music and have only ever worked in music since I was 17, I've got that side but I think I need a good singer to help me out!
There was some criticism when it was announced that you were going to be a judge, what do you say to that?
That's why I like the show, everyone has an opinion on it, which is good. There's loads of stuff on TV that no one really cares about, so I like that everyone did have an opinion on it. People may not know but I have only ever worked in music. When I was 17 I started working at a record label and management company. I was basically a plugger, I represented bands and artists and I would promote them to radio stations. That's when I got into radio because I thought it seemed a lot more fun than having to do the hard slog, it was the easier end! It's pretty much all I've wanted to do since I was 10 or 11. Music is my first love, it's what inspires me, it's what makes me feel emotional, I can't honestly leave the house without headphones. I would not go to work if I didn't have headphones with me, music is the most important thing in my life.
Do you think people will see more of your personality on X Factor than they do on Radio 1?
This show is kind of like doing the radio because normally when you do TV you have a script, you can rehearse and you have an idea of what's going on. The reason I love radio more than telly is that you just turn up and you never know what's going to happen and X Factor is just like that. You don't know what's going to happen and you don't know how it's going to turn out. Someone will mention their dog and Simon will talk about dogs for 20 minutes, or a crash helmet for their dog, you never know what's going to happen and I think that's really good. It's good to do TV when I'm not presenting and I just get to be myself and have an opinion, relying on your instincts. It's really fun, so hopefully people will see a di ff erent side to me.
How is it working with Simon, is he different to work with than you expected?
I've always got on well with Simon. I interviewed him years ago when I was doing my Sunday night show on Radio 1. I really got on with him, he's very charismatic, funny and charming. What I have now discovered is that he's also unruly and naughty! And I really like that. It's like going to work with a toddler or a teenager, it's constant winding up. On day one I was going to be really professional, know what to say to people and make it really succinct and punchy. He doesn't want that though he wants it to be anarchic. He's great, I really get on with him, he's pretty addictive to be around. You can't actually hate him, even though you want to!
What sort of naughty things has he been doing backstage?
It's constant naughty stuff . We drove to work one day with Caroline Flack. She came and picked us up and she was nervous because she had to drive a big car with her boss in. Every time she stopped he would put it in reverse, like so sneakily. I was in the back and could see him doing it. So every time we went at the traffic lights she would reverse into somebody! This is in a car, on a busy road and he's like, 'It's that way', so she then drives into someone's house. He's the ultimate wind-up merchant. It's constant. With him and Cheryl, you watch them and think it's funny on TV, but that's their relationship. From the minute he gets here to the minute he goes home, he winds her up all day. She falls for it all day, constantly!
Talking about winding up, you have been doing a lot of that with Rita and her geography...
She's so funny and she doesn't even know when she's being funny. Her naivety is quite charming, I think. I think people will fall in love with her over it.
You've been stitching her up though, haven't you?
We had a guy on who was from Tenerife and he sang Enrique Iglesias Hero, half way through he started singing it in Spanish. She was like, 'Where's Tenerife' to me while he's singing. I told her it's in the Caribbean and he's singing in French. So when he ended she was critiquing him really seriously and was like, 'You know what babe, you gave a really good performance and when you started singing in French it became better'. Everyone in the arena lost it! I did stitch her up a bit, well 100%, not even a bit.
Will that be a theme for the rest of the series?
I think so! In the way that Simon likes to wind up Cheryl, I'm really enjoying winding Rita up!
What do you make of the characters who audition?
It depends what mood I'm in. Actually it depends on what mood Simon's in. If Simon hates it then I love it, if Simon quite likes it then I'm a bit over it. If I can see him getting uptight or putting the microphone in his eye, which he does, that makes me like it. I think my favourite one was a lady in Manchester in her 60s who performed No Limits by 2 Unlimited while smacking her bum. It was pretty good. There was also a woman in London who ran off stage and kissed Simon! She was like this year's Wagner! She kissed Simon and then she kissed me - she's quite the kisser! I loved her. I also loved an act who are a couple and they have, hands down, the worst voices I have ever heard. But I felt kind of happy because they were the only ones who sound as bad as me.
Some girls have tried to seduce Simon, why do you think women fancy him so much?
The cash! No seriously, he's very still, he takes his time with things which I think might lure people in. Whereas I move a lot and I'm all fast, it ain't working for me! He's poised... maybe I'm into it! Maybe I've got a crush on Simon! He's very attractive.
How have you found juggling the show and Radio 1?
We've been finishing X Factor around half past midnight, I get home about half one and then my alarm goes off about quarter past five. I could manage on four hours sleep, but what actually happens is when I get in and close my eyes I see Simon, Cheryl, Rita and a big X. The hardest thing has been switching off , but I've loved every minute of it.
So what have you been doing to help yourself switch off at the end of the day?
I've been turning to David Attenborough to get the chaos out of me so I'm relaxed. Not him personally, he's not in my house! I put on his nature programmes, anything about jellyfish I like, something that's completely different to X Factor that helps me go to sleep.
What are you looking forward to the most about the live shows?
I'm looking forward to going to work on a Saturday and Sunday and not feeling like a crazy person. The auditions have all been filmed in the week so I have been doing 20 hour days for a couple of weeks. I feel the sense of event is something I will really love, knowing the fact everyone's watching on a Saturday night. I can't wait to see the evolution of the contestants. I like it when they come in and they are a little bit nervous and then they turn into a star. I think it's great for the viewers and great for them, they've gone through this process and they can love themselves. The live shows I'm ready for, I can't wait.
Do you think there will be rows on the panel?
I think there will be rows. I thought there would be rows before but everyone has really got on. It's been really fun, a lot more fun than I thought it was going to be. I think we feel really comfortable with each other which is going to lead to rows. If I didn't feel comfortable with Cheryl, Simon and Rita then I probably wouldn't row, I'd bite my tongue. But now that I feel like we're friends, I will be a bit more row-y.
Will you be really defensive over your category then?
Yeah! Once I have got my category, absolutely I will be defensive. I want to protect them and I want them to win. I didn't get competitive until this week, now I want to win.
Will you be having style wars with Simon?
Style wars with Simon? He hasn't got a chance!
Courtesy of itv