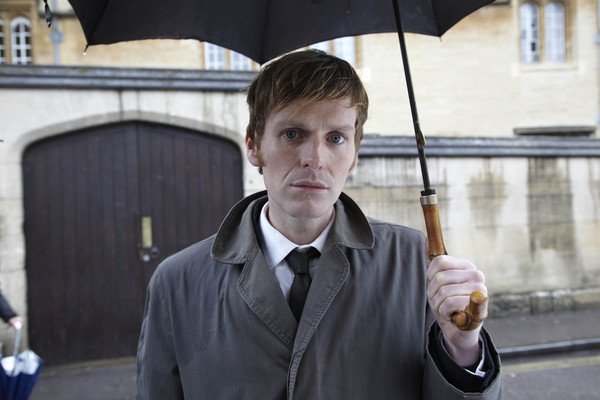 Shaun Evans talks about the return of Endeavour which can be seen on Sunday evenings at 8pm on itv.

How does it feel to be back? Do you enjoy returning to the character?
It's great. I do really enjoy it. I'm very lucky to be able to finish a series and then have the option of coming back, so I can see if there is room for improvement. It's very satisfying to be able to do that.
At the end of series II Endeavour was locked up, falsely accused of murder. Where do we find him at the beginning of series III? Is his life back on track?
His life is on a different tangent. He's been released from prison but is suspended pending inquiry. He's moved out of his flat, he's split up with his old girlfriend and his time is his own, he's seeing what life could be like. Endeavour is reluctant to go back to the police force and he's looking for a new direction. He falls in with some very wealthy people who present him with new opportunities, and he thinks 'maybe this could be my new career, my new thing. These people could be my new friends.' But as fate would have it, as he's driving to a party, he comes across a murder scene and is slowly drawn back in. But he fights it tooth and nail until the end.
How did the events at the end of series II affect Endeavour? Has he changed?
Because of what happened at the end of series II he starts by saying -­ 'this isn't for me, I'm not going to help you out, I don't want to be involved in this anymore' – Endeavour and Thursday are very separate in film 1. But over the course of the four films we see that there's an acceptance of the job for good or ill. He has evolved.
Has Endeavour Morse grown up?
He has. He's less morose and afraid. That kind of teenage angst can only take you so far, and then it needs to change into something else. That was certainly my intention.
Endeavour has been through a lot during his time with the force. How does he feel about policing now?
If that were me I'd have changed job by now. It's funny, because we know this person isn't going to die. It's a challenge for the writer to make it as engaging and as exciting as possible. At the beginning of series III his relationship with the police force is the worst it's been since we started, but by the end of the series it's the best it's ever been. He returns to work in Film 1 and it's like an acceptance of fate.
What compels him to work as a policeman?
Working out puzzles; working out something that no one else can see in an intuisive, imaginative way. He finds that quite satisfying.
What can we expect from series III?
This is the first time we have shot Endeavour in summer so it looks and feels lighter, but the stories are still quite dark. We've had brilliant actors and characters throughout these last few years like Sean Rigby, Anton Lesser, and Sara Vickers, and this series everyone gets their moment. We've only seen small parts of their stories so far but now it all starts to come together. We couldn't have done that previously, you need to build in order to break your heart.
Endeavour socialises with a new group of friends in Film 1. Do we see a more social side to him and do we learn more about him?
He's an observer. I don't think he's the type to be the life and soul of the party. He's always going to be slightly wary, watching, which is what isolates him and makes him a loner. Endeavour's past is a limitless source, you can constantly invent things and it's a useful bag of tricks. We don't learn much more about his family, although he talk's a little bit about his mum in one of the films.
How is Endeavour's relationship with Thursday in series III?
It's very interesting; in the first and fourth films their relalionship is in a very funny place. Thursday has less time ahead of him, than he does behind him, especially as a policeman. It makes him act out of character, which drives them apart. Ultimately they come back together; ultimately they find a new level of mutual respect. But it's a new and interesting dynamic.
Thursday means more to Endeavour than just a colleague?
Yes, and I think that is there throughout. He's always waiting in the hallway with his coat on while Thursday gets the sandwiches. It's the life he never had, the family he will never have.
We are introduced to WPC Shirley Truelove in film two. What can viewers expect from their relationship?
Dakota is brilliant, she's so fresh and real. In terms of character she steps up to the plate and is very present. Will there be a romantic thing? Not from Endeavour's point of view I don't think. He takes her out but it's not a date, it's work, but she misinterprets it as a date. That could be something interesting; that could be a new dynamic.
Have the events at the end of series II changed Endeavour's relationship with DS Jakes?
This is a person who doesn't form relationships very easily. Endeavour is the only person to whom Jakes admitted his past and I didn't want this series to start in a place of antagonism again between them. If you've revealed something to someone then you never really discuss it again, something as heavy as that, that changes the dynamic of your relalionship.
Is there compettion between Endeavour and PC Strange this series?
There's definitely a conflict. The seed has been sown. There is no denying Strange is a good officer, and ambitious and gets on with everyone, but he lacks Endeavour's brilliance. An antagonism definitely begins to creep in.
Has Endeavour's relationship with CS Bright changed?
The great thing about this series is that they are very a much a team, they all value each other in a new way after the events of series II. We know that these are all good eggs, essentially, and you have the little, small dynamics like in any family. Bright was previously quite hard on Endeavour but we start to see a new dynamic and learn more about Bright's backstory. Anton is such a terrific actor so I'm pleased we get to explore his character more and in an interesting way.
What is your favourite film from this series and why?
The fourth film is my favourite. It's a really good story and it's really well told. There's a lot going on in it, not just one thing, but many things and different layers of stories coming together. It's a really satisfying, heart-­breaking story with a terrific cast.
Series III is set in1967. What differences has that brought and do we see any historical moments from that era?
We start to see the psychedelic 60's of drug culture and free love. It's important to bring those elements into the story because it's what was going on at the time. These aren't documentaries, it's an amazing world to set a drama in and explore. These stories work best in the world that we've created for the drama. In the 60's so much was going on, it's sort of infinite, the pool that you can draw from. So when we create it really well, that's when the story's really engaging.
What is it about the character of Morse that audience's love?
It's an oddity isn't it? This is a young man who's into opera, into crosswords, and yet is in a world in which that isn't really indulged. His mind works in a very specific way. But if you were to put that character in a story that wasn't well told or well constructed then people wouldn't be fascinated or engaged by it. There's no separation, the character works because the stories work. When the stories don't work, the character doesn't work. It works as a whole, not as individual pieces.
Have you enjoyed playing Endeavour this series?
There's certainly been moments where I've thought, 'this is an incredible job.' There was a moment shooting at midnight and they'd decorated one of the colleges, we all had tuxedos on, and there was a band playing, and an orchestra; it was an amazing moment. I find it incredibly satisfying and gratifying. We get to roam through the streets of Oxford at one/two o' clock in the morning, it's fun! It's also a great team of people.