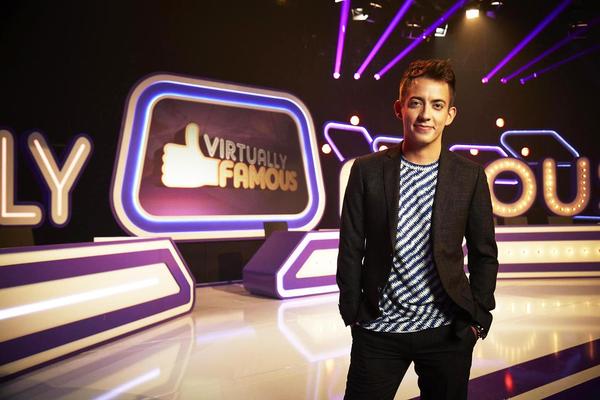 Virtually Famous, the hit comedy panel show that celebrates the funniest clips on the internet and meets the people behind the world's greatest viral videos, returns for a third series this month. Here, we speak to the show's host, Kevin McHale, about the new series, why panel shows would never work in America, and his feelings about that grapefruit video.
How on earth did an American actor and singer end up presenting a British comedy show?
I still have no idea. I did an episode of Whose Line Is It Anyway? back in the States when they brought it back a couple of years ago. I did that with Juliet Morrish, who's one of the creators and producers of Virtually Famous, and we had such a good time together for the three hours we did that show. She came back here and started developing shows for E4, and she just happened to throw my name out there for a hosting job, and I happened to be in London that summer, so I met with them. First of all, they had to explain to me what a panel show was. I had no idea. I thought I'd be sitting on a panel judging singers like in X Factor. But they were just so nice and so funny that I left the meeting thinking "I'll do whatever they want to do."
Did you have misgivings about taking it on?
Oh, completely. Before I met with them, when they told me the premise, I said no. We don't have that format back home, I don't consider myself a host, I didn't think I'd be any good at it. But luckily when I met with them, they laid it out in a way that I got it, and I understood the humour. I much prefer British humour over American humour. They basically said to me I could just sit there and laugh at whatever I thought was funny, and all I had to do was drive the show along. That sounded fun to me, so I said yes. I'm so pleased I did, because I've really enjoyed doing it.
 Were you terrified the first time you recorded the show?
Absolutely terrified. We did a pilot, and then eight episodes of the first series, and I think for those nine episodes I was absolutely terrified every single time. You have a live audience, you have guests who I don't know, and they don't know me, you have a new show that nobody's seen yet, so you just have to hope that people will get it. It was definitely as learning process. When me Seann and Chris sat down for the first episode of series two, it felt really different. We felt like we knew our roles on the show and how it works, and that there were people out there who had watched the show and got it.
How important is it to have a good dynamic with the team captains?
It's very important, and we get on really well. Each of us brings something different to the show. Seann is obviously hilarious and can make fun of everything, especially himself. Chris is really good at making people comfortable on the show, which is a really big thing. Luckily we've got a really good return rate of guests coming on for a second or third time.
Why do you think panel shows don't really exist in America?
I don't think there's really a place for them there. Here, you can get away with so much more. We can curse, we can swear and have comedians really say what they want and do real comedy and not have to censor it, which is really amazing. In the US you can't really show that on network television. It would have to be a paid channel like HBO or Showtime, and when it comes to those audiences, I don't know if a comedy panel show like ours would work. If there was more freedom on American TV it might work, but I don't think you could censor this show and get away with it.
Are you surprised by what you can get away with here?
Oh yeah! In the first series, each episode we'd do something crazier than the show before, and I kept thinking "We can do this?" This series, we had an American come on, and after the show I was talking to her and she couldn't believe what we were able to say.
What skills do you need to host a panel show?
The biggest thing for me was learning to not be afraid to jump in and take control of a situation. Comedians are obviously extremely quick and witty, and can dominate – especially when there are so many comedians and they're all vying to get their joke out there. The hard thing for me was to learn to jump in there sometimes, cut them off and keep the show moving if need be. I feel like the best part of my job is when there is a nice rhythm, you get the right ingredients of panellists, and you have good chat going back and forth. As a host, you have to find the balance between being too pushy and being too lax and letting the show run on too long.
You referred earlier to a preference for the British sense of humour. What do you think the difference is between British and American humour?
I do find that people generally are very self-deprecating here, which works really well for me, because that's exactly my sense of humour. Normally in America that's seen as a sign of having low self-esteem. Here I just fit in. I like that people don't take themselves too seriously – it's about making the joke, whether it's about them or someone else. It's also drier here – in the US it can very easily get too over the top and slapstick. Here, it's a bit wittier, and straight to the point.
What are the difficulties of being an American presenter on a British show? Do you always know who the guests are?
No, a lot of the time I don't. Especially with the reality shows – I don't know who they are. And a lot of the time they don't know who I am, so it kind of works out. I think the producers of the show quite like it when that happens. It was embarrassing for me at first, but it works quite well, discovering about each other during the filming of the show. Obviously I'll know what show they've come from, but that doesn't mean I'll have seen the show.
You've had quite a few Made in Chelsea people on. What do you make of them? Are you a fan of the show?
I have seen an episode or two. I haven't met that many reality stars, even in the US, and so I do find it quite fascinating. I've started to really enjoy it. At first I was a bit lost – surely Joey Essex can't be that dumb – but I really enjoy it now. I love having them on. Some of them are a lot smarter than they let on. And others are not, which is fine! They're just being themselves, and that's the beauty of it.
What can you tell us about the new series? Are the games the same?
We have a little variation. In the second series we were basically torturing Chris Stark as much as possible. Now we're letting it happen to everyone. It's less torture, more group participation – you get to see the panellists getting involved in the action. Here's not necessarily a bog game at the end, and we'll be featuring more internet videos and more comedy stemming from that.
Can you reveal any guests for the forthcoming series?
When I first came over here and wanted to know more about panel shows, I watched hours and hours of Jimmy Carr, to learn how to be a host. He came on the show, which felt weird – I kept saying to him "You can come and sit in my chair if you want," because it didn't feel right. But he was great, that was a different energy from anything else we've had on the show. And we have some of our favourites back in this series. Chris Ramsay's back, Ramesh Ramanathan's back – he's one of my favourite comedians – Stacey Solomon is back. And then we have amazing people from reality shows, like Gemma Collins, who I'd never met before. She was hilarious. It's a really good mix of people, I think we've found thje right combination of how everyone works together.
Who have been your most memorable guests?
This series I'd have to say Gemma Collins. We were filming for about two hours, and then there was a point when she realised who I was. We were almost done filming, and somebody mentioned Glee, and she was like "Wait a minute…" And she genuinely just freaked out for about 20 minutes. She was saying "I've been sitting here wondering why I'd agreed to do this show – you're all weird. But now I know who you are!" She started asking for an autograph and a picture.
Who would be your ideal guest?
That's hard, because the beauty of the show is that so many people who I've never heard of come on the show and are amazing. I would probably say that Jimmy Carr was amazing to have on. He's the king of the panel show.
Do you have a favourite YouTube video from the show?
We've used so many videos now. There's a difference between favourite and one that sticks in my mind. In the first series there is a video with a woman and a grapefruit, and she was giving instructions on how to, um, do something, and she made this noise… that was the moment I realised we could do anything on this show. That's still a reference point for all of us. "Is this grapefruit?" That's the extreme.
Is the Virtually Famous production office just full of people who are paid to watch funny videos on the internet?
Pretty much. I remember after series one asking them how many videos they went through as a team. And they have a log – they log every single video they watch, and they'd watched almost 800 videos. By the end of it, they were just fried. I don't know how they do it, how they keep finding all this stuff.
Apart from Virtually Famous, everyone here knows you for Glee. How important was the show to you?
I really miss it. I loved doing it, and being with everyone on the show every day. The cast and the crew were brilliant. It was six years, so it felt like school, and we had so much fun. It felt like doing Virtually Famous – you get to show up for work and make a television show, which is what the dream is. So to be able to do that and have people watch it and respond to it all over the world is a strange phenomenon that can never be replaced.
How much did it change things for you Did you start being recognised overnight?
I guess in the grand scheme of things it was overnight. I guess it got really crazy for about a year. Nothing changed in my personal life, I have the exact same friends, but it was a bit weird going out Going somewhere new like Australia or the UK, getting off the plane and having people recognise you and know who you are is a very strange thing. It was amazing to be a part of something like that.
 Virtually Famous is on E4 on Tuesdays at 10pm from 19th January.
Courtesy of E4