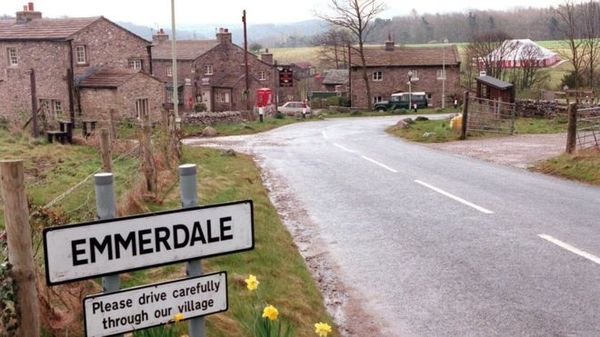 Today I was lucky enough to catch up with Emmerdale's new producer Iain McLeod who revealed his early plans for the show as it enters into a new phase following Kate Oates' move to Coronation Street.
How difficult was it to take over the reins of the show following such a successful period with Kate Oates in charge?
How do you follow that and the answer is I'm about to find out I suppose. Yes, I feel the pressure of the excellence of the history of the show but it's not just been recently that it's been great, it's got a real pedigree but it's a healthy pressure. It's a privilege to be part of a show in such rude health with such an incredible cast and a talented bunch of writers.
There's exciting chapters of all the stories still to play. I am inheriting a rich wealth of stories that I can pick up and carry forward. There is a certain amount of pressure on me in my new role but that is healthy. If I didn't feel the pressure and drive to keep the show as brilliant as it possibly could be then I'd be in the wrong job so I'm thrilled to be here.
With Kate moving onto Coronation Street, do you think it would be possible one day that we could see a character cross over between the shows?
Oddly enough we have just come out of a long term story conference where somebody pitched exactly that thing. Personally I don't think the time is quite right and I feel it could be a little bit out of what our viewers could exact but there is a mischievous bit of me that thinks that it could be quite fun. We all had a good laugh about the idea but only mulled it over for a millisecond.
Can we expect to see any former characters return in the near future?
We've got Charity's return to look forward to in about a month. It's literally high octane, you'll see what I mean when the episode airs. I'm personally very excited to get my hands on a character that is so box office and capable of anything. She can start a fight and a story in an empty room. When she left she had set her cap at Cain and her intention is to destabilise Cain and Moira in any way that she can and there's a long term story there that will pay off towards the end of the year with a fairly massive heartbreaking dilemma for Cain that will test where his loyalties really lie.
We have also got Holly coming back, still played by Sophie Powles, she's coming back in about six weeks. The idea is that Cain's life at the present time is relatively stable so we're just trying to topple his table over and throw him into confusion all over the shop. Holly arrives with trouble trailing behind her and then we see Cain do what he does best which is step in and save the day as only he can. But there is a question mark over how long he can keep doing that in service of Moira and her family before his head starts to be turned by Charity. There is a kind of a big, complicated family story with all the relevant highs, lows and tragedy.
Are there any other big stories for 2016?
There is a new Dingle coming in. I made some notes before I came in today and the phrase 'gin-fuelled whirlwind' came up so even if I left it at that hopefully it's intriguing enough. The idea was we wanted to bring someone in to illuminate that family in a way that perhaps we have not been able to with the characters currently there. She's a big, chaotic mess but while it might look like she's fun and trouble at the start of it, the story we get to is likely to be a lot more serious and a big family drama will ensure. The character may or may not be called Faith but we haven't got near a casting next.
I'm very personally invested in Ashley's story,  it's everything that our show does well. It's heartbreaking and it deals with human experiences and is also has huge emotional stakes attached to it. We're running with it until at least until the end of this year and possibly beyond if we can find enough heartbreaking chapters for it. For me, it's a good example of my favourite kind of story. At the core, it's a love story even though it centes around a medical issue. It's a story about love, loyalty and loss. There is tonnes and tonnes of warmth and humanity to get from it. The next big chapter is their wedding which is coming up in about six weeks and that has an interesting kind of twist within it. At its core it's a really poignant, sad, joyous and complicated day. I'm so looking forward to seeing those episodes. As much as Kate set the ball rolling, it's heartbreaking, heart-warming and gorgeous. That's one of the big stories which will play out during 2016.
The next chapter of the Paddy story is fairly sizeable and Jonathan Wrather's character Pierce will play a large role in that moving forward.