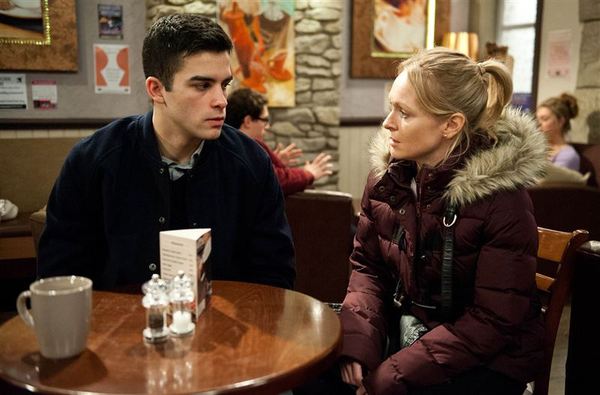 I was lucky enough to catch up with Michelle Hardwick ahead of last night's dramatic events on Emmerdale. Kirin is set to flee the village after having hit Tess with his car and fleeing the scene. Tess later dies in hospital and Kirin sets fire to the car. Kirin tells Vanessa that he never loved her and whilst this is a lie to help her in the long run, it leaves Vanessa back at square one and the baby without a father. Emmerdale can be seen weekday evenings at 7pm with a second episode on Thursday evenings at 8pm on ITV.
Just as Vanessa looked as if she had her life back on track this happens, how does she feel about what happens next?
Poor Vanessa, everything that could go wrong for her has gone wrong and she is finally getting herself back on track with the family unit, then he goes and shouts at the baby and she forgives him again. She's a very forgiving lady, much more than me, and she is then again trying to put all of her efforts into being a stable happy family. He's acting a little bit weird because he is struggling being a new dad. One morning, they all are fine and she comes home and finds Kirin in the house with his bags packed and a letter on the table. She is like 'what's going on?'. She read the letter and basically, it's him saying goodbye and that he never wanted any of this and he never wanted to be a family and he tells her he doesn't love Johnny and just wants to go. It's just horrendous and of course the audience knows the real reason he has to go, but Vanessa doesn't. She thinks she has had the absolute rug pulled from under her but it's not too far down the line that the police come knocking on the door and she starts to put two and two together.
How did you feel about Adam Fielding exiting the role of Kirin?
It was his choice and we knew ages ago that he was going. So then we obviously we were looking forward to the journey of where it was going. We knew he wasn't just going to leave in a taxi and we would say our goodbyes and stuff. So we were looking forward to it happening and when we read the scripts, we couldn't wait to get on with it. I thoroughly enjoyed it. He will be missed.
Do you think we will see Vanessa fall in love again anytime soon?
No, give her a little break. I'm hoping she'll certainly allow Adam, as we've seen today, to be part of Johnny's life. Without a shadow of a doubt that will be a nice little unit. Victoria is brilliant with him as well. She's going to need help because when she does go back to work, she's going to need people supporting her. But as far as another relationship goes, I think for the time being she should concentrate on her son now that she's finally bonded with him and just enjoy the time with him. Then juggle being a single mum and being a partner in the vets. Rhona's going to need her as well with everything that is going on.
Was it hard to play the scenes when Vanessa was finding it difficult to bond with her son?
Yes, I love babies and I love children and there was one time I had to do this little talk with the gel baby and the director said, 'that was beautiful but it looked like you were really in love with the baby'. So I did it again and detached that little bit more. I've not got children but I've got nieces and nephews and I did quite a lot of research around other people's stories and you've just got to get your head in that space.
How are the cast adjusting to having a new producer on the show?
Kate was absolutely loved by everybody. She's a great producer and she's going to go on and do fantastic things at Coronation Street. She's very much missed. We have Iain now and it's exciting times. He's eager and as we just heard, I loved what he said about it being like a box of toys to play with. It is a wonderful way to describe that. I can't wait to see what he's got lined up and what his ideas are. It's exciting times.