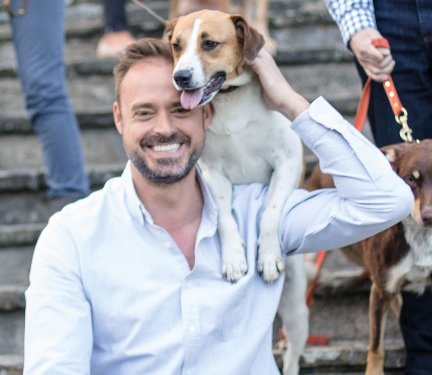 Jamie Theakston talks about new Sky 1 Series Dogs Might Fly which features 12 unwanted and abandoned dogs from across the UK attempting to achieve the impossible and become the first dog ever to fly a plane. The show can be seen on Sunday evenings at 7pm on Sky 1 from February 28th.
What can we expect from the series?
I can guarantee that you will never see your dog in the same light again! You'll see just how remarkable rescue dogs really are. People give up on them too easily and this series will show us why we shouldn't. They are just as deserving and just as intelligent. This series will show you how unique each dog is; they all have their own personalities, abilities and talents! Expect to be amazed by how dogs really think and feel. We delve deep into the minds of rescue dogs and reveal how and why they are man's best friend and why they are the most successful mammals besides us. What's more, you'll be able to try out the tests at home and learn new things about your own dogs.
What surprised you most?
I was surprised by our dogs' ability to display empathetic behaviour bearing in mind the difficult circumstances most of them had grown up in. Even if a dog has been deprived of human contact or has been badly treated, it is just as able and motivated to initiate a new relationship with a human very quickly. The rescue dogs quickly transformed. It just goes to show that with enough patience and dedication you can achieve anything!
Tell us something about dogs we didn't know...
70% of us sign our pets' names on greetings cards.
I know you're not supposed to pick favourites, but if you had to, which dog would you pick and why ...
I couldn't: my dog Magnus will be watching.