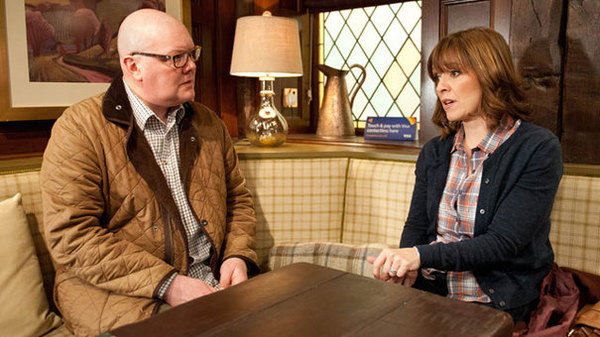 I was able to catch up with Zoe Henry, who plays Rhona on Emmerdale, ahead of last week's episodes which saw the woman her husband, Paddy, had been having an affair with being struck by a car and left for dead after the driver fled the scene. Tess later died in hospital after telling Paddy that she loved him. Emmerdale can be seen weeknights at 7pm with a second episode on Thursday evenings at 8pm.
How does Rhona find out about the affair between Paddy and Tess?
Rhona suggests going to the funeral because they knew Tess and Paddy says absolutely not because they are not going to want us there and we shouldn't intrude. Rhona listens to him but then he goes without her. Megan also goes to the funeral and spies Paddy but when he goes missing I just put it down to the fact he is feeling awful because he was with this woman when she almost died. He shouts at me at one point and says 'for god's sake it was awful for me'. Megan comes round and says 'just to let you know that Paddy did the right thing not going to the wake' but she still doesn't suspect anything untoward is going on other than he has gone to the funeral without her. She leaves it and doesn't even ask him outright, she waits for him to tell her he has been. When he doesn't after two days she does start to think something is going on but still doesn't assume that. She later asks him what is going on and tells him that she knows he went to the funeral, but then her world crumbles around her. I have had people tweeting me saying 'How stupid is Rhona!' but people are seeing things that I am not. But this is the thing, Paddy is so honest and dependable and so lovely that there are a million things Paddy could do before he could have an affair in Rhona's mind. It is the furthest thought from her head until it is right there in front of her and she can't avoid the very big question of 'It was you, wasn't it?'
Rhona and Paddy are seen as a stable couple of the show, do you think they will get through what has happened?
We don't know really but I hope so.
What will happen to their plans to adopt?
It is the only thing that Rhona has left to hang on to really. She becomes a bit crazed about it and she is hanging on to that. As a result of me not wanting anyone to know anything is wrong, they are a bit mean to Pearl. She is the first casualty. We ask her to move out which is awful.
How do the cast feel about Iain McLeod coming in as the new producer?
We had a really nice meeting on his first day and he was charming. He clearly likes the show and cares about it and wants to invest in it. As cast members, that is all you can ask for really.