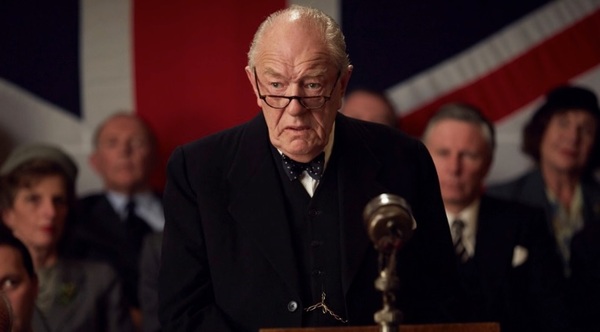 Michael Gambon talks about playing the iconic role of Winston Churchill on Churchill's Secret which can be seen on ITV on Sunday, February 28th at 8pm.
How did you approach the role of Winston Churchill?
I'm terrible. I never do any research, although I did read through a book on Churchill. You look at him and see what shape he was, how he walked and all the sort of things that actors do. Then you try and copy that as much as you can. You listen to how he spoke. I don't know what I've done with that. I can only do what I do best, what I think I'm doing. And that's how it all ends up. You just hope and pray you're doing it properly. Then you find yourself in a rehearsal room with the other actors who all happen to be friends of mine, which is wonderful. We're all mates. I couldn't believe it. I thought they'd all been arranged especially for my benefit. I really like the director Charles Sturridge. He's been so kind to me on this. I've worked with him before. A lovely man and a good director. So every day I turn up and play Churchill as best I can. I am obsessed by the way he walked and the way he sat down. You didn't see him walking much. The voice is a bit strange. It goes up and down. A strange way of speaking. But you've got to do your own thing, really. Do what you think. People have said, 'You look like Churchill.' And I thought, 'Bloody cheek.' But I've looked in the mirror and there is a sort of likeness there. I've also tried to find a bit of his bloody-­mindedness by making my voice bigger and not moving my top lip much. I try my best. So here I am. Terrified. It's very frightening acting. The older you get, the better you get but the more frightened you become. I do, anyway. It's frightening playing someone as famous as Churchill. You think, 'Christ almighty.' You can play King Lear. No‐one knows anything about him. I've played all those parts. Shakespeare, Strarord, all that. Playing those roles doesn't seem to matter as much as Winston Churchill who we all know immediately, don't we?
Where is Churchill in his life when this story begins?
We begin this story in 1953 when he's still prime minister -­ and he has a mild stroke. Then he has another more serious one, which puts him out of action. He spends the next six months or so fighting it through, getting better, being in bed, playing with the children out in the garden. His illness was kept secret and it left the country without a leader. We couldn't do that now. It was in the days when that sort of thing was kept quiet. When someone important had a serious illness. Luckily he recovered and the public never knew about it until after his death. Many people watching this film won't know about this section of his life. I was around 24 when Churchill died in 1965 and I remember watching the State Funeral. I always like watching big funerals.
What was his relationship like with his wife Clemmie?
It was a bit on and off and a bit rough sometimes, as with all marriages. But fundamentally he loved her. We bring that out in this film. Some of the scenes are quite moving. It's been great working with Lindsay again. She's a genius and our scenes together work very well.
What was it like filming in the gardens of Churchill's former home, Chartwell in Kent?
I enjoyed filming there. I've been to Chartwell before and it's now owned and run by the National Trust. The public were there while we were filming. That was quite nice, actually, to have them around the edges, looking. I signed a few autographs. But I wasn't mobbed. They're not like that. They're quite posh, the people who go to Chartwell . So they wouldn't do that.
The story begins with a dinner at 10 Downing Street. Have you ever visited No 10 in real life?
No, not Number 10. I was asked to but I never turned up. To tell you the truth I think I forgot. I was supposed to go with a group of actors. Buckingham Palace I've been to quite a few times. That's about all.
Churchill liked to paint?
I am painting in one scene. I have painted in the past but I don't do that now. It's a bit quiet. I like a bit of noise.
What made Churchill such a great orator?
Very highly educated people can talk on and on. I think it's amazing. I watch politicians speaking in the House of Commons and I don't know how that's done. I can't do that. I can say lines or speeches if they're wriRen. But I can't do it without a script.
Do you watch yourself on screen?
No, never ever. I can't bear it. It's horrible. I'm a theatre actor, fundamentally. I've spent my life on the London stage and I can't see myself then. As a theatre actor you never see yourself. So I don't want to see myself now. You go into the room and see a screen with you on it and you think, 'Oh Christ!' And out you go.
You have given up performing on stage?
I have to. I can't remember the lines. It's a fact of life. I spent nearly 50 years on the stage at the National, RSC, all around America and in London. It's a shame. I feel heartbroken. I went on the stage recently with a mate of mine to try and see if it would work if I put a plug in my ear and got someone in the wings to prompt the lines. But it won't. The theatre is about speed of delivery and quickness of reaction and it wouldn't fit in with that.
Winston says in the film, 'Growing old is not for cowards. It's such a strange thing to happen to a little boy.' How do you feel about growing old?
Well, there's nothing you can do about it. You just take it, don't you? What can you do? I behave a bit young off camera in the street. Mucking about with mates I behave like a child. But that's all right. That's what you're supposed to be doing, isn't it? If you're an actor you're supposed to be a bit nutty, aren't you?
Do you get recognised in the street?
From Harry Potter I get noticed. Kids. That's all right. I don't mind that, it's good fun. But it's getting thinner. The mail from Harry Potter when I was in it and when it was running would be piled high every week. Now it's down there a little bit. A bit upsetng, really.
Winston Churchill was 89 when he stepped down as an MP. Do actors every retire?
No. You'd be mad to retire. I've been acting for over 50 years. I wouldn't want to stop now. There'd be no reason. Unless someone stops me. I keep rolling on. I like it.
Courtesy of itv