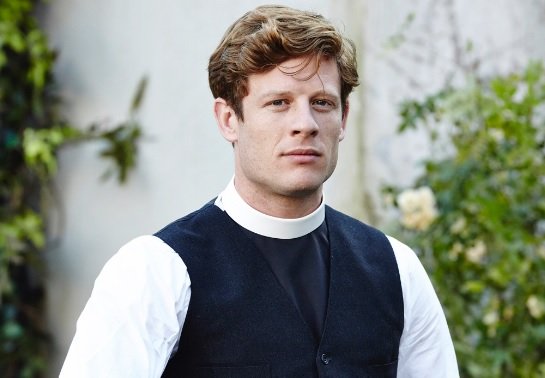 James Norton talks about playing Sidney Chambers on Grantchester which returns on Wednesday, March 2nd at 9pm on ITV for a second series. Sidney, the vicar in Grantchester, works with local Police Chief Geordie Keating as they solve crimes in the quiet village.
What response have you had from members of the public following series one of Grantchester?
It's been very positive and lots of people have been asking when there's going to be a second series. There seems to be a real devotion to it, which is lovely. Generally if people have watched one or two episodes they've watched them all and they love it, which is fantastic. We feel blessed by the response and the Grantchester fans seem very loyal. They know everything about it and they love all the different elements from Dickens the dog to all the other characters. Robson and I have talked about how blessed we feel by the response. It's testament to the show. It's warm and affectionate and feels like a happy place that people want to return to. It's got that bite but it's also warm escapism.
What was it like being reunited with the cast for series 2?
It was lovely. For the last month of shooting the first series a lot of time was spent speculating as to whether or not there would be a second series. We only find out once the series has been aired, so there's a strange moment when you say goodbye to everyone having finished filming because we don't know if we'll be seeing each other for a second series or not. We hoped so much that Grantchester would return. Me, Al Weaver who plays Leonard and Tessa Peake-­Jones who plays Mrs Maguire spent ages on set speculating and fantasising over what storylines could be written and where it might take us, so it was so lovely to return for series two. It's reassuring how quickly it all comes back. You realise that all those relationships and interactions and dynamics are all bedded in. It's a nice back catalogue of memories so the second series was so easy because you've got all these memories you created for the first series.
What was it like returning to the real Grantchester village where the series is filmed?
It's lovely and feels like home from home. First time around I think the villagers initially were slightly wary but this time, for them to have gone through the experience of one series, watched and enjoyed it and then have us back again, was great. It was lovely because they seemed really happy to have us back which makes such a difference. Our relationship with the village itself is so important to the show. When I stand up in front of the congregation most of them are the real villagers from Grantchester (they were invited to be extras) and they are the same faces from the first series. It's so nice for me to see them again and to get to learn more of their names and have relationships with them as individuals – it helps it become more like a true village church in the 50s. We were very grateful and so touched that they were happy to have us back and visa versa.
At the beginning of episode one, Sidney is accused of having an inappropriate relationship with a teenager. This is not the Sidney we know. Is this series a little darker than the previous series?
That moment (of Sidney being accused), which is early on, sets the tone for this series. I think it will surprise people. Having spent the first series establishing all the characters and the relationships and allowing the audience to grew an affection towards those people, it feels that with the second series we've earned the right to thwart those relationships and threaten them and put them through their paces. Now the relationships are established we're spending more time on the plot for each episode and also on the overarching narrative. Now we can also take more risks and be a bit darker. The writing generally feels like it's got more of an edge to it.
How has Sidney's relationship with Geordie developed and how does it change in this series?
Sidney and Geordie's relationship is particularly threatened and thwarted. The audience have grown accustomed to their patter and their rhythm and their shorthand -­ to threaten that causes drama. What happens is we find ourselves at odds over an ethical dilemma. As always with Daisy Coulam's writing it's never black and white and is true to life. Geordie and Sidney find themselves with very different views on the death penalty -­ to such an extent that it calls into question their views of justice. Because they're such strong willed obstinate men, their views on justice, which are at odds with one another, almost transcends their friendship. Hopefully, if we've done our job right, we'll have people sitting on their sofa at home and one person will be on Geordie's side and one person will be on Sidney's side and it will spark debate. The beauty of Daisy's writing is that it's so sophisticated and provocative and it asks questions of big uneasy ethical issues like the death penalty, laws on sexuality and gender equality -­ all these things that were pertinent in the 50s but still have relevance today.
Geordie makes it his mission to find Sidney a woman. How does that go?
I think the opening line from Geordie is, 'let's say for a minute that I'm God and you're Adam, how would I set about finding your Eve?' There is this constant search for love for Sidney. It's classic Sidney though, he's hot blooded and he lives in the fast lane and that affects the way his romantic life is led as well. He's constantly searching for love but we all know that deep down he's in love with one person, Amanda, who is also in love with him but they can't be together. Is there any chance for love to blossom for Sidney and Amanda? Sidney and Amanda are star-crossed in the truest form. They just cannot be together. The sacrifices are too great. Although they are deeply in love and clearly meant to be together, because of the social division of the time they just can't. So, with Geordie's help, Sidney sets about finding love elsewhere!
How does the dating go?
Well there is romance for Sidney with Margaret. She's a force of nature and she spins into his life because she's a secretary at the police station and she takes control of him. I think that's what Sidney needs – someone to stop him dithering and bumbling around in his romantic life. She's a cool girl. She's progressive and liberal and bright and she's feminist. She's Sidney's match in a way. In another world, in another life, if there was no Amanda and if Sidney was a genuinely free agent, I think they probably would have a fantastic relationship but his heart is elsewhere. He does give it a good go though.
What's Sidney's relationship like with Mrs Maguire this series?
Tessa and I are really good friends now. We've done two series of Grantchester and we did a film together, and we see each other socially. I just think the world of her. She's such a gem both on and off camera. She's such a good actress, but she's also just a really good friend. It's easy for us and we love working together. When Tessa and I, along with Al who plays Leonard, were first back filming in the vicarage there was just a lot of giggling and familiarity. We were back in the same rhythm very quickly. It's lovely to see how they've developed the characters. We (actors) have all formed stronger friendships but also the characters have too. You start to see the reliance they have on one another. Both Mrs Maguire and Leonard rely on Sidney a lot. There's a scene where someone says to Sidney, 'we're lost without you', and Sidney doesn't really realise the responsibility a lot of the time. It costs him a lot. The parish as a whole, as well as Mrs Maguire, Leonard and Geordie do turn to Sidney for support and reassurance and I think it costs Sidney a lot without him really knowing it. What's been lovely in this series though is that it's not black and white; it's not always that everyone relies on Sidney – what became really clear this series is that Sidney relies enormously on Mrs Maguire and Leonard. Sidney is definitely as flawed as the rest of them and as we all do he needs a moral prop or a reminding of where his moral compass lies. In this series you'll see Mrs Maguire and Leonard prop up Sidney when he needs them.
In this series you dive into the river Cam, you're smacked in the face, slashed with a razor blade and hit over the head with a paperweight, just to name a few. What's it like filming stunts?
I love stunts. The little boy in me is excited I get to run around and stage flight. It's like a little boy's dream. This year I was allowed to dive in the river. I wasn't allowed to last year, so I was really happy. I spent hours trying to persuade Emma (Kingsman-Lloyd) , our producer, to let me dive in when we filmed series one. I said to her, 'I spend my life jumping into rivers, I love wild swimming, I have books on the stuff, I go and swim in the river Cam in my own time anyway,' but for insurance reasons I wasn't allowed. This time I was allowed to and in the first scene of the new series Robson and I both dive into the river. It was great. Although it did go slightly wrong when Robson threw water on me and I ended up walking backwards and falling into the river. You could hear everyone on the bank gasp. It looked really quite serious because I disappeared and went straight off the bank and went under the water. Everyone was like, 'oh my God,' but luckily I came back up to the surface laughing - it was all fine. It was actually really good fun.
Did you work out ahead of the swimming scenes to ensure you looked your best?
When you're working you have to keep yourself fit and healthy because otherwise when you're doing six day weeks you just get ill, so I was trying to keep myself fit and healthy anyway. The night before the swimming scenes Robson and I did have quite a funny gym session though. It was very competitive, as you can imagine. At the same time though, I think it's a balance. You want to look fit because Sidney and Geordie are both very active men so it would be ridiculous if we turned up with beer bellies. I think your responsibility has to be first and foremost to the story, so if you suddenly rip of your shirt and you've got this ridiculous gym body, then that's also irresponsible because Sidney is a vicar and he drinks whiskey and he drinks beer and doesn't go to the gym, so it was a balance. We did a little bit of gym but we didn't overdo it.
You've been labelled a heartthrob. How does that make you feel?
You can't really engage with that properly. It's weird but it's flattering. It's just great to have a positive reaction to the show. If Sidney ends up as a bit of a heartthrob and it brings more people to the show, then that's fine. I have a great family who keep my feet very firmly on the ground. I was with my Great Aunt Grania recently and she looked at me in a slightly quizzical way and she said, 'I can't understand how you look so good on the telly because you're perfectly normal in real life.' It was really funny.
Neil Morrissey joins the cast. How are your characters connected?
Neil's been a great addition to the cast, as has Claudie Blakley who plays his wife. That's another great thing about Granchester – we get incredible guest stars. Neil comes in and he is the father of a young girl , Abigail , who is very tragically a victim in the first episode. There's a couple of people implicated for her death and as her father Neil's character, Harding, is totally devastated and also angry and he's out for revenge. Sidney has quite a fraught relationship with Neil's character and there's a lot of drama and it's fun to play. Neil's such a good actor and it was great working with him. Over the years I've binged on Men Behaving Badly and his other work so it was brilliant acting opposite him. Nick Brimble is also in this series and as a kid I gorged on Robin Hood: Prince of Thieves, in which he played Little John, so I was totally star struck. It's so lovely having these people joining us on set.
Your dad was an extra in the first series. Where there any cameos from him this time?
Yes, although I think his scene has been cut! I had to tell him and he was gutted! But he's had so much press from appearing in various dramas that I think he can retire now as the country's most famous supporting artiste! He lives in Yorkshire so he had to get up at about 4am to get to set for 7am, so he was absolutely shattered. In one of the scenes I was doing a very serious sermon to the congregation and all the regular villagers were there and were very attentive and diligent and there was one guy who was fast asleep with his mouth open and it was my dad! I said, 'dad, you cannot sleep through my sermon'. It was the shot when they were being filmed and he was fast asleep, so that was quite funny. He hasn't heard the end of that!
What's it been like being reunited with Dickens the dog?
Great. It's the same dog again and he's actually called Dickens in real life. He's so good. He completes the Grantchester family. Less sausages were required this series now he's learnt his craft!