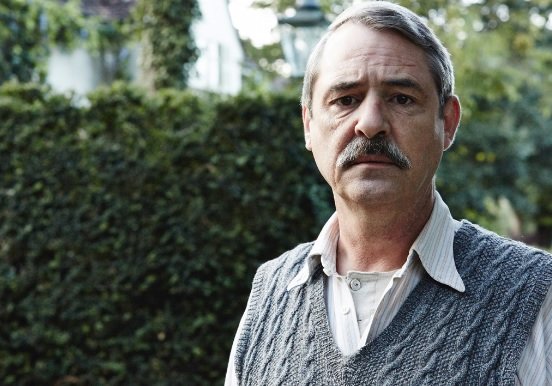 Neil Morrissey talks about joining the cast of Grantchester which returns on Wednesday, March 2nd at 9pm on ITV for a second series. 
Tell us about your character Harding Redmond.
My character's a farmer. He's a hard working dude and he has a dedicated wife. It was a difficult time - 50s post war. He's been fighting in the Second World War and he's come back and things are starting to get a bit wayward for everybody. He's got a teenage daughter, Abigail, and it's difficult to keep his eyes on her all the time. His daughter is killed in episode one. For him and his wife she was their whole life. It turns their life upside down and throughout the series Harding desperately searches for justice.
You have some pretty intense and emotional scenes. Was it difficult to film?
It was very tough. In pretty much every scene my character is extremely upset and angry. It's a small village so everyone knows everyone's business. Everyone knows Harding and Harding knows everyone. He can't go anywhere without tongues wagging. Not only is everyone talking about him but also there is suspicion on everyone because it's not obvious who was the murderer, but Harding just wants to find justice. To him it doesn't feel like neither the police or the authorities are doing very much about trying to help him. He turns to drink at one point. It's very difficult for Harding.
How did it feel to join the cast of Grantchester?
The first series was great. I didn't know what to expect and I was really nervous the first day I went on set -­ but what a welcome. Everyone was really sweet. All the regulars are just fantastic. It's a great cast. I was sat in the make-­up chair on the first day and Robson came up to me, I hadn't seen him for 20 odd years, and he put his hands on my shoulders and said, 'I'm 50. What happened there?!' and I said, 'you're alright, I'm 53!' It was a really fun set to be on. I think when the subject matter is really difficult you have to find an outlet somewhere and it always tends to be humour – so we had a laugh! As soon as the cameras stop rolling we all burst into laughter. Robson's naughty. He's got that little glint in his eye and he's trying to make you laugh the whole time. It's anecdote city when we're both on set because we've done so much. So there's lots of story telling. 
Did you enjoy stepping into the 50s for this role? Is your moustache real?
It was great. I loved it. I love doing the period stuff. I grew a moustache especially. I turned up with a full beard as well and we talked about it and we decided to get rid of the beard and go for a 1950s moustache. I had to live with that for about four months when we were shooting. It looked good for the character but sporting a moustache completely out of fashion is a bit odd. I looked like an 80s porn star.
What was it like filming in the village of Grantchester?
It's beautiful and has a high proportion of pubs to people, which is always going to please me. Whilst we were waiting for our scenes we'd sit in the pub. We weren't allowed to drink of course, we'd have to have a cup of tea, but it was great.
Had you worked with any of the cast before?
I hadn't worked with any of the regulars but I think James is just amazing. I'd worked with a couple of the guest stars before, but that's always going to happen after nine years on Boon. Everyone in the world came and did an episode of Boon, so you keep re-meeting people all the time, which is good.