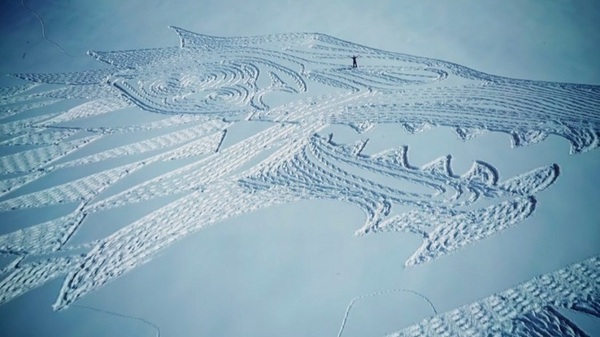 Spring may be on the horizon, but for Game of Thrones fans, "Winter is Coming" and to celebrate the show's return on Monday 25th April, Sky Atlantic has released its very own White Walker, international snow artist Simon Beck, to create the largest snow tribute to Game of Thrones on Earth. 
Walking all day and all night, through 32.5 kilometres of heavy Alpine snow, with just a compass as his guide, snow artist Beck's footsteps emblazoned the sigil of the show's House of Stark across the Alps, creating snow art the size of 2.5 football pitches.
Beck chose the Stark sigil for his piece in tribute to the late Jon Snow, whose death in the final episode of season five left fans around the world reeling. 
 Season six of Game of Thrones will be simulcast on Sky Atlantic at 2am on Monday 25th April, at the same time it airs in the US and will be repeated 9pm the same day. If you've missed any of the action so far, every episode of seasons 1-5 will be exclusively available to watch on Sky Box Sets from 14th March.
Zai Bennett, Director of Sky Atlantic said: "Set in the alpine snow, having taken over 13 hours and covering 32.5 kilometres Simon Beck's amazing Stark sigil from Game of Thrones is the perfect tribute to a truly epic TV show. Winter is definitely here with Game of Thrones returning to Sky Atlantic from 25th April."