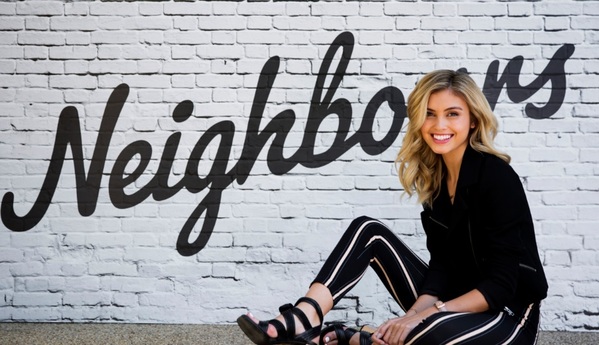 I was lucky enough to catch up with Sarah Ellen ahead of her on screen debut on Neighbours. Sarah will play Madison, the daughter of iconic characters Scott and Charlene Robinson who were played on the show by Jason Donovan and Kylie Minogue. Sarah will debut on Neighbours on April 22nd. Neighbours airs weekdays on Channel 5, 1.45pm & 5.30pm.
You got to meet Kylie Minogue, who played your on screen mother on the show, was that before or after you knew you had got the part?
It was whilst my character was still in the works and being written. It was before the role was announced but I knew she was going to be my on screen mum.
Did you tell her?
I didn't because it hadn't been announced yet which was hard because I did want to tell her. It was so exciting but no she didn't know at the time.
You also got the chance to meet Jason Donovan, who played your on screen father, on The One Show. How was that?
I sure did. It was really funny because he had no idea who I was. I was kind of like 'hey dad' and he was like what is happening. He was awesome and after the show we had a long chat about Neighbours and he gave me a few tips. He was very supportive just like Kylie.
Having met Jason and Kylie, do you think that has helped you to develop the character?
Yeah definitely. Kylie has been very supportive but I haven't been able to have a proper in depth conversation with her yet. Jason gave me some great tips and told me a few stories about the show, so yeah it's been awesome.
How did the role first come around?
It was actually really refreshing how this role came along. I get a lot of opportunities from what I do online on my website and social media but this role came along like any other acting role would through my agency. It was really refreshing to know it was through my acting skills and audition rather than through another opportunity online.
Can you tell us a bit about Madison?
Madison is a very light hearted and caring character. She is actually quite sophisticated because she is studying journalism but she is also a little bit feisty like her on screen mum Charlene. She makes her way to Ramsay Street to look after her brother because he is going through a life changing decision. She wants to make sure he is OK and is making the right decision and that he is happy. She is sent by her parents to make sure that Daniel hasn't lost his mind. She is very stylish and I actually got the chance to style my character. That was really cool because my background is in fashion and it was really fun to work with the wardrobe department.
Apart from Daniel and Paul, who else can we expect to see Madison interacting with?
Xanthe, she does a few scenes with her which are hilarious actually. She also interacts with Imogen.
You are good friends with Jai Waetford, who will also be joining the show, will it be nice to see a friendly face on set?
Well yes it is but I don't know if we will have any scenes together. I sure hope we do because he is a friend I've known for years so it would be awesome to have him on set with me.
Did you know any of the cast before you joined the show?
I met Lilly Van der Meer, who plays Xanthe, a few weeks before filming.
How long can we expect to see Madison in Erinsbourgh for?
We will have to wait and see what happens.
Do you think we will ever see her on screen parents paying a visit?
I definitely hope so. I would love for Kylie and Jason to make visit to Ramsay Street.
There have been some popular characters from the past recast on the show recently, do you think that could ever happen to Scott and Charlene?
I don't think so. I think that could quite a stir just because they are both so iconic.
Where you a fan of the show before you joined the cast?
I sure was.
Have you had to relocate to Melbourne?
No I live in Sydney although I am moving to Melbourne for the time I'm filming.
What are your long term ambitions?
I would definitely never ever steer away from fashion and that will always be there for me. Attending fashion weeks are so much fun for me, I've just been to London and Paris fashion weeks. But growing as an actor is something I'm really taking seriously now and that is what I see myself doing in the future.
Both Jason and Kylie have had successful pop careers, can we expect you to ever go down the same path?
You know maybe down the line but it is not anything I'm focusing on right now. It's just a hobby for me and I do really love singing but anything could happen.
Quite a few former Neighbours stars, once they have established themselves, have moved to the UK and had successful careers, is that something you would ever consider?
I've definitely been thinking about it but we will just have to see what happens after the show what opportunities arise. I will definitely be moving somewhere whether it's the UK or the States. I have absolutely fallen in love London so we just have to see.
You are known for your fashion and for being on social media, have you managed to get so many followers?
I guess its consistency and engaging with the followers as well.