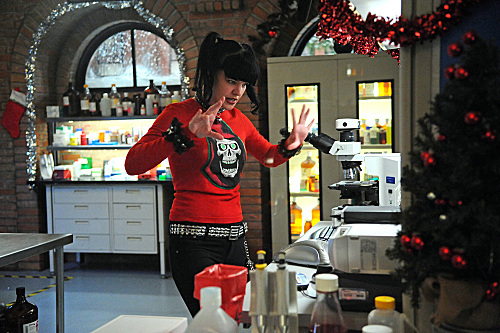 It's Wednesday, December 14th, and with it another round of Tuesday night TV has come and gone, keeping strong the big ratings scores for the week.  Some shows have already taken on their winter hiatus and others pre-empted by holiday events, sports and award ceremonies, but what took the biggest piece of the pie last night?
Did you watch the Glee holiday episode "Extraordinary Merry Christmas," or were you more interested in the finale of The Biggest Loser?  Was your pulse racing through NCIS, or were you looking for something in the lighter range like Suburgatory?  Maybe you were glued to the Royal Marriage Special!
We'll tell you what America was watching, and the big winner from last night's ratings might surprise you!
At 8 o'clock, NCIS dominated with 19 million viewers and the 18-49 leader, while Glee's holiday special "Extraordinary Merry Christmas" merited a lukewarm 7.05 million.  ABC's hour of Last Man Standing brought in 7.5 million (6.1 for its rerun), while NBC's special William & Kate: Inside the Royal Marriage brought in 5.3 million.  Trailing last as usual was The CW's 90210 with 821,000, though admittedly a rerun.
At 9pm, CBS' NCIS: Los Angeles unsurprisingly kept its predecessor's momentum going with 16.35 million, while NBC's The Biggest Loser finale brought in 7.5 million.  FOX's New Girl however, nabbed the 18-49 demographic for the hour, scoring 6.8 million viewers, with Raising Hope afterward taking in 5.1
ABC's pairing of The Middle and Suburgatory reruns brought in a low 4.6 and 3.8 million, while in last place was another Ringer rerun at 604,000.
Finally at 10pm, CBS' Unforgettable brought in 11.2 million while NBC's Biggest Loser finale rose to 8.05, netting the 18-49, and ABC's Body of Proof rerun netted 4.8 million viewers
What did you watch last night? Did your favorite shows earn the ratings they got? What will you be watching tonight? Sound off in the comments below with your favorites!