Kate Hudson's "Glee" character Cassandra July schools Lea Michele's Rachel Berry on the dance floor at New York Academy of the Dramatic Arts in a new promo.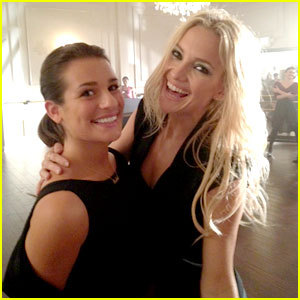 July proves she's still able to have a dance-off with any of her students, even the perky Ohio student.
In the clip courtesy of The Hollywood Reporter, Hudson also vocally covers Jennifer Lopez's "Dance Again."
Rachel, unaccustomed to not being the brightest pupil in any class, says "I really, really can't stand her" in the clip. Rachel turns to Brody (Dean Geyer) for help with this new rival.
"It's going to be a challenge for her, but I think that Rachel definitely works at her best when she has to fight against something, or when she sort of has the odds stacked against her," Michele told The Huffington Post.
Hudson is known for her roles in "Almost Famous," "You, Me and Dupree" and "How To Lose A Guy in 10 Days." Michele, who came to mass fame via "Glee," also made her film debut last year in "New Year's Eve."
Enjoy the clip of Kate Hudson's debut on Fox's Glee, which begins its fourth season Thursday, Sept. 13, at 9 p.m.