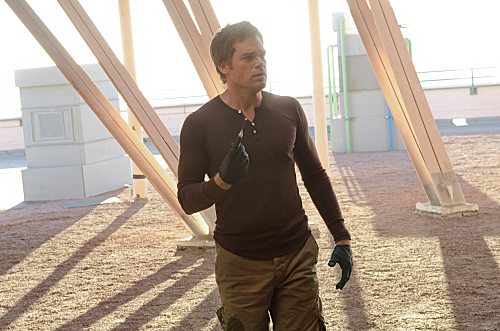 It's Friday, December 16th!  The weekend is finally here as the holdays continue to loom ever closer, and all your favorite series move toward mid-season finales and shocking cliffhangers. 
Speaking of which, how about last night's epic It's Always Sunny in Philadelphia high school reunion season finale?? 
Time to start wrapping up all your holiday shopping and curl up each night with the best shows on the best nights of the week for TV, and TVRage has your guide to everything you need to watch this Friday, Saturday and Sunday!
 - Friday, December 16th -
Chuck - "Chuck Vs. The Curse" - Rebecca Romijn Guest stars as Chuck and Sarah work to take down a computer virus, Awesome and Ellie unwittingly become spies on their date, and Morgan must retrieve Chuck's P.A.N.T.S.  NBC, 8:00 - 9:00pm, ET
Bag of Bones - "Parts 1 and 2" - Did you miss out on the Stephen King mini-series starring Pierce Brosnan?  Then curl up for a spooky Friday with all four hours in one sitting!  A&E, 8:00 - 12:00pm, ET
The Life & Times of Tim - "The Model from Newark / Tim's Hair Looks Amazing" - In its 3rd season premiere, Tim becomes an an assistant to a WNBA player, and decides to get a haircut for an upcoming job interview.  HBO, 9:00 - 9:30pm, ET
Grimm - "Let Your Hair Down" - Its own take on the classic Rapunzel tale, a homicide in the woods leads Nick and Hank to investigate a previously-closed missing persons case, and Nick asks Monroe to help a creature remember her humanity. NBC, 9:00 - 10:00pm, ET
Sanctuary - "The Depths" - In search of a legendary Abnormal, Magnus and Will find themselves trapped together by a cave-in. Syfy, 10:00 - 11:00pm, ET
 - Saturday, December 17th -
Saturday Night Live - "Jimmy Fallon" - Former SNL star Jimmy Fallon takes up hosting duties, with musical performances from Canadian crooner Michael Buble.  NBC, 11:30 - 1:00am, ET
 - Sunday, December 18th -
Survivor: South Pacific - "Finale" - Loyalties will be broken as Survivor's 23rd season comes to a close, with a reunion special airing immediately after.  CBS, 8:00 - 11:00pm, ET
Dexter - "This is the Way the World Ends" - In its 6th season finale, Miami Metro closes in on Travis Marshall as the Doomsday Killer completes his seventh tableau, and Dexter finds something personal at stake when Travis learns of his survival.  Showtime, 9:00 - 10:00pm, ET
Hell on Wheels - "Revelations" - With Elam's life in the balance, Cullen must decide how much he's willing to risk. Meanwhile Durant faces financial ruin as Lily confronts the family of her late husband.  AMC, 10:00 - 11:00pm, ET
Homeland - "Marine One" - Season Finale.  While Carrie is near catatonic and confined to bed, Saul investigates the unsettling implications of her timeline; Walker secures a perch for his mission; Brody makes his final preparations for the Vice President's policy summit at the State Department. .  Showtime, 10:00 - 11:00pm, ET
What will YOU be watching?