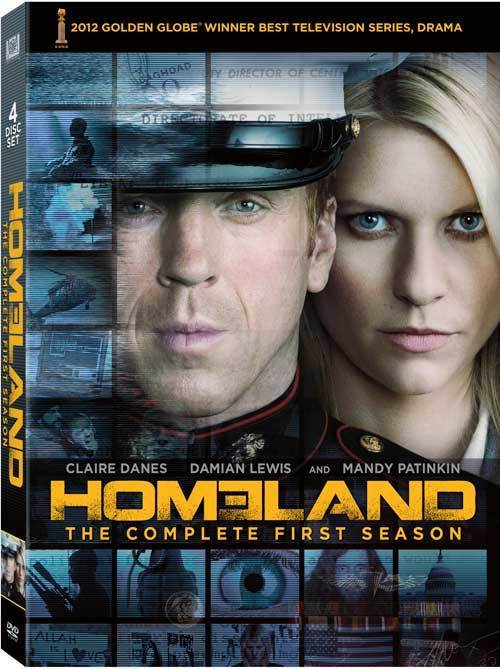 Maybe it's just the cynic in me, but I was resistant to the notion that Homeland was one of the best shows on television. It won the Golden Globe for Best Drama Series, and all the critics seemed to be firmly in its camp -- a rare occurrence for a freshman series. But still I remained resistant to the magnetism of Homeland... For a time, anyway. When the first season nabbed a DVD release date, I found myself compelled to give it a shot. 
From the first episode, I was entranced. The series weaved two compelling narratives following two very flawed characters: Carrie Matheson (Claire Danes) and Nick Brody (Damian Lewis). One is a bipolar CIA agent illegally surveilling the other, who she believes is a sleeper terrorist waiting to carry out a devastating terrorist attack in Washington, D.C. The series toys with us, going back and forth between trying to convince us that he is or isn't a terrorist, before settling on one of those options in the final stretch of episodes.
Comparisons to FOX's departed counterterrorism drama 24 can be made, but they don't really hold up under a microscope. Homeland is superior in nearly every way, and only occasionally succumbs to giving us the massive plot twists that have become a staple of the spy genre. Sometimes the twists are good, sometimes they're a little clunky, but unlike 24, they never really feel gimmicky. Part of that has to do with the supremely brilliant acting of the three main leads, Danes, Lewis, and Mandy Patinkin (who plays Matheson's conflicted superior, Saul). Danes provides what is probably the best leading actress performance on television (sorry, Julianna Margulies). Even though Carrie makes some truly horrible decisions, we're able to sympathize with her because they're the decisions we want her to make, even when we know they can't have good outcomes. 
That's one of the biggest strengths of the series as well, especially in the earlier, surveillance-driven episodes. There's a Hitchcockian element of viewer guilt that really makes the series immersive and the characters empathetic. The series makes it possible for the audience to sympathize with -- even to root for -- people that we would consider evil, or at best highly immoral. It's a series that tests how far its audience is willing to follow it into the grey areas of morality. And, honestly? Homeland can lead me anywhere it wants to go. 
The DVD set itself is a little shoddy, though not distractingly so. Be careful about removing the seals that hold the DVD within its plastic sleeve, as the design is apparently more attached to the seals than the sleeve it's printed on. The four disc set contains all twelve episodes, as well as a few deleted scenes and a prologue to season 2 that takes place right after the season 1 finale. 
You can check out Homeland season 1 on DVD now. Season 2 premieres September 30 on Showtime.