From the pro-wrestling ring on Spike's "TNA Impact Wrestling" to the great outdoors, TV personality Eric Young is a man who wears many hats. With his new Animal Planet series "Off The Hook: Extreme Fishing," Young recently spoke with Zap2It about wrestling with a whole new occupation.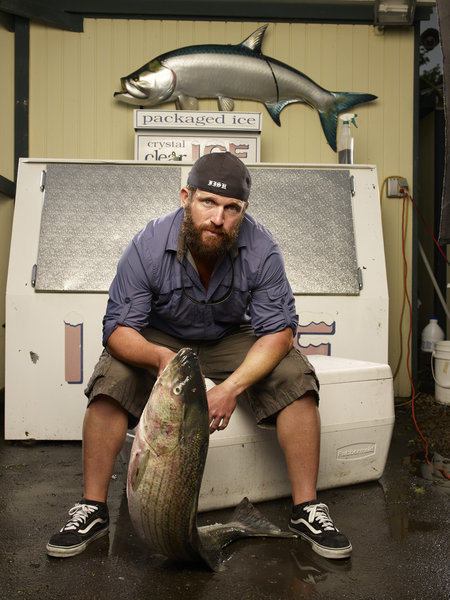 As for fans who wish to replicate the fishing stunts Young takes part in for the show, the wrestler/host spouts a familiar phrase: Don't try this at home. "The guys I am with are at the highest level there is, and a lot of preparation goes into making sure that I am comfortable with it," Young explains. "With a lot of these styles of fishing, you definitely do not want to go, 'Hey, I'm going to buy a wet suit and jump in the ocean, no problem.' I am getting the best of the best training before I do this, and it's still pretty crazy."
With "Off The Hook: Extreme Fishing," the wrestler has the opportunity to explore other passions of the outdoor variety. "Camping and fishing and just being outside have always been a passion of mine. I'm not that good at it, and I don't pretend to be, but it just fascinates me. I was a guy who would just do it in relaxing fashion, sitting on a boat or a dock and just hanging out with some friends or my dad."
Fear not, wrestling fans. The comedic wrestler is insistent that his new Animal Planet adventures will not (ahem) IMPACT his in-ring efforts. "Wrestling is something that I've wanted to do since I was 6. In the world there's probably anywhere from 200,000 to 400,000 professional wrestlers, but there might be only 120 jobs, people who are able to do it for a living. I am one of the people, and I have worked a long time to make it there. It's one of my passions, and that will never go away," Young explains.
Well, I'm sure his on-screen wife ODB is certainly relieved.